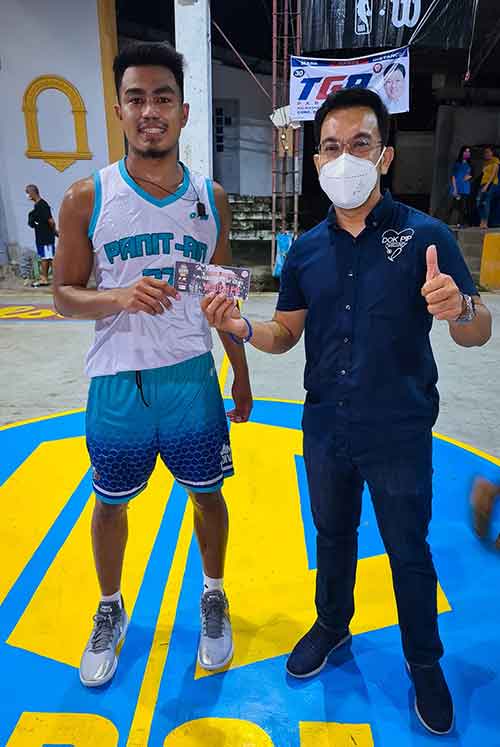 By Leobert Julian A. de la Peña
The resilient Dadivas Panit-an squad pulled off a massive win and surprised the stacked Tawi Cares, 98-97, in Game 1 of the 2022 On D' Move (ODM) Invitational Basketball League.
Playing with a never-say-die attitude, team Dadivas showed they are no underdogs and put the pressure back on the no. 1 team in the league while handing them their only defeat in Roxas City's first organized basketball league amid the COVID-19 pandemic.
Oohs and aahs filled the IIC Court in Brgy. Tiza, Malipayon Village as both teams went at it from the get-go with Jiego Montillano's slashing leading the Tawi attack that exposed Dadivas' perimeter defense.
However, Dadivas' dynamic duo in Reglyn Paclibar and Janwell Famaranco answered every Tawi offensive run that helped them cut their early double-digit deficit.
Mon Lustria and Ronilo Parohinog's 1-2 punch quickly responded to Dadivas' offensive explosion and increased their lead to six, 65-59.
Tawi looked to blow the game wide open courtesy of consecutive baskets from Michael Balbarada and Jesan Dela Cruz entering the fourth quarter but Famaranco once again answered the call and put the team on his shoulders with dazzling acrobatic layups that put them back within striking distance.
Famaranco's takeover then paved the way for their other snipers to contribute including shooter Jeffen Geronimo and guard Kevin Villasis who had major contributions in the crucial stretch of the game.
The fiery nip-and-tuck game went down to the wire after Lustria gave the lead to Tawi, 89-87, with 20 seconds remaining but an isolation razzle-dazzle drive by Famaranco forced overtime period that gave a new lease on life for Dadivas.
Montillano immediately shut the Dadivas fans after a quick three in overtime but Geronimo and Famaranco answered back with their own baskets.
Parohinog's clutch basket helped Tawi get back the lead, 97-95, but the veteran Junvan Aringo of team Dadivas drilled the trey dagger that put them ahead, 98-97, with 19 seconds left in the ball game.
Lustria had the chance to swing back the lead in their favor but his two missed crucial free throws caused them the chance and eventually the game.
Tawi will have the chance to equalize the series in Game 2 of the best-of-three finals and will have a major boost as center Nilo Catimbang will be returning to the playing court after serving his two-game suspension.