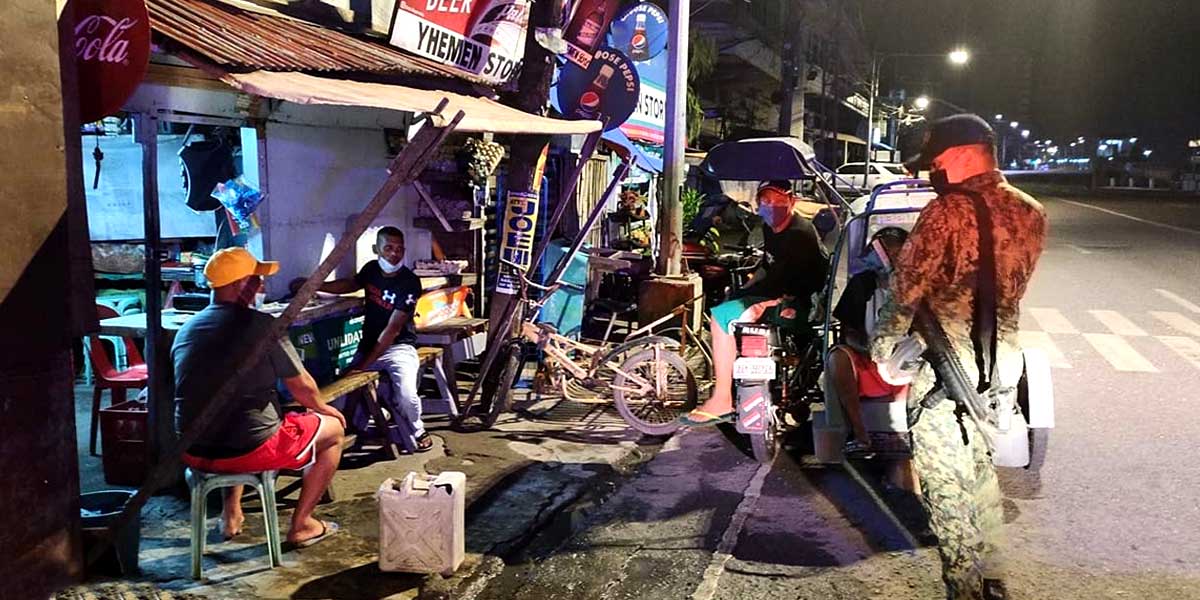 After being lifted momentarily, the curfew is once again back in Iloilo City under the Alert Level 3 imposed by the national government.
Effective Jan 9 to 15, 2022, curfew will again be implemented in the metro from 10 p.m. up to 4 a.m. until the same is lifted or extended by the Iloilo City Government or upon the recommendation of the Iloilo City COVID-19 Team.
The curfew is part of the guidelines mandated by Executive Order (E.O.) No. 004 which Iloilo City Mayor Jerry Treñas issued on Friday, Jan 7.
EO-004 laid down the policies under Alert Level 3.
Under the EO, persons whose work arrangements in BPOs / KPOs, warehouses and logistics (and similar businesses) ports, arrastre, food manufacturing, storage and preservation, hospitals, media, and other similar businesses or occupations that require employees to go to work after curfew hours will be exempted from the curfew.
CONSUMPTION OF LIQUOR
Meanwhile, public consumption of any form of liquor or alcoholic beverages, or any alcoholic drink containing a specific percentage of alcohol by volume or weight is prohibited while sale thereof is allowed from 8 a.m. to 6 p.m. subject to existing restrictions as imposed by Local Ordinances such as "Liquor Ban for Minors". 
RESTRICTED MOVEMENT OF VULNERABLE SECTORS
Based on the EO, intrazonal and interzonal travel shall be allowed, however children below 12 years of age and those belonging to the vulnerable population, shall only be allowed access to obtain essential goods and services.
Persons who belong to the vulnerable sectors are those persons more than 65 years of age; persons below 12 years of age; pregnant women; persons with comorbidities, immune-deficiencies, and other risk factors; and persons with disabilities.
Vulnerable sectors are strongly encouraged to remain in their residences at all times, except when they are obtaining essential goods and services from permitted establishments or for work in permitted industries and offices; other essentials; to seek medical or clinical care; or go to the hospital; or to seek medical consultation;
The EO also strictly prohibits children below 12 years and adults 65 years old and above from entering malls, shopping centers and other permitted establishments except to obtain essential goods and services or for work in establishments located therein provided that children must be accompanied by their parents/guardians.
ALLOWED INDUSTRIES
Food preparation establishments such as kiosks, commissaries, restaurants, and eateries with (100%) of its personnel and staff reporting on-site and serving patrons are fully vaccinated and with Safety Seal Certification may operate up to 50% indoor dining and 70% outdoor dining.
On the other hand, the following establishments are allowed to operate at a maximum of (30%) indoor venue capacity for fully vaccinated individuals only and (50%) outdoor venue capacity provided that all on-site workers/employees of these establishments, and organizers of activities are fully vaccinated:
-Visitor or tourist attractions such as libraries, archives, museums, galleries, parks, plazas, public gardens, scenic viewpoints or overlooks, and the like;
-Recreational venues such as internet cafes, billiard halls, amusement arcades, bowling alleys, skating rinks, archery halls, swimming pools, and similar venues;
-Cinemas and movie houses, provided that the cinemas and movie houses operators are highly encouraged to allow entry only to fully vaccinated movie goers and entry of minors aged below twelve (12) years old is temporarily disallowed being a non-essential activity;
-Limited face-to-face or in-person classes for basic education subject to prior approval of the Office of the President;
-Limited face-to-face or in-person classes for higher education and for technical-vocational education and training;
-Licensure or entrance/qualifying examinations administered by their respective government agency, and specialty examinations authorized by the IATF subject to the health and safety guidelines as approved by the IATF;
-Personal care establishments such as barbershops, hair spas, hair salons, and nail spas, and those offering aesthetic/cosmetic services or procedures, make-up services, salons, spas, reflexology, and other similar procedures including home service options
-Fitness studios, gyms, and venues for individual non-contact exercise provided that patrons/clients and workers/employees wear face masks at all times
-Film, music, and television production
-Theaters, as long as minimum health protocols such as mandatory use of face masks and physical distancing may be enforced at all times;
PROHIBITED ACTIVITIES
The EO prohibits mass gatherings in residences with individuals not belonging to the same household.
Under the EO, the following establishments/activities which are characterized as high-risk for transmission are prohibited from Jan. 9 to Jan. 15:
– Face to face or in-person classes for basic education, except those previously approved by the IATF and/or the Office of the President;
-Contact sports and non-contact sports, except those conducted under a bubble-type setup as provided for under relevant guidelines adopted by the IATF, Games and Amusement Board, and Philippine Sports Commission, and approved by the LGU where such games shall be held;
-Funfairs/peryas and kid amusement industries such as playgrounds, playroom, and kiddie rides;
-Venues with live voice or wind-instrument performers and audiences such as in karaoke bars, clubs, concert halls, and theaters;
-Bars, nightclubs, disco clubs, KTV establishments and other similar establishments operating within Iloilo City shall temporarily be prohibited from operating until 11:59PM of January 15, 2022. Restobars however may continue to operate in so far as food service is concerned;
-Casinos, horse racing, cockfighting and operation of cockpits, lottery and betting shops, and other gaming establishments except as may be authorized by the IATF or the Office of the President;
Meanwhile, banks operating within Iloilo City are permitted to operate at full on-site capacity but are highly encouraged to adopt alternative working arrangements entailing lower workforce on-site and banking hours are left to the discretion of their management or main office.
Iloilo Esplanades, playgrounds and courts located in public plazas remain open to the public provided that goers and users strictly observe minimum public health protocols and other necessary guidelines.
From its Alert Level 2 classification, Iloilo City's quarantine status will escalate to Alert Level 3 starting Jan. 9 to Jan. 15.
The city was first placed under Alert Level 2 in November last year which was followed by the lifting of the curfew and liquor ban in the metro. (DG)