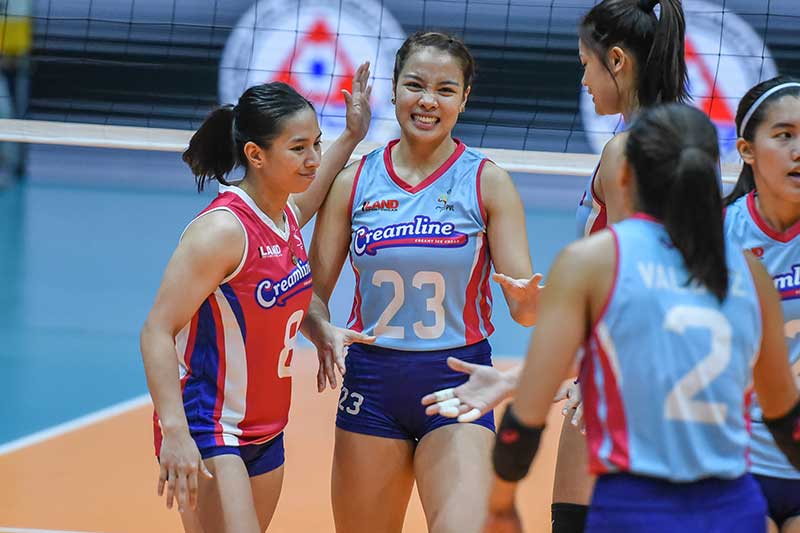 By Leobert Julian A. de la Peña
The Creamline Cool Smashers solidified its bid for a second-straight Premier Volleyball League (PVL) championship title after scoring a four-set victory over Chery Tiggo Crossovers, 25-14, 25-20, 21-25, 28-26, in the ongoing 2022 Invitational Conference.
With its second-straight win, the Cool Smashers just punched its ticket to the upcoming semifinals and ended the elimination round with a 4-1 record.
Creamline got momentum from its sweeping win over the Choco Mucho Flying Titans one week ago and was solid on both ends of the floor.
National team spiker Jema Galanza led the Creamline assault and top-scored the Cool Smashers with an impressive 23-point outing.
Galanza bounced back from a nine-point outing against the Flying Titans and became Creamline's focal point on offense as setter Jia Morado-De Guzman fed her from the get-go.
The superstar setter uncorked 26 excellent sets out of the team's 31 total and was in rhythm orchestrating the Cool Smashers' offensive executions.
Tots Carlos also put up a consistent performance and backstopped Galanza with 20 big points while team captain Alyssa Valdez added 16 points and 13 excellent digs.
Without their two main stars in Jaja Santiago and Dindin Santiago-Manabat, the Chery Tiggo squad failed to flip the switch in the middle of the season and struggled in the conference with a disappointing 1-5 record, dead last among the seven participating teams.
However, Chery Tiggo gave the Cool Smashers some fight after stunning them in the third set, courtesy of a fiery offensive run from superstar Mylene Paat.
Paat carried the whole Crossovers squad in the third set and was firing from all cylinders including insane hits from the back row.
The Crossovers were close to forcing a fifth and final set after Creamline committed several unforced errors and squandered their 23-19 lead that suddenly reached a 24-all deadlock off a Paat conversion.
Eager to seal the win and improve to 4-1, the Cool Smashers went hot in the most perfect time and banked on the duo of Galanza and De Guzman.