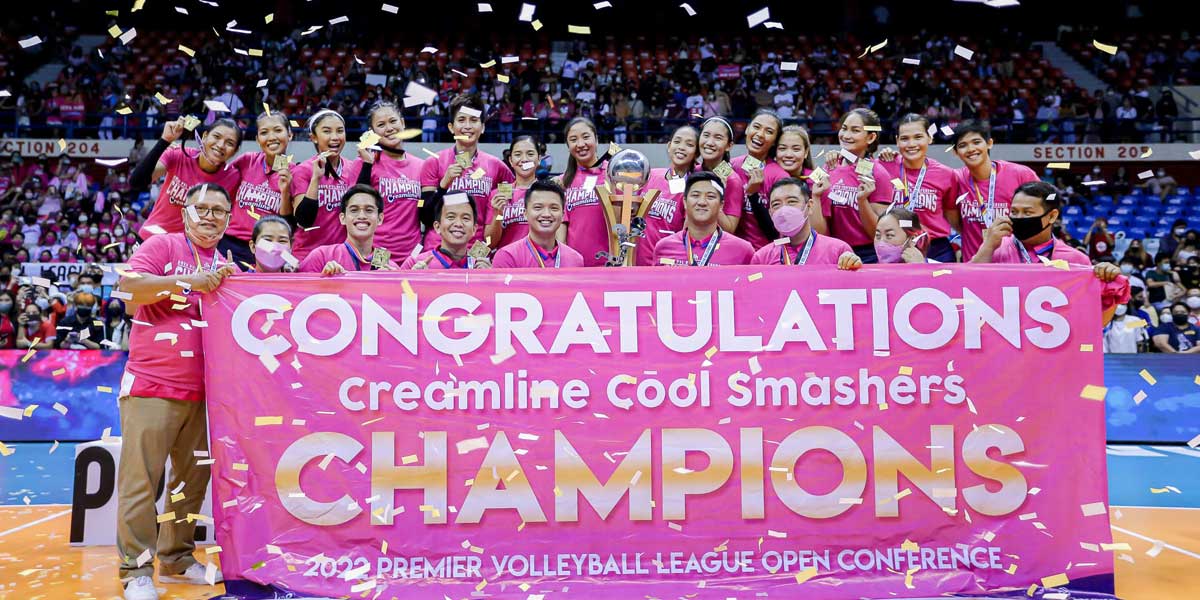 By Leobert Julian A. de la Peña
Eight wins, no losses. Champions.
The Creamline Cool Smashers are back at the top of the women's professional volleyball scene after completing a 2-0 sweep of the Petro Gazz Angels, 25-18, 15-25, 25-23, 25-16, during Game 2 of their 2022 Premier Volleyball League (PVL) grand finals.
After a 3-0 record at the end of the elimination phase, the Cool Smashers continued their magical run and went for another 5-0 post-season record including their two wins in the title-clincher.
With Creamline leading 24-16 in the fourth set, superstar Alyssa Valdez sparked the game-winning rally point after a well-placed serve, a huge dig, and was finished by a combination play between Jia de Guzman and Celine Domingo.
After Petro Gazz couldn't handle Domingo's spike and the point was rewarded to the Cool Smashers, the pink nation exploded at the Ynares Center with confetti falling from the rooftop.
It was a hard-fought series against Petro Gazz despite a 2-0 grand finals sweep as the big three of Myla Pablo, MJ Phillips, and Aiza Maizo-Pontillas gave Creamline all sorts of problems that they didn't experience during the quarterfinals and the semifinals.
However, the emergence of Tots Carlos who was also awarded as the conference's Most Valuable Player (MVP) boosted Creamline's performance backstopped by the steady offense provided by Jema Galanza and Risa Sato.
This was a huge bounce-back conference for the Cool Smashers after losing during the 2021 grand finals against Jaja Santiago and Cherry Tiggo.
Aside from the championship title, this is also the Cool Smashers' sixth straight finals appearance including the previous conferences when the PVL was still classified as a semi-professional league.
Meanwhile, the Cignal HD Spikers bagged the bronze medal after taking down the Choco Mucho Flying Titans in the battle-for-third duel.