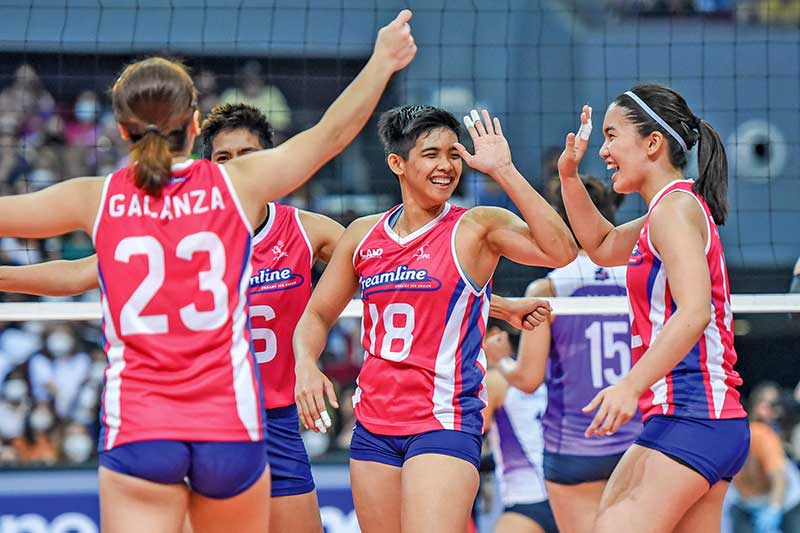 By Leobert Julian A. de la Peña
The Creamline Cool Smashers avenged its disappointing loss against the Cignal HD Spikers and swept the Choco Mucho Flying Titans, 25-22, 25-14, 25-22, during the ongoing elimination round of the 2022 Premier Volleyball League (PVL) Invitational Conference.
It was a blazing display of efficient offense for the Cool Smashers and had their way in all three sets against the struggling Flying Titans who missed the services of middle blocker Aduke Ogunsanya after tearing her anterior cruciate ligament (ACL) in her right knee.
Reigning Most Valuable Player (MVP) Tots Carlos spearheaded the Cool Smashers' charge and ended up with a conference-high 25 points built from 23 successful attacks.
Carlos schooled Choco Mucho's middle blockers and turned into beast mode just when the Cool Smashers needed her the most.
Creamline was put into a must-win situation after falling to 2-1 in the conference standings due to their four-set loss against the HD Spikers.
With the huge sweep over the Flying Titans, the Cool Smashers are now back on track of clinching a playoff spot and rose to 3-1 together with the PLDT Home Fibr Power Hitters.
Despite scoring only nine points in the win, superstar Alyssa Valdez turned into her floor defense and recorded 15 excellent digs and added 12 excellent receptions.
The Flying Titans looked close to capturing the moment back in their favor after steamrolling their way to an early 5-0 lead in the third frame but the duo of Carlos and Valdez led Creamline's comeback and re-took the lead, 18-15.
Choco Mucho fought back and evened things at 20-all but Creamline's firepower and court mastery propelled them to a game-sealing sweep capped off by a Carlos block.
"Our loss to Cignal was not a big hit to our morale. We just reminded our players to keep working hard and stick to the system as there is always time to bounce back. We moved on and then prepared for Choco Mucho," said Creamline head coach Sherwin Meneses.