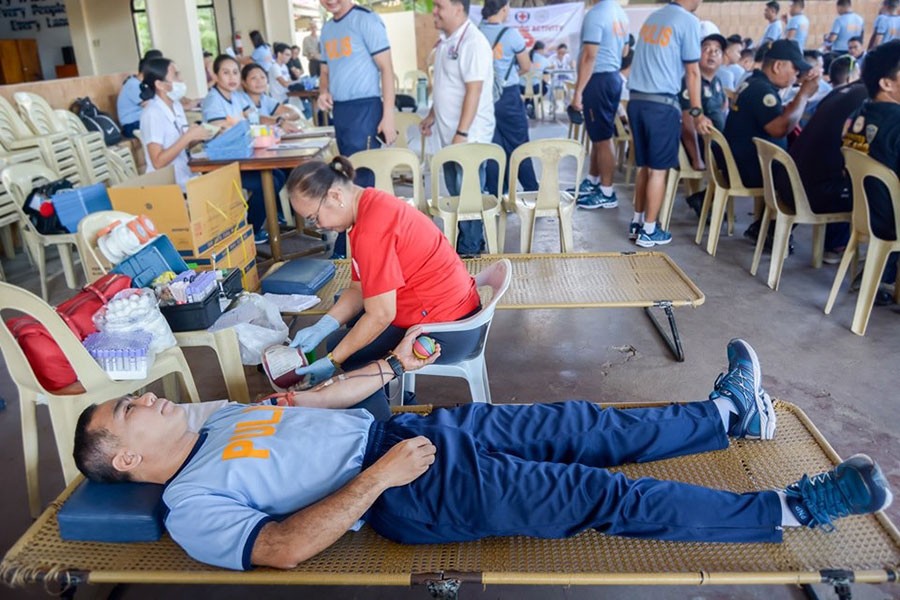 By Joseph B.A. Marzan
COVID-19 is also taking a toll on other health-related services like blood donation efforts.
The Philippine Red Cross (PRC) Iloilo Chapter's 2020 scorecard on Thursday revealed that blood collections in Iloilo province fell significantly short of its target.
The local PRC turned over the scorecard of its local government unit (LGU) monitoring on voluntary blood collection to the Iloilo provincial government on Thursday.
The PRC had collected up to 22,000 blood bags through blood drives in the province last year from 5,682 persons or 0.28% of the population, against a total population of 2.062 million based on the 2015 Census.
The number fell short of the target of 25,000 bags from a population of 20,623,000 or 1% of the total population of the province.
The target is based on the estimated annual blood need in an area, which in turn is based on the total population via census data.
Out of 43 LGUs in the province, only 3 hit the passing mark – Igbaras (1.17%), Concepcion (1.06%), and Mina (1%).
The towns of Balasan, Barotac Nuevo, Carles, Guimbal, Leganes, Leon, Maasin, Miag-ao, Pavia, San Dionisio, San Joaquin, San Rafael, and Sara also hit the 1% mark.
The rest of the LGUs in the province are under 1% – Banate (0.88%), Badiangan (0.83%), Dueñas (0.7%), Tubungan (0.69%) Lemery (0.65%), Passi City (0.63%), Bingawan (0.54%), Calinog (0.51%), Anilao (0.48%), Sta. Barbara (0.46%), Batad (0.45%), Cabatuan (0.45%), San Enrique (0.42%), Barotac Viejo (0.38%), Dumangas (0.33%), Pototan (0.29%), New Lucena (0.25%), Ajuy (0.22%), Estancia (0.22%), Janiuay (0.15%), Lambunao (0.13%), Alimodian (0.12%), Oton (0.1%), Zarraga (0.09%), and Tigbauan (0.04%).
PRC Iloilo Blood Center Officer-in-Charge Katherine Lego said that the low statistics were due to COVID-related lockdowns and curfews in the province which slowed down mobile blood drives.
"Despite the COVID-19 pandemic, they were able to conduct mobile blood donations, but because of the series of lockdowns and curfews, our LGUs found it hard to gather blood donors, but we were still able to collect 22,000 [bags], which is still good enough during this pandemic," Lego said.
PRC Iloilo chapter administrator Gilbert Valderrama said that their data did not reflect the total blood collected in the province, but only those which were coursed through the PRC.
"The data on our scorecard is only that of the PRC. It doesn't mean that these LGUs also have low scores in other blood banks such as that of the Western Visayas Medical Center," said Valderrama.
Lego said that the proper mindset among the residents is needed to be able to ramp up blood collection amid the pandemic.
"I think what is really important is the correct mindset of our people when it comes to blood programs, despite whether we are in normal or abnormal times the need for blood is constant. So our advocacy and support for blood programs has to be continuous, because the constant need also calls for a response from the community," Lego said.