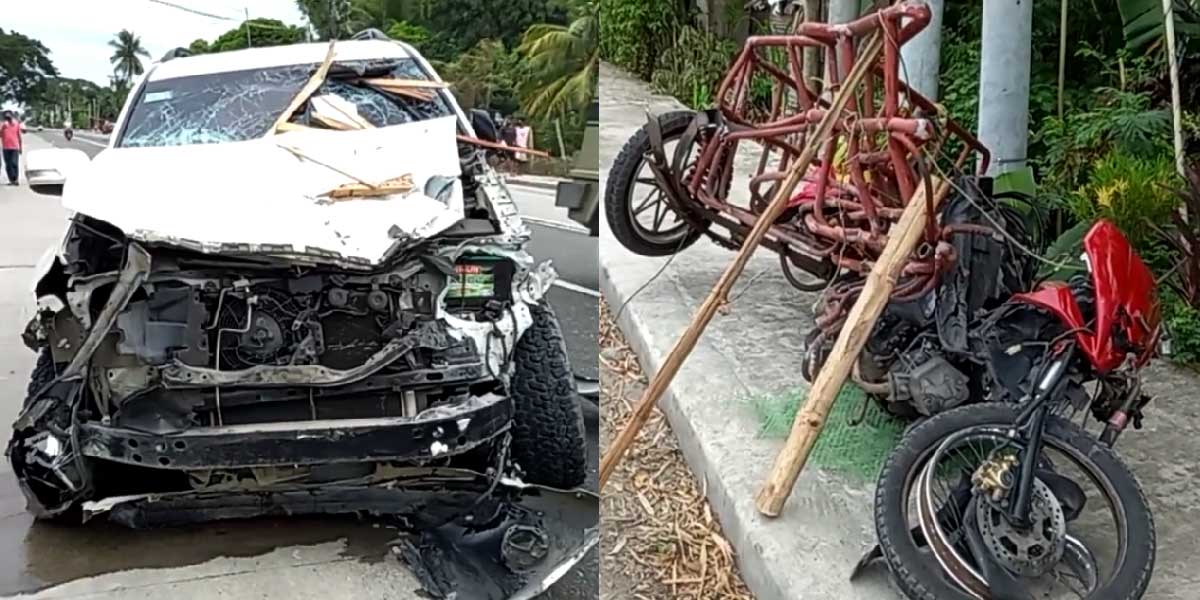 By Jennifer P. Rendon
A couple did not survive after their vehicle figured in a road collision afternoon of August 8, 2021 in Zarraga, Iloilo.
Eliseo Anativo, Jr., 42, and his wife Maria Luisa, 38, of Barangay Tanza Baybay, City Proper, Iloilo City were both declared dead on arrival at the Iloilo Provincial Hospital in Pototan town.
The couple was riding a top-down tricycle, together with Jade Babao, 34, also a resident of Tanza Baybay village, when the incident happened 3:15 p.m. Sunday at Barangay Dawis Sur, Zarraga.
Babao also suffered injuries but he survived.
Lieutenant Johnny Arnad, Zarraga police chief, said the three were heading towards Zarraga town proper when the incident happened. They were carrying gamefowl pens.
Witnesses claimed that the tricycle suddenly swerved towards the opposite lane where a Toyota Land Cruiser Prado sports utility vehicle was running.
Land Cruiser driver, John Christopher Surmion, 21, of Barangay Catoogan, Pototan, tried to evade the tricycle but it was too late.
The couple and Babao were thrown off the tricycle while Surmion was unscathed.
Surmion was with his mother, who was also unhurt, when the incident happened. They came from Iloilo City and were on their way home when the crash happened.
While they were on their designated lane, Surmion was taken into police custody.
Arnad said Surmion is detained and will be charged for reckless imprudence resulting in double homicide and serious physical injury.
While the Anativo couple died, a couple from Lemery, Iloilo survived a road mishap 2:30 p.m. Sunday at Barangay Iwa Ilaya, Pototan.
They were identified as Marlon Agnes, 47, and his wife, 43-year-old Janice, of Barangay Bankal, Lemery.
Marlon was driving the motorcycle and rammed into the Ceres bus, which was running on the same lane.
Mitchelle Pasigado, 46, a resident of Barangay Calubihan, Jaro, Iloilo City drove the bus.
Marlon suffered a fractured right leg while Janice suffered minor injuries
They were also taken to Iloilo Provincial Hospital for treatment while Pasigado is in police custody.