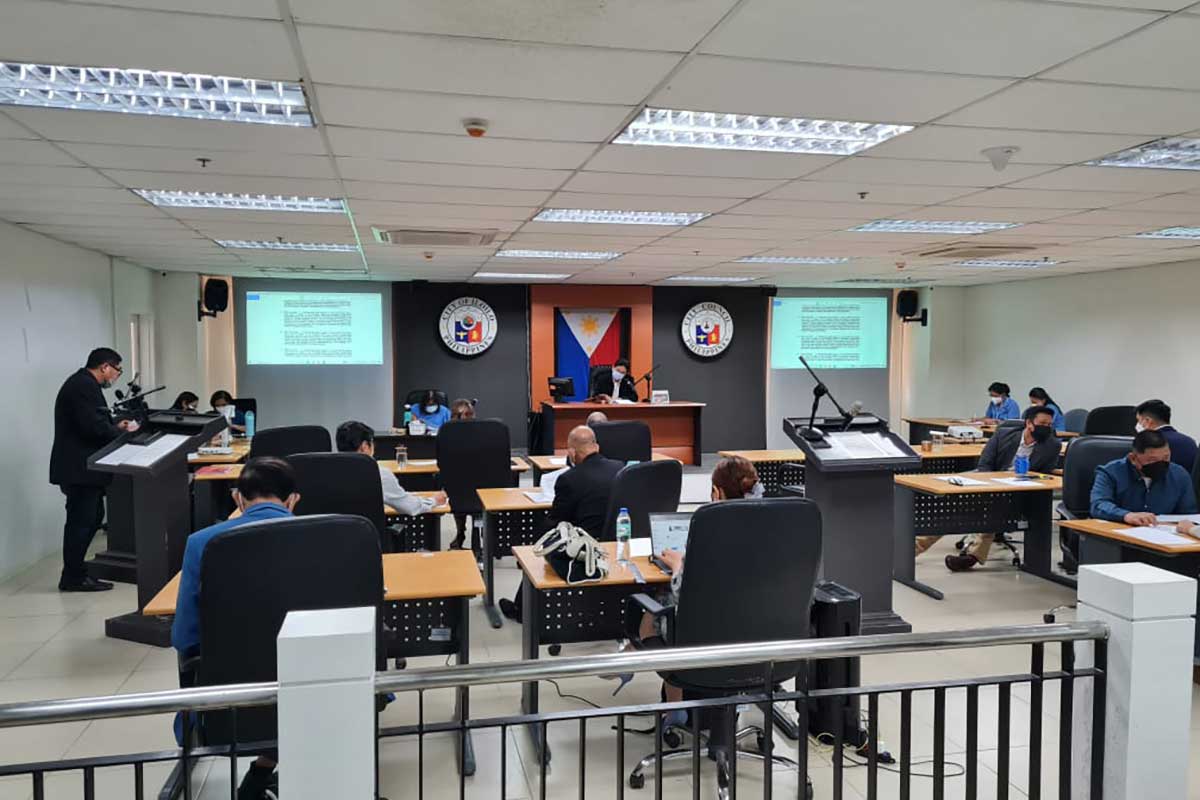 Following mixed reactions on the proposed ordinance imposing restrictions on unvaccinated individuals in Iloilo City, a committee hearing is slated today, Jan 13, 2022, to discuss the controversial ordinance.
During the regular session of the City Council on Tuesday, Jan 11, the proposed ordinance was referred to the Committee on Rules, Resolution, Ordinances, Style, Justice and Legal Affairs chaired by Councilor Rommel Duron.
Duron, who is also the majority floor leader of the Sangguniang Panlungsod (SP), said the proposed ordinance must be studied and discussed thoroughly.
Hence, Duron said a committee hearing is necessary to gather reactions and feedback of the different sectors in the metro.
"We have to conduct a committee hearing, ma-gather ta feedbacks anay even if only one hearing, ang issue lang man da is legality," he said in an interview on Tuesday.
Duron said that they will invite private business establishments and representatives of all the affected sectors in the metro.
Mayor Jerry Treñas endorsed the proposed ordinance to the SP early this week amid rising COVID-19 cases in the city.
"Indi lang man ako ang ma-decide. It came from the executive ginhatag lang sa aton, i-present ko man sa council kon komporme aton upod sa aton argumento siguro imbatahon ta tanan, all sectors kay all establishments will be required to enforce if ever we implement it," Duron said.
Based on the draft ordinance, a fully vaccinated person is someone who has completed the original prescribed number of doses of a COVID-19 vaccine at least two weeks prior.
Meanwhile, non-fully vaccinated persons are classified as any other person who did not complete the prescribed doses.
The ordinance also provided another classification – persons ineligible for vaccination who are defined as any person who by virtue of his religious beliefs have not been inoculated with COVID-19 vaccine or due to underlying medical conditions are not viable candidates for COVID-19 vaccination.
Under the draft ordinance, all non-fully vaccinated persons shall always remain in their residences except for the procurement of essential goods and services such as, but not limited to, food, water, medicine, medical services, public utilities, and energy, work and medical and dental necessities.
Moreover, individual outdoor exercises shall be allowed within the general area of their residence, e.g. within the purok, subdivision, or village.
The ordinance further provides that in accessing essential goods or services, non-fully vaccinated persons must present a negative RT-PCR test result taken within the last 72 hours.
They shall also be prohibited in indoor and outdoor/al fresco dining in restaurants and other food establishments and shall likewise be prohibited from leisure or social trip to malls, hotels, event venues, sports and country clubs and similar facilities.
This notwithstanding, private establishments offering goods and services may refuse entry of non-fully vaccinated persons as part of their business prerogative
"Further, this is without prejudice to persons ineligible for vaccination which may be allowed entry to the abovementioned establishments provided their ineligibility is duly certified by their pastor/priest or respective medical officer," the draft ordinance added.
The ordinance will also impose a mandatory presentation of vaccination cards with personal IDs in all establishments of Iloilo City.
Hence, all persons residing and sojourning within Iloilo City are mandated to present their vaccination cards or vaccine certificates issued by the Department of Health (DOH) or certificate of ineligibility upon inspection.
Establishments offering essential services and goods which are located within malls are also mandated to require presentation of vaccination cards for fully vaccinated individuals whereas for non-fully vaccinated persons, a negative RT-PCR result taken within the last 72 hours will be required.
A certificate of ineligibility will likewise be required for persons ineligible for vaccination.
Meanwhile, establishments offering goods and services which are unessential shall assign a worker/s to check the documentary cards/certificates together with a valid ID of all patrons entering their premises to ensure compliance.
The ordinance also imposes penalties for violators: P500 for first offense and/or four hours of community services; P1,000 for second offense and/or 8 hours of community services; and P3,000 and/or 24 hours of community service for third and subsequent offenses.
When asked if the proposed ordinance would curtail the rights and civil liberties of unvaccinated individuals, Duron said that while persons cannot be compelled to have themselves vaccinated, their movement can still be restricted for the purpose of public welfare, especially that there is an ongoing pandemic.
"In my opinion it's not curtailment, as long as the law is valid or the ordinance is valid kay teh may requirements man na ang ordinance to be valid kay teh taking consideration always the general welfare sang tawo and all the rights of others, kada isa may deretso," he said.
The majority floor leader compared the situation to US.
"You must also not violate the rights of others kay iban gusto magpabakuna ang iban ya indi wala man naton ginapilit ang indi magpabakuna, gina-restrict lang man naton ang movement nila while taking into consideration sang sitwasyon kay pandemic ini. We have to curtail the pandemic siling nila curtailment of civil liberties pero sa akon indi man kay damo na gani cases before in America sang una to ya although indi related," he added. (DG)