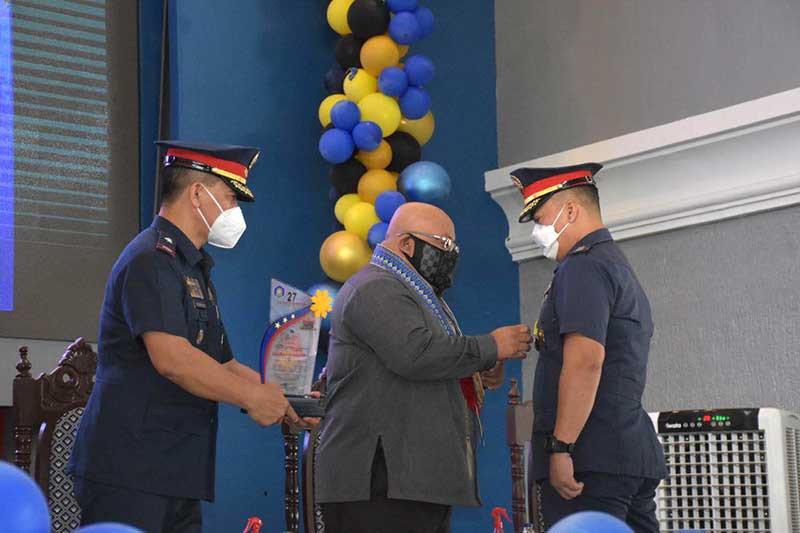 By Jennifer P. Rendon
Police officers and units were recognized for their police community relations initiatives.
The awards were conferred during the Police Regional Office (PRO)-6's culmination ceremony for the 27th Police Community Relations (PCR) Month celebration held at the PRO-6 Multi-Purpose Hall on July 28.
This year's celebration adopted the theme, "Ugnayang Pulisya at Komunidad Tungo sa Mapayapa, Maayos at Maunlad na Pamayanan."
The unit awardees include:
* Capiz Police Provincial Office – Police Provincial Office Category;
* Iloilo City Police Office – City Police Office Category;
* Roxas Component City Police Station – Component City Category; and
* Dueñas Municipal Police Station – Municipal Police Station Category.
On the other hand, the unit awardees are:
* Police Colonel Leo B Pamittan – Outstanding Police Community Affairs and Development (PCAD), Senior Police Commissioned Officer (PCO) Category;
* Police Major Roy P Tayona – Outstanding PCAD, Junior PCO Category;
* Police Chief Master Sergeant Michael D Pontoy – Outstanding PCAD, Senior Police Non-Commissioned Officer (PNCO) Category;
* Police Corporal Justin Dela Cruz – Outstanding PCAD Junior PNCO Category; and
* NUP Rennie G Baticos – Outstanding PCAD Non-Uniformed Personnel Category.
Atty. Joseph Celis, National Police Commission 6 (Napolcom) regional director, was the guest of honor and speaker.
Celis commended the endeavors and the leadership of PRO-6 under  Brigadier General Flynn Dongbo for the sterling leadership and laudable accomplishments in the region.
"The celebration of a good community relation is a large contributor to law enforcement, especially in the investigation," he said.
In the gathering of all information and reliance on credible information coming from community members, it makes law enforcement better if not best, Celis added.
"Let the public know about your activities, the crime statistics and others, with the exception of confidential data," he said, adding that these philosophy and concept strengthens the support of the community to the police.
Celia concluded that a well cooperative, active and supportive community can achieve a healthy and prosperous nation.