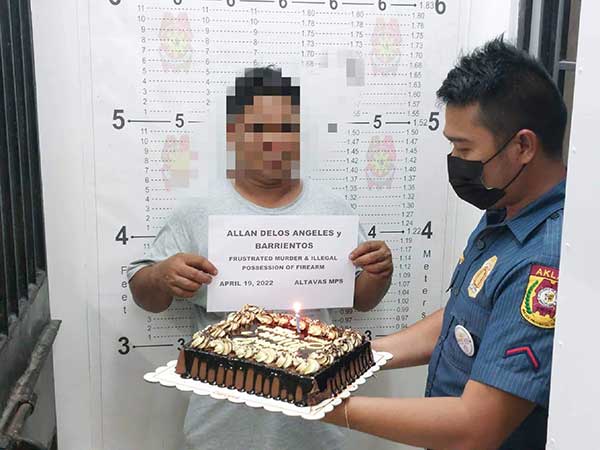 By Jennifer P. Rendon
Surprise, surprise!
Police arrested and later gifted with a cake a "wanted person" who was nabbed on his birthday.
Members of Altavas Municipal Police collared Allan delos Angeles at his home in Barangay Caticlan, Malay, Aklan.
Delos Angeles is listed by police as one of Palawan's most wanted persons and has been on the lam for two decades already.
Members of Altavas PNP, Bataraza Police Station in Palawan, the Regional Intelligence Unit 6 (RIU-6)-Aklan, and 2nd Aklan Provincial Mobile Force Company collared the suspect by virtue of an arrest warrant for illegal possession of firearm and frustrated murder.
Judge Adelardo Escoses of the Regional Trial Court Branch 51, Puerto Princesa, Palawan issued the arrest warrant.
Th court recommended P60,000 (for illegal gun possession) and P200,000 (frustrated murder) bail for his temporary liberty.
Master Sergeant Niel Alejandro, Altavas MPS operations section chief, said they were unaware that delos Angeles was celebrating his birthday Wednesday. They only learned of that important date when they asked him for his personal information.
"It wasn't on purpose that we arrested him on his birthday. In fact, when we learned that it was, we decided to buy him a cake," Alejandro said.
The cops presented the cake to delos Angeles after taking his mugshots.
Delos Angeles is now detained and will be transferred to Palawan for presentation to the court.