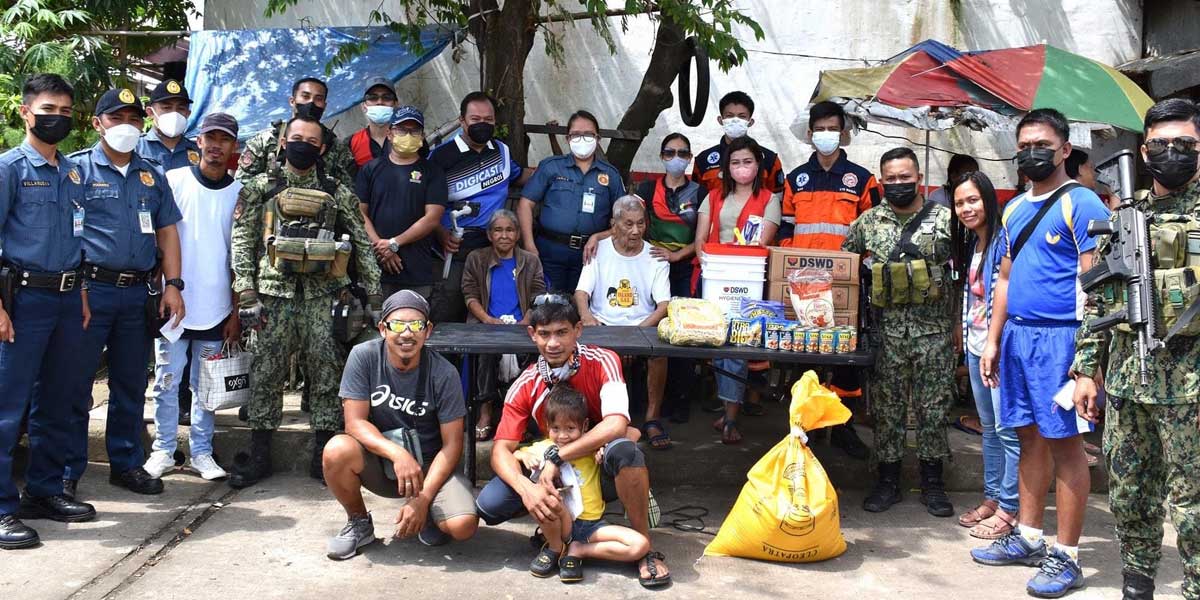 By Glazyl Y. Masculino
BACOLOD City – An elderly woman recently reunited with her older brother after 31 years through the help of the 1st Negros Occidental Provincial Mobile Force Company (Nocpmfc).
Encarnacion Solis, 73, is the third beneficiary of the Bahayanihan project of the 1st Nocpfmc.
During the police officers' visit to Solis's house in Barangay San Fernando, Talisay City early this month, the elderly woman shared to them that she has not seen her older brother for many years now since she started living alone when her other sibling died and her nephew was jailed.
The officers posted Solis's story on Facebook, which her relatives saw.
It paved the way for the police to get in touch with the family of Solis, whom she has not visited for so long, according to Police Staff Sergeant Bryle Tabacug, police community relations and non-commissioned officer of 1st Nocpmfc.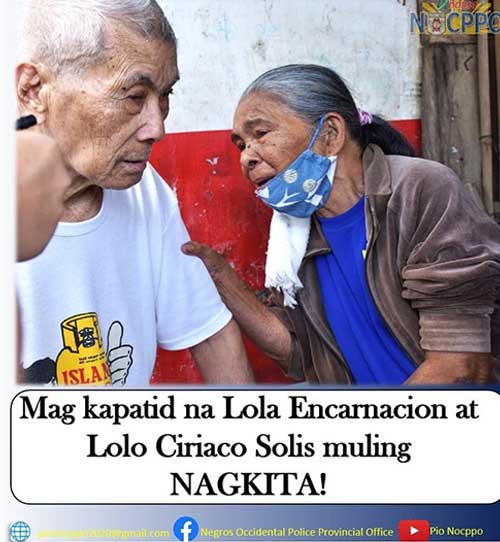 Tabacug said they brought Solis to her older brother Ceriaco, 87, in Barangay Tinampaan, Cadiz City on May 19, where she also met her other relatives.
Solis is the sixth out of the eight children of the family, while Ceriaco is the second child.
Despite their reunion, Solis still decided to live alone at the house which was built by the police, soldiers, and volunteers in Barangay San Fernando.
"Didto lang gid siya gihapon sa balay niya kay nanugunan siya sang ginhimo namon para sa iya, upod sang iya kanding kag manok, mga kasapatan niya," Tabacug said, adding that Solis would make a living from coconut or other crops in the upland area of the village.
But because of her old age, she's being helped by members of the Kapehan sa lasang, Putro Falls, Binuldusan Falls (Kapusan) outreach to sell her handmade products such as broom and barbecue sticks, Tabacug said.
Solis has a daughter, but she had her adopted while she was working as a house helper in Manila as she could not provide for her education.
Tabacug said they tried to locate Solis's daughter and foster parents but to no avail.
Solis was chosen as the beneficiary of the said project after she was sighted by a group of hikers in the village.
Solis was living in a house made of light materials which was damaged by Super Typhoon Odette in December 2021. The barrio people lent her the house so she could have a place to stay.
With the Bahayanihan project, Solis was able to have a comfortable home where she is safe.
The house which was built for two days was made possible through the help of Felix G. Yusay Foundation led by its executive director Ms. Sharon Jornadal, Talisay City Police Station, 79th Infantry Batallion (IB), and Talisay City Social Welfare and Development.
The 1st Nocpmfc has already provided a home to its chosen beneficiaries in Victorias City in 2020 and San Carlos City in 2021.