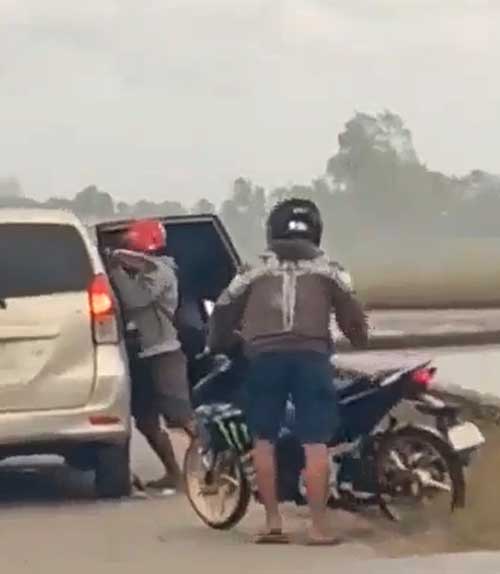 By Glazyl Y. Masculino
BACOLOD City – The Bago City Police Station in Negros Occidental is exerting more effort to establish a lead in the alleged abduction incident that took place at Purok Margarita, Barangay Abuanan on Jan 18, 2022.
This, as a video showing an unidentified man pushing the feet of 32-year-old Johnson Ciervo Garfil into a sports utility vehicle (SUV) went viral after Garfil's cousin posted it on Facebook last Wednesday.
The person who took the video thought it was a road accident.
Police Lieutenant Colonel Joem Malong, city police chief, said they have seen the video, but it didn't help much in the investigation because the SUV which was initially reported as a white Toyota Innova later appeared to be a gold/silver metallic Toyota Avanza with no car plate.
The video also showed two other unidentified men on a motorcycle in the area but Malong said these motorcycles also had no plates.
Malong said they checked some closed-circuit television (CCTV) cameras in the area but it failed to capture the escape route of the SUV.
"Ang salakyan malabo gid, same with the identities of the alleged abductors, wala pa gid," she added.
Malong said that Garfil was riding a motorcycle when he was waylaid by two other motorcycles in the area. He was supposed to attend a court hearing in La Carlota City the following day.
Malong said that Garfil and the alleged abductors figured into an argument before he was forcibly taken to the vehicle, according to some witnesses.
Garfil's motorcycle, helmet, and identification card were left in the area.
Malong said that Garfil was released from detention on bail in November 2020 for an offense in relation to Republic Act 7610 or Special Protection of Children Against Abuse, Exploitation and Discrimination Act.
Malong said they are still checking the background of the victim. But, according to his live-in partner, she heard the victim recently talking to somebody asking for a payment over the phone.
Garfil has been reported missing for two days now.