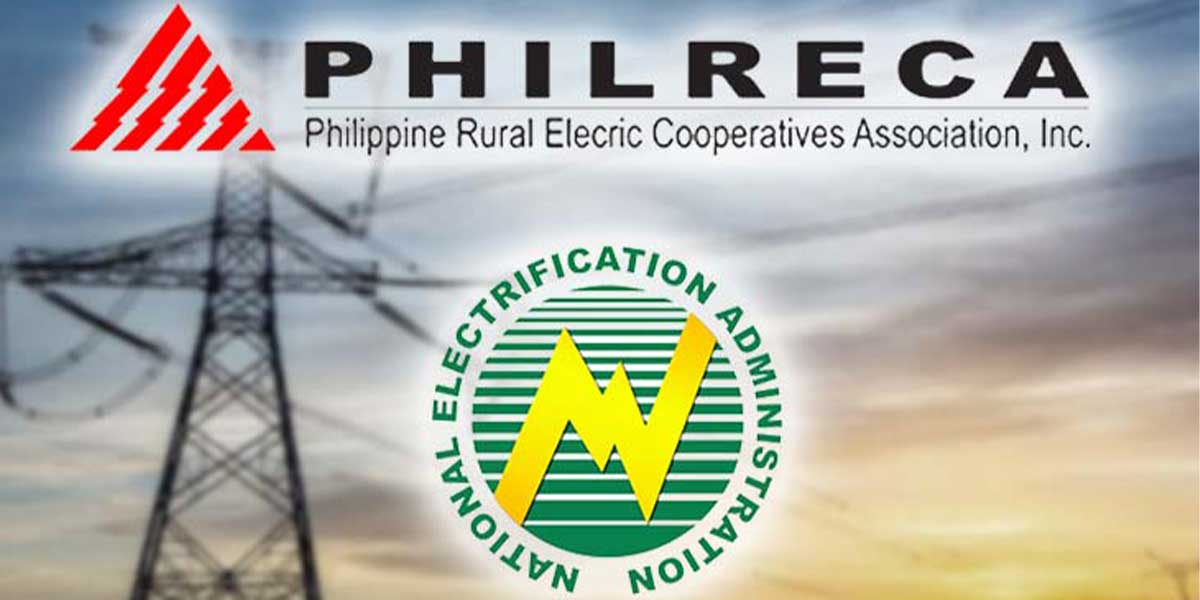 By Joseph B.A. Marzan
Electric cooperatives (ECs) celebrated Valentine's Day on Monday, Feb. 14, 2022 by making their stances known against the national government's recent moves which they say have been against the interests of their Member-Consumer-Owners (MCOs).
As part of its "Black Valentines" protests, cooperatives led by the Philippine Rural Electric Cooperatives Association, Inc. (PHILRECA) Party-list, held a press conference Monday to air their sentiments on recent government actions.
These include recent memoranda issued by the National Electrification Administration, franchises of privately-owned power corporations, and other prevailing concerns in the energy sector.
Rep. Presley De Jesus, PHILRECA's member at the House of Representatives, highlighted their recent legal victories against the National Electrification Administration's (NEA) edicts on political participation, including:
-Memorandum to ECs No. 2021-039, which automatically considers an EC employee or official as resigned effective upon their assumption of office as a Party-List representative;
– Memo to ECs No. 2021-040, automatically considering nominees of a Party-List on leave of absence from the start of campaign period; and
– Memo to ECs no. 2021-051 prohibits officers and employees to join or participate in any partisan political activity.
But De Jesus also raised alarm on two new memoranda to ECs issued by the NEA – Memo Nos. 2021-055 and 2021-056, titled "Policy on the Selection, Hiring, Termination of Service/Suspension for General Managers (GM) of Electric Cooperatives" and "Guidelines on the Conduct of Examination and Interview for Applicants," respectively.
He said these new policies issued by NEA chief Emmanuel Juaneza were not consulted with ECs.
He added that these new issuances, which give the NEA the power over the screening and selection for ECs' General Managers, "are crippling" on ECs.
"Is NEA trying to cripple the Electric Cooperatives? How can they find a good captain of their ship, if the qualification, experiences, and the other requirements being asked for is equivalent to the requirement for an entry level position?" De Jesus said in his message.
De Jesus also slammed other national government actions in the energy sector, particularly Energy Secretary Alfonso Cusi's alleged lack of due diligence over the sale of the Malampaya gas field, rising oil prices, and Executive Order No. 156 which transferred the power to step in and take over operations of ailing ECs from NEA to the Office of the President.
He called on PHILRECA's member ECs to join their cause to uphold the rule of law and also called for Juaneza's resignation.
"Mr. Juaneza clearly does not have what it takes to be an Administrator of an institution which used to be a partner of the electric cooperatives, an institution which used to protect the ECs and the MCOs welfare. I therefore call for Mr. Emmanuel P. Juaneza's immediate resignation in the interest of electric cooperatives, the [MCOs], and the preservation of the legacy of the Rural Electrification Program. Mr. Emmanuel P Juaneza, I urge you to take throw in the towel, you have done enough already," De Jesus said.
PHILRECA General Manager and Executive Director Jeene Colingan hit the same notes as De Jesus, and also mentioned the threat to the franchises of ECs.
These include the application of franchises of Bicol Light and Power Corporation and Davao Light and Power Company in Camarines Sur and Davao, respectively, and the expansion of MORE Power's franchise into several towns in Iloilo province.
"We want to protect the future of electric cooperatives because our history has shown that our ECs have been instrumental to economic development. We want to make sure that the member-consumer-owners will be protected from incompetent heads of some government regulatory agencies," Colingan said in her opening statement.
Gloria Corrales, president of the Philippine Association of Board of Directors of Rural Electric Cooperatives, Inc., focused on Memo to ECs No. 2021-055, which she warned would make ECs' General Managers to be beholden to the government.
Corrales alleged that the memorandum goes against the laws which govern the NEA, including Presidential Decree No. 269 (National Electrification Administration Decree) and Republic Act No. 10531, which amends the said Decree.
"What powers does the Board of Administrators of NEA have over the electric cooperatives for it to be given the authority to appoint the General Manager of the EC? If you check the supervisory powers of NEA over electric cooperatives under Section 4 of PD 269, as amended by RA 10531, it does not say anything at all about any power to hire, select, and appoint a general manager," she said.
She said that ECs "will do everything in their power" to strike down the said memo.
"If this not injustice to the Electric Cooperative, then, we don't know what is. At the very least, NEA, again, is overreaching on its functions and mandate. These memoranda are anti-EC, and anti-MCOs. We will do everything in our powers to oppose these," she said.
Iloilo Electric Cooperative (ILECO) II General Manager Redmond Roquios reiterated their stance against MORE Power's possible expansion in the 2nd and 4th congressional districts in Iloilo.
He pointed out MORE Power's deal with the State-owned Power Sector Assets and Liabilities Management, Inc. (PSALM) over their electricity sale, and how the deal was only for a year ending in July 2022.
He also mentioned that Iloilo City's power distributor's entry into some areas of the province would confuse consumers as other towns would have to pay to ILECO.
"It would be unfair to remaining consumers to continue paying for the amortization of loans and lease for the improvement of facilities in the affected areas stated in the MORE's expansion. The ECs have been operating for more than 30 years, and there are common equipment and facilities that serve both the remaining and affected consumers," Roquios said.
During the press conference, other electric cooperatives also expressed their support to ILECO's pushback against House Bill No. 10306, the bill which would expand MORE Power's existing franchise under Republic Act No. 11212.
The bill has been recommended by the Senate Committee on Public Services for approval of the plenary, and is pending on Second Reading, according to the upper chamber's website.
In an earlier statement, MORE Power said it will leave to Congress to decide on the expansion move as it focuses on its services in Iloilo City in the meantime.