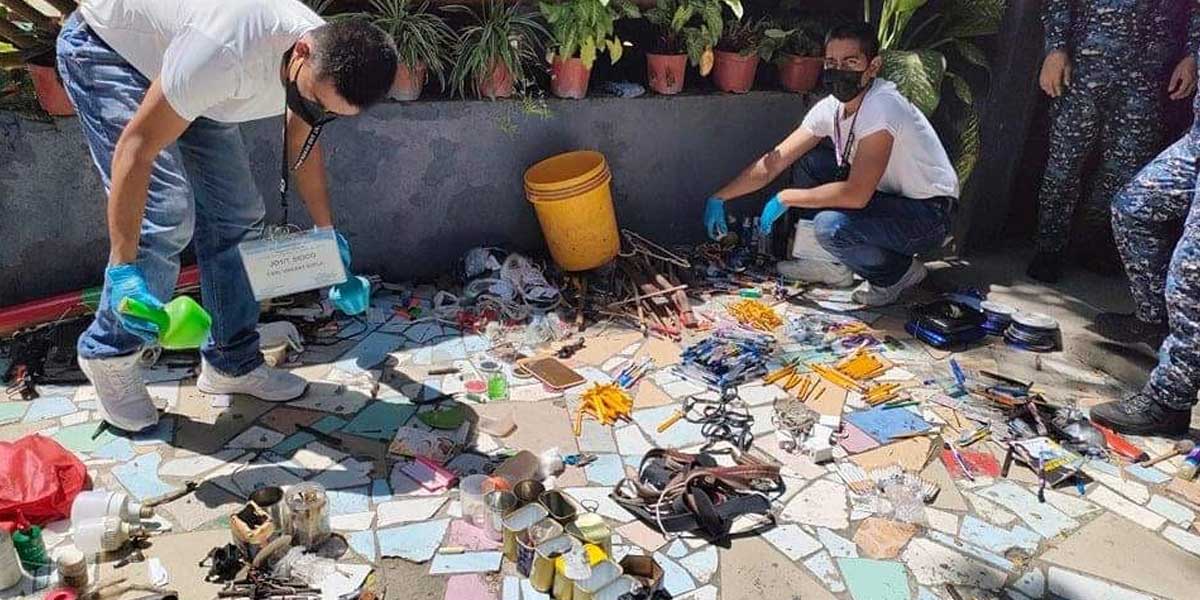 By Glazyl Y. Masculino
BACOLOD City – The Bureau of Jail Management and Penology (BJMP)-6 in coordination with other law enforcement units seized several contrabands inside the Metro Bacolod District Jail (MBDJ) male dormitory in Barangay Singcang-Airport here yesterday.
The confiscated items included knives and other improvised bladed weapons, electronic devices, cigarettes, among others.
The greyhound operation was mounted after Police Major Joery Puerto, head of Police Station 8, issued a statement regarding the alleged mismanagement of the BJMP facility at Barangay Singcang-Airport.
Puerto's statement stemmed from the revelation of two arrested drug suspects this month who told the police about their two alleged contacts inside MBDJ.
The jail contacts allegedly communicated their deals with the suspected peddlers through a cellular phone, despite the prohibition of gadgets inside the jail facility.
While they do not discount the veracity of the said allegation, BJMP-6 took exception on the allegations of Puerto and demanded a rectification of his statement and public apology.
Jail Superintendent Marie Rose Laguyo, provincial jail administrator of BJMP-Negros Occidental, said in a media interview that the operation was conducted not because of Puerto's statement, but because of series of planned activities of BJMP-6 here.
"Nagkataon lang, kasi we have intel-driven greyhound aside from the regular greyhound operation," Laguyo added.
When asked for reaction about Puerto's statement, Laguyo said that being emotional will not do any good.
"If you are going to be emotional, walang mangyayari sa atin," Laguyo said, adding that they will not dwell on it and just moved forward to do what they must do.
"Bibigyan din natin ng pansin kung anong ibinibigay na info," she said, adding that it will serve as a challenge for them to work harder.
Laguyo said that it would be better for those in the uniformed service to help the government curb drug cases.
"We will do our very best, we do not condemn kahit sino even Sir Puerto, we do not pinpoint kung sino may kasalanan or managot but instead we should come together as allies para magkaroon ng successful drug fight," she added.
For his part, Puerto apologized for his earlier statement which he said was triggered by his emotions.
"Ato nga time kapoy lang ko sa pulaw, pasensya kung na mention ko ang BJMP as an institution, Puerto said, adding that it was not his intention to malign the BJMP.
Puerto also met Jail Chief Superintendent Arnold Buenacosa, BJMP-6 director, who visited here Monday. They discussed some issues along with Police Colonel Thomas Joseph Martir, director of Bacolod City Police Office (BCPO).
Puerto said that just like in PNP, there are bad eggs in the organization.
"Normal lang na may bad egg but it doesn't mean bilog na BJMP may kapabayaan," he added.
Puerto, however, maintained that he has evidence to prove his statement. In fact, he already submitted a video to the BCPO for further investigation.
"Indi man ko mag issue statement kung wala ko basehan," he said.
He even recalled that five drug suspects also revealed their alleged contact inside the BJMP facility in Barangay Handumanan last year
Thus, he called on the BJMP to focus probing on the information, since the problem in illegal drugs is very sensitive.
On the other hand, Martir commended Puerto and other police units in their aggressive on the anti-illegal drug war here.
Martir said that Puerto probably issued such statement because he might be tired, adding that his statement can be considered as general statement.
"Dala lang siguro sa kakapoy, wala pa siya tulog, pero nastoryahan naman namon kag na correct na ato," the BCPO director said.
When asked about the video that was provided by Puerto as evidence, Martir said that they will look into it to identify those persons inside the jail.
Meanwhile, some jail officers and persons deprived of liberty (PDLs) were also subjected to a random drug test.
The drug test results are not yet available as of this writing.