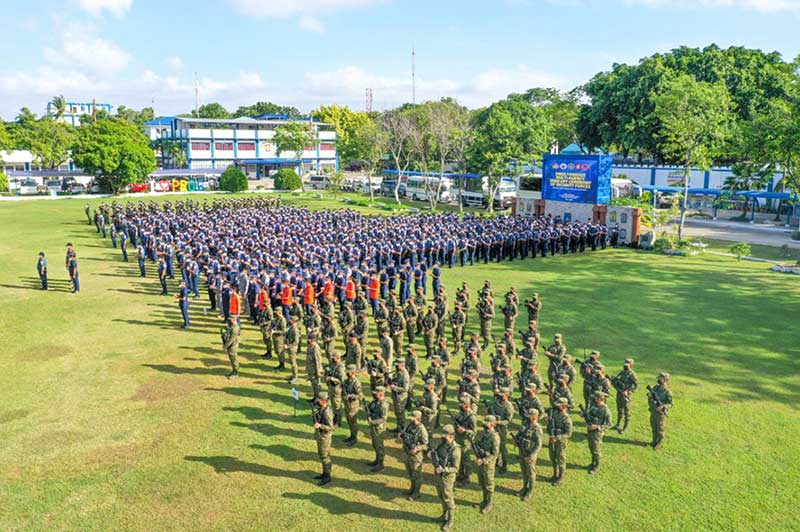 By Jennifer P. Rendon
With five days to go before the national and local elections, the Commission on Elections (Comelec) in Region 6 and the Philippine National Police reechoed the call for government troops to remain non-political and non-partisan.
Atty. Wilfred Jay Balisado, Comelec-6 regional director, and Police Major Gen. Remus Zacharias Canieso, Area Police Command (APC)-Visayas deputy chief, made the reminder during the simultaneous multi-agency, send-off ceremony at the Police Regional Office 6 (PRO-6) headquarters at Camp Martin Delgado, Iloilo City on Wednesday, May 4.
Addressing thousands of personnel from PRO-6, the Philippine Army's 3rd Infantry Division, and the Philippine Coast Guard-Western Visayas, Balisado said that each of them should do justice to their mandated tasks which is to ensure an honest, safe, and orderly elections in this part of the Philippines."
"I remind each one of you to be non-political. The only way that you participate in the election is for you to vote. Other than that, you should remain non-political," he said.
Canieso, who read the prepared statement of APC-Visayas commander Lieutenant General Bernabe Balba, advised police officers to adhere to the guidance of PNP chief Dionardo Carlos "to remain apolitical and non-partisan."
"Remember that our primary calling on the upcoming elections is to provide strictly security so as to deliver a safe, honest and credible elections," he said.
Canieso also asked them to conduct themselves professionally, show competence in their assigned tasks, and do what is right at all times.
"Let me also emphasize to discharge your duties and responsibilities with care. Do not be complacent at any time and be mindful on your respective post. I expect you to perform the task with highest degree of professionalism, dedication, integrity and courage," he said.
Canieso said they should be guided by their moral code all the time.
Meanwhile, Balisado underscored the troops' tasks in the election citing that the "Comelec will be helpless because as we all know every election time in the Philippines there are always an aspect for violence."
But with the able PNP and Philippine Army leadership, Balisado said that the region has not recorded a single election related incident (ERI).
"We have maintained the peace and order in this part of the Philippines because of our close coordination and planning," he said.
He also emphasized the power each voter has during elections.
"They have the power to select leaders who could lead them in the next three years or six years in the case of the president, vice president, and senators. Ito po yung panahon na mayaman ka, mahirap ka, May pinag-aralan, mangmang, able and disable, isa lang yung boto natin," he said.
And that single vote every voter has should be protected.
"Kaya importante na nandun yung AFP, PNP, at Coast Guard and all assets of the Government so that the people could really exercise their right to vote," Balisado said.
He pointed out that the poor and the uneducated one could be easily intimated, which, in one way or the other deprive them of their right to choose the right leaders during voting.
"That's why, it is important for the AFP and PNP personnel coast guard na nasa precinct just in case. If we see harassment that's one task that we have to stop so that voters on election day could really exercise their right to vote free from fear and intimidation. In such a way that at the end of the day we can always be proud that the May 9, 2022 elections have been honest peaceful and orderly in this part of the Philippines," he said.
Balisado said that uniformed personnel who will take on election duties should be proud because the conduct of polls during pandemic is one for the books.
"I hope that this will be the last election that we are on pandemic because our preparations have been difficult. We did a difficult job because we are on the pandemic and because of that alone you should be proud. You have that bragging rights to tell your children and your grandchildren that you were part of the May 9, 2022 elections and that we are able to successfully conduct it with pride," he said.
Balisado has also asked everyone to pray for good weather to allow more voters to go to the polling precincts.