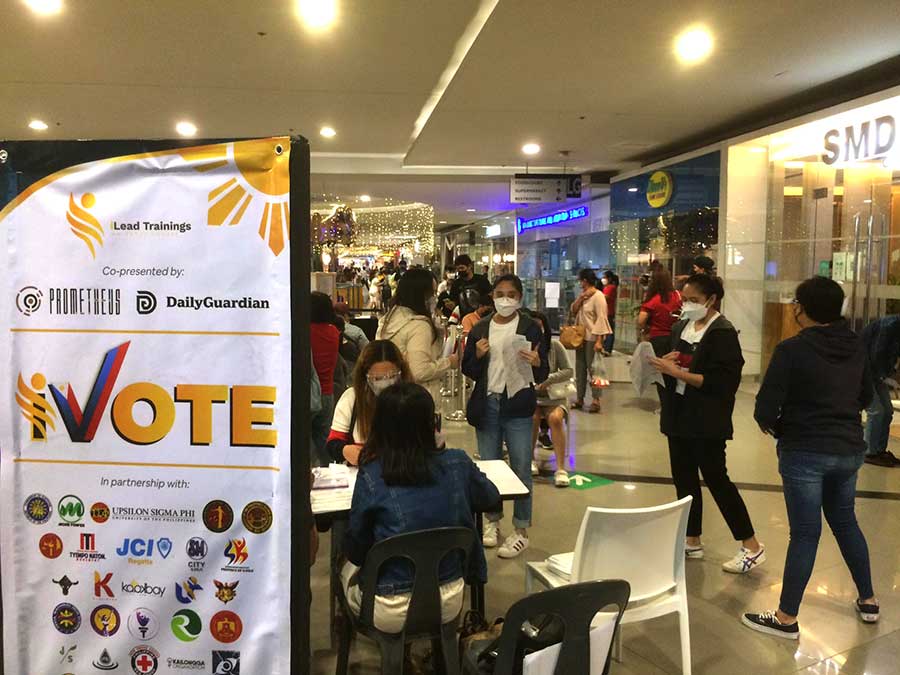 By Joseph B.A. Marzan
The Commission on Elections (COMELEC) Iloilo City welcomed 2,981 new voters after reopening its voters' registration since Sept. 6, 2021.
Voter registration in the city was suspended since May 24 after the city was placed under the Modified Enhanced Community Quarantine (MECQ) due to rising coronavirus disease 2019 (COVID-19) cases.
After rejecting calls of extension of the registration period, the COMELEC En Banc on Sept. 1 finally allowed registration in MECQ areas, including Iloilo City.
The most number of registrations was on Sept. 11 (915), with around 76 percent of them being first-time voters aged 18 to 30, according to Election Assistant II Jonathan Sayno.
The poll body also registered 410 voters on Sept.6, 428 on Sept. 7, 422 on Sept. 8, 384 on Sept. 9, and 421 on Sept. 10.
Most of these were walk-in registrations, as only 121 registrants were logged through the COMELEC's iRehistro online appointment system.
More than half (64.13 percent) of registrations in the past week alone were new registrations with 1,912. This is followed by transfers from other areas (489), transfers within the city (253), reactivation (107), and correction of entries (53).
Other registration modes included transfers with correction of entries (48), transfers with reactivation (46), reactivation with correction (23), and transfer with reactivation and correction (18).
The COMELEC also accommodated vulnerable sectors during this period, with 169 Senior Citizens (SC) and 25 Persons With Disabilities (PWD).
Sayno told Daily Guardian that they found the Sept. 10 registration at SM City Iloilo, the first satellite registration activity in the city since the start of the pandemic, a bit difficult.
The servers went down for an hour and a half, and they had to get authority from the central office in Manila to restart registration after the issues had been fixed.
But he added that all who remained in line during the registration were able to enlist.
Sayno also said that the COMELEC Iloilo City was very overwhelmed by the influx of people in the first six days, that by 9 a.m. last Saturday, their holding areas at the SM Cinema were already full.
He admitted that they could not state a cut-off time last Saturday due to the fluctuating number of people who were coming in, but it was managed by personnel from the Iloilo City government's Compliance Team and members of the police force.
Because of this, Sayno said the city election office is confident that they would be able to attract more people as the closing of registration on Sept. 30 nears.
He said that their experience with previous election cycles coupled with the satellite registration activities will help them manage the remaining days.
"It's really good. Despite feeling tired, our projections were reached. More or less, we expect 20,000 to be added, with 315,000 voters to be added by the next election overall. The situation [at SM City Iloilo] was like a preview to the last day. We are prepared for that, like in a war, we are now veterans. For as long as there is a holding area and the venue is wide, we will be alright," Sayno said.
The satellite registration on Sept. 11 was conducted with support from iVote, a voter education initiative by iLead Trainings, Daily Guardian, and Prometheus Productions.
There will be no more voter registration at the COMELEC Iloilo City offices in Iloilo Terminal Market until the end of the registration period.
Satellite registration continues today (Sept.13) and tomorrow (Sept. 14) at Robinsons Place Iloilo, from 8:00 a.m. to 5:00 p.m. The final four days of the voter registration period (Sept. 27 to 30) will also be conducted there with the same schedule.
Registration will be conducted at the fountain area, and the holding area will be at the 3rd floor, near the offices of the Department of Foreign Affairs. Security personnel will usher 30 registrants down to the registration area at a given time.
There will also be registration exclusive to Persons Deprived of Liberty (PDLs) at the Bureau of Jail Management and Penology (BJMP) facilities on Sept. 16 (Male Dorm) and Sept. 17 (Female Dorm).
Other voter registration activities in the city will be done at the Ateneo De Iloilo (Sept. 15), University of Iloilo PHINMA (Sept. 20), Festive Walk Mall (Sept. 21 and 22), CityMall Parola (Sept. 23), and Robinsons Jaro (Sept. 24 and 25).
iVote will be partnering again with the COMELEC Iloilo City for the Boto Tayo Sa Mayo 2022 (BTSM 2022) satellite registration activity on Sept. 18 at the University of the Philippines Visayas from 8:00 a.m. to 5:00 p.m. The first 100 successful registrants during this event will receive a free McDonald's meal.