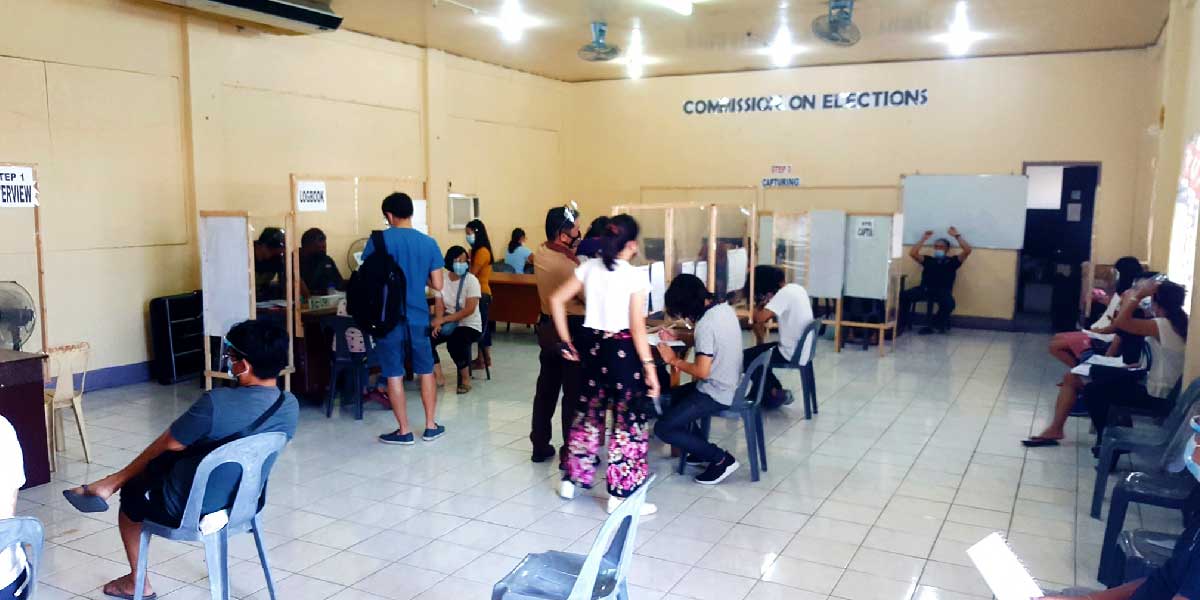 By Joseph B.A. Marzan
The Iloilo City office of the Commission on Elections (COMELEC) remains confident that it can reach the 15,000 target voter registrations as the poll body's central office allowed the resumption of registrations in areas under Modified Enhanced Community Quarantine (MECQ).
COMELEC En Banc Resolution No. 10718 promulgated on Sept. 1 allowed voter's registration in MECQ areas, which were previously prohibited due to risks of the coronavirus disease 2019 (COVID-19).
This was followed by a Sept. 2 press release stating that registration in these areas would resume starting Sept. 6, from 8:00 a.m. to 5:00 p.m., Mondays to Saturdays (including holidays) in local election offices.
These local election offices may also set up satellite registration activities.
Areas under General CQ (GCQ) and Modified GCQ will still operate from 8:00 a.m. to 7:00 p.m. on weekdays, and 8:00 a.m. to 5:00 p.m. on Saturdays and holidays.
Iloilo City and Iloilo province, which have been under MECQ since May 23 and June 16, respectively, suspended all voter's registrations since their current statuses went into effect.
The COMELEC Iloilo City's Election Assistant II Jonathan Sayno told Daily Guardian in a phone interview that in line with their usual practice, registrations in the city's election office will strictly implement a "no face mask-no face shield, no entry" rule.
Aspiring voters will also be repeatedly encouraged to bring their own ballpens to further decrease the risk of contracting COVID-19.
Sayno also said that satellite registration activities will be conducted in malls around the city, but schedules for these activities may come out next week.
The COMELEC central office recently inked agreements with SM Malls, Robinson's Malls, and Ayala Malls to conduct satellite registrations in their malls around the country.
There will be no voter's registrations in the local COMELEC office during these mall-based activities.
Republic Act No. 8189 mandates that registrants should personally accomplish their registration before the Election Officer.
"When we have voter's registrations in the malls, we will not have registrations in the COMELEC [Iloilo City office], so all registrations will be centralized in the malls," Sayno said.
Sayno also said that based on the latest approvals by the Election Registration Board (ERB) in its July hearing, the city now has more than 305,000 registered voters, up from 294,756 voters who registered for the 2019 elections.
He said that the COMELEC Iloilo City is expecting between 300 to 500 registrants per day, both in their office and in satellite registrations.
But he also added that they would still expect an influx of registrants leading up to the Sept. 30 deadline.
The COMELEC En Banc previously rejected calls to extend voter's registrations despite the continued restrictions as a result of the current pandemic.
"We will reach our target number of registrants so we are not sure about the influx of registrants who would be coming in on the last day, because it has already happened that we couldn't carry the capacity, especially at this time when there was a long stoppage of registration, so people would definitely rush," he said.
In preparation, Sayno said those who had previously registered with the iRehistro online appointment portal but got cut due to the restrictions will be contacted through text messages and will be provided a "special lane".
This special lane will be shared with senior citizens, persons with disabilities, and pregnant women.