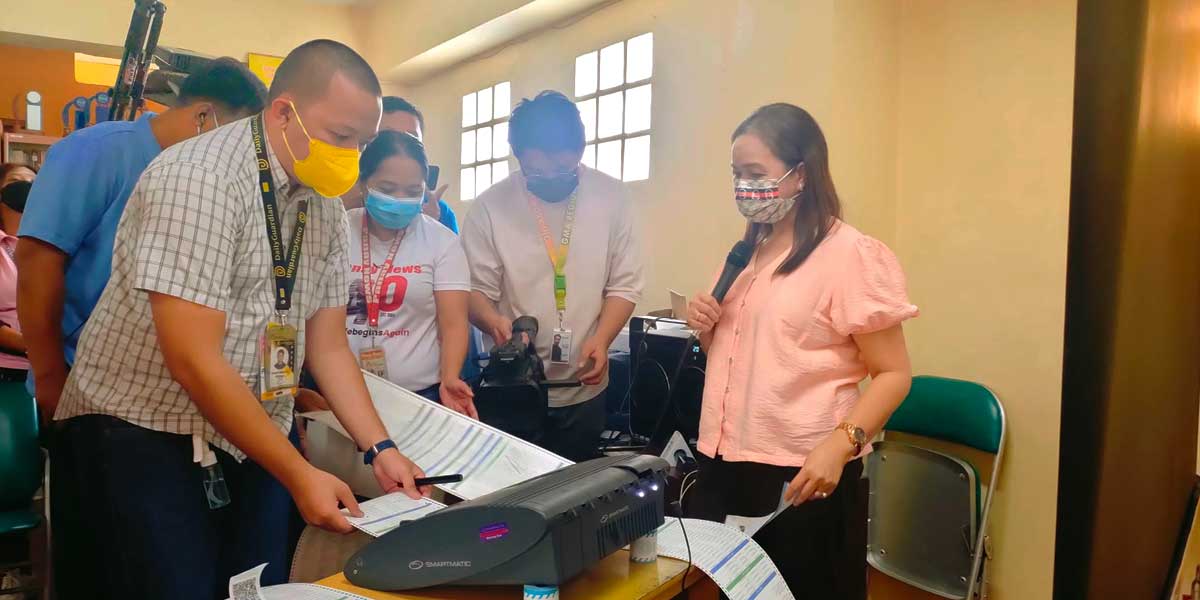 By Joseph B.A. Marzan
The Commission on Elections (COMELEC) in Iloilo on Tuesday assured the public that the 2022 national and local elections would be safe and fair, and every qualified voter would have an opportunity to cast their ballot.
COMELEC Iloilo and the Iloilo Provincial Police Office (IPPO) held a joint press conference with the Philippine Information Agency (PIA) Tuesday to demonstrate the Vote Counting Machines (VCMs) to be used in the May 9 polls.
Iloilo Provincial Election Supervisor Ian Lee Ananoria allayed fears of inability to vote in cases of power outages or telecommunication problems.
Ananoria said that they have met multiple times with the National Grid Corporation of the Philippines (NGCP) to ensure having no brownouts on May 9.
But even if there would be power outages, he said that the VCMs are delivered with batteries to assure continued power supply.
"We usually hold meetings with the NGCP for a 'one-day, no-brownout' Election Day. Nevertheless, even [with power outages], VCMs work with batteries and a motor, so we are assured that election day will happen," Ananoria said.
NGCP operates the facilities that transmit electricity from the power plants to distribution utilities and electric cooperatives.
As to the transmission of election data, Ananoria said the COMELEC has special frequencies and servers which would allow for seamless transmission especially when the voting ends.
He added that they also sought the assistance of the police and other relevant agencies and officials to make access easier for Geographically Isolated and Disadvantaged Areas.
"We have a special frequency for election day. [In 2019], when election data came in, they realized that the server could not carry all of that. People may have stated about 'glitches' because of the hardware," he explained.
"We use direct satellite transmissions instead of the traditional internet connections. In fact, internet connections are our last resort. We have our own system to transfer the data."
IPPO chief, Police Colonel Adrian Acollador, said 17 persons were arrested in the province since the election period began on January 9 for violating election related rules like the gun ban.
Police also confiscated 11 firearms, 3 deadly weapons, and 1 explosive, as well as 68 ammunitions.
The IPPO has also been assisting in the COMELEC's Oplan Baklas, with 1,822 campaign materials taken down across the province.
Ananoria said that he hopes to achieve an 85 percent voter turnout, but "would be happier" if there would be 100 percent of voters on May 9.
"Most of the voters are around 29 to 30 years old. Voter turnout [in 2019] was around 70 to 80 percent. Voting may be higher this time because everybody gets to vote. I think 85 percent would be okay with me. But it would be better for 100 percent [voter turnout]," he said.
MOCK ELECTION
The poll body allowed media practitioners to use the VCM via "mock election" to test their accuracy and effectiveness.
One media practitioner shaded only one "mock candidate" for senator, and then proceeded to make markings on the voting field. When the machine printed the receipt, it showed that three senatorial candidates were chosen instead of just one.
Oton Election Officer Alice Naranjo explained that the phenomenon was possibly because the doodle covered the ovals and reached the ballot-shading thresholds of 50 percent for the VCM to read.
Naranjo reminded the public to avoid tampering their ballots to prevent such miscounting.
"In shading, it should be fully shaded 100 percent, however, the VCM will read even just 50 percent of the ballot. Last election [2019], I think it was even 30 percent. So, [we have to] avoid tampering because the machine might mistake that for shading," said Naranjo.
Daily Guardian also had the opportunity to "tamper" with the mock ballot, this time, by marking the security features or barcode on the ballot's sides and bottom part.
The ballot was inserted four times in different orientations, but the VCM refused to read it after detecting that the security features were tampered.
Naranjo said that in cases of tampering of the security marks, the Electoral Boards, composed of COMELEC personnel and teachers, would no longer give out spare ballots as was the case in previous elections.
"Please take note [that we can only give one ballot per person]. If it will be due to the mistake of the voter, we can no longer give another ballot, so [voters need to be] very careful," she said.
COMELEC Iloilo data from the Election Registration Board's as of Nov 11, 2021 hearing indicated that Iloilo province has 1.29 million registered voters and Iloilo City has 330,470 registered voters for the 2022 elections.