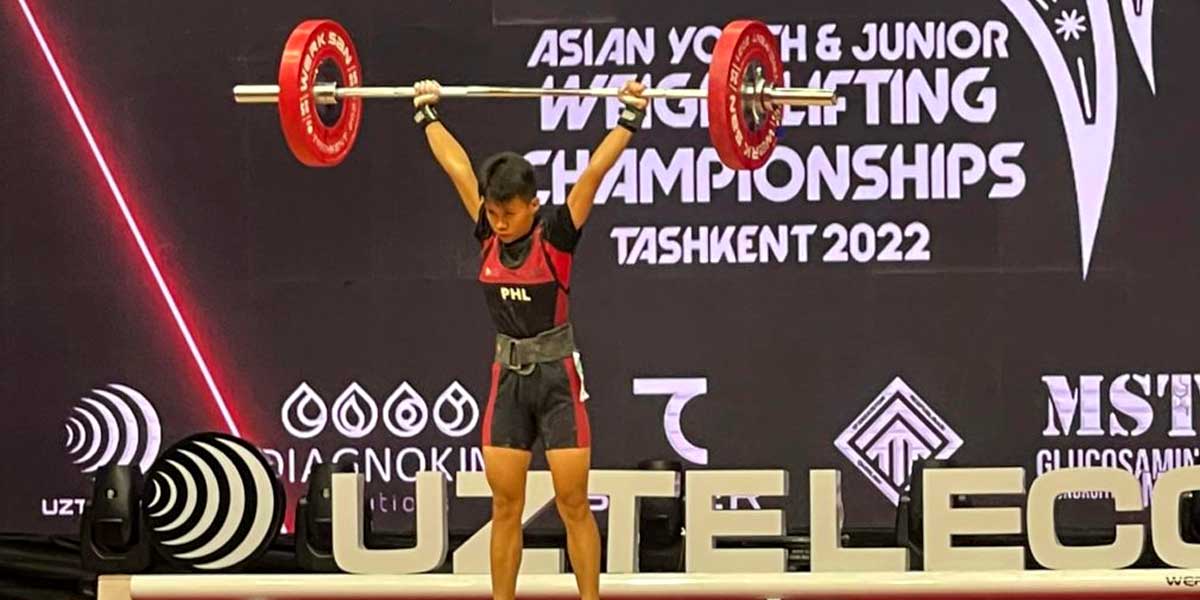 By Leobert Julian A. de la Peña
Angeline Colonia, one of the Philippine Women's National Weightlifting representatives, dominated during the 2022 Asian Youth and Junior Championships held at the Yunusobod Sports Complex in Tashkent, Uzbekistan.
The weightlifting rising star garnered two gold medals and one silver in the women's minus-40-kilogram category and made history after breaking both the world and Asian records in the snatch.
Colonia lifted a total of 62-kg in the snatch and scored 72-kg in the clean and jerk to complete the record-breaking 134-kg weight which shattered the Asian record of 133-kg.
The young weightlifter faced tough competition after going up against the best representatives from four other nations.
Colonia got into a close battle with Duong Thi Kim Yen of Vietnam and got the better of the Filipina in the clean and jerk by just a kilogram after lifting 73-kg.
However, Colonia's off-the-charts performance in the snatch category made all the difference as the Vietnamese only scored a total of 129-kg and settled for the silver medal.
Kishor Akahksha Vyavhare of India nabbed the bronze medal and scored 55-kg in the snatch, 70-kg in the clean and jerk for a total of 125-kg.
The 15-year-old superstar is the sister of former Rio De Janeiro Olympian Nestor Colonia and became the second Filipina teen together with 18-year-old Vanessa Sarno to win a gold medal aside from Diaz.
Meanwhile, in the other events, Prince Keil Delos Santos added two more bronze medals for team PHL in the youth men's minus-49-kg category.