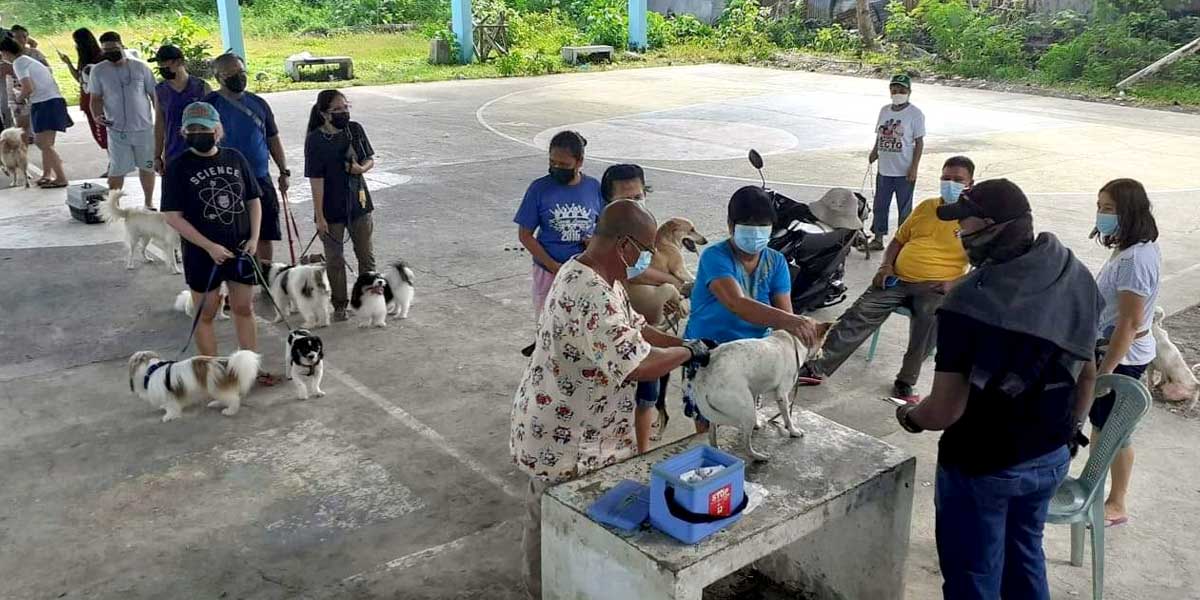 After almost two years of the COVID-19 pandemic, the Iloilo City Veterinarian Office (CVO) will again conduct massive rabies vaccination in different barangays to target the increasing population of cats and dogs and the spike in rabies cases.
City Veterinarian Dr. Tomas Forteza said two years of lockdown forced them to temporarily stop their programs, particularly spaying and neutering of pets and the rabies vaccination.
As a result, the CVO observed an increase in dog and cat populations and a notable spike in rabies cases last year.
"Unfortunately, because of COVID-19 na-untat ang mga programs, that's why subong nagaworsen aton rabies cases. Nakibot kami kay after two years nga minimal vaccination halos tanan nga barangay nga na-agyan this year, dako increase sang population," Forteza said in an interview with Radyo Pilipinas-Iloilo.
Forteza said their initial estimate on the population of dogs and cats in the metro is about 40,000. Hence, their initial target was to vaccinate 28,000 dogs and cats against rabies to achieve herd immunity.
However, due to the sudden spike of their population, Forteza said they will have to re-assess the estimated population.
"Our estimate is 40,000 dogs and cats but we will have to check and maubra bag-o nga estimation because posible nga kadako sang increase because of the past two years nga pandemic," he added.
The City Veterinarian warned that the number could double in the next five years. Hence, their office has once again conducted mass rabies vaccination in the metro to target the different barangays.
"Sa parte sang syudad, nagsugod kami liwan sang barangay vaccination, because we want to establish herd immunity sa rabies cases. Gina-encourage ta ang mga ido nga three months of age nga mapabakuna and after one year, kinahanglan mapa-booster shot sila so kon nabakunahan this year, dapat bakunahan liwat next year para mataas ila immunity," he explained.
Last year, the CVO recorded 26 rabies cases in Iloilo City, mostly stray dogs, according to Forteza.
This year, he said that they are yet to provide a definite number on the rabies cases but he noted that the CVO has initially recorded rabies cases in Jaro district this year.
He admitted that their office is overwhelmed with the increase of the population of dogs and cats in the metro.
"We are actually overwhelmed, that is why we will be asking help from the Department of Agriculture (DA) and the Bureau of Animal Industry," Forteza said.
Currently, the CVO is conducting a massive rabies vaccination in the different barangays in Arevalo district for the whole month of April.
Meanwhile, Forteza advised the public to be vigilant and immediately report to the authorities and the CVO any dogs who are exhibiting symptoms of rabies such as: excessive salivation, aggressiveness, disorientation, and biting inanimate objects.
Once bitten, Forteza said the wound must be immediately cleaned with soap and running water.
Regardless of the status of the animal, persons who are bitten should immediately go to the Animal Bite Treatment Centers in the metro for proper medication.
"Kadto gid sila sa aton mga Animal Bite Centers. Diri sa city, may ara kita duha sa Western Visayas Medical Center kag sa Sto. Rosario Health and Animal Bite Center sa Brgy. Sto. Rosario Duran. Importante agod ma-assess ko ano ang category sang bite kag ma-advise kon ano ang nagakadapat nga treatment," he said. (DG)