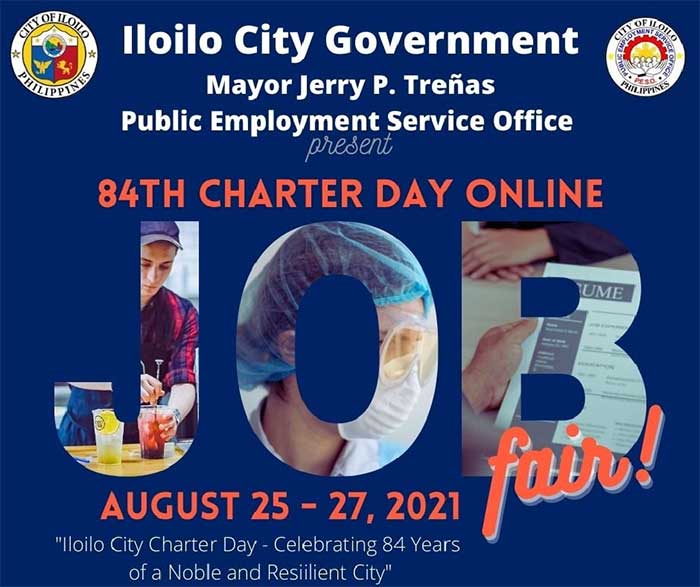 By Joseph B.A. Marzan
As part of Iloilo City's 84th Charter Day celebration and as an economic response to the coronavirus disease 2019 (COVID-19) pandemic, the Iloilo City Government will be holding its first-ever online job fair on August 25 to 27, 2021.
More than 30 companies based in the city have lined up more than 500 local and overseas jobs available, with 200 of these in Iloilo City alone.
Those interested can join through the Iloilo City Public Employment Services Office (PESO) Facebook page, and use the Messenger option to select their desired job through the automatic messaging bot.
From there, applicants can send their data and attach their resume or biodata through an online form.
Applicants will receive instructions through a Facebook Live program at 10:00 a.m. on August 25, 2021 on the PESO Facebook page.
Gab Umadhay of PESO told Aksyon Radyo Iloilo on Sunday that the main purpose of the job fair was to restart the economy amid the COVID-19 crisis.
Umadhay mentioned that around 900 businesses had closed and around 1,000 to 1,500 jobs were lost in the city due to the pandemic.
"We really thought about this because we understand that face-to-face [events] are really difficult nowadays. We looked at what was the easiest and safest option, which was the online setting. This is to make it easier for the city's residents to reach employers," said Umadhay.
Umadhay also cited Iloilo City Mayor Jerry Treñas' instruction to make sure that there must be enough economic activity in the city, which pushed the PESO to come up with the program.
He also cited observing the previous online job fairs by the Department of Labor and Employment and Iloilo province's PESO, where the city's PESO picked up "learning milestones".
These include unfamiliarity with the description and nature of the jobs, as well as the difficulty of internet connections.
Through the automatic bot, the applicant can upload to the online form, even with a limited amount of internet connection.
"When we place a job application which is unfamiliar to all, there would be few participants. On the other hand, even if a job application was nice, if internet connection was not available, participants cannot join. So we asked our business partners and they said that they just needed [applicants'] resumes," Umadhay shared.
He assured job seekers that their applications will be forwarded to the participating establishments.
"What we can assure applicants is that their applications will be forwarded to companies, and we have a validation process. Hopefully, what they write on their resumes can champion their ability to be employed with these companies," he said.