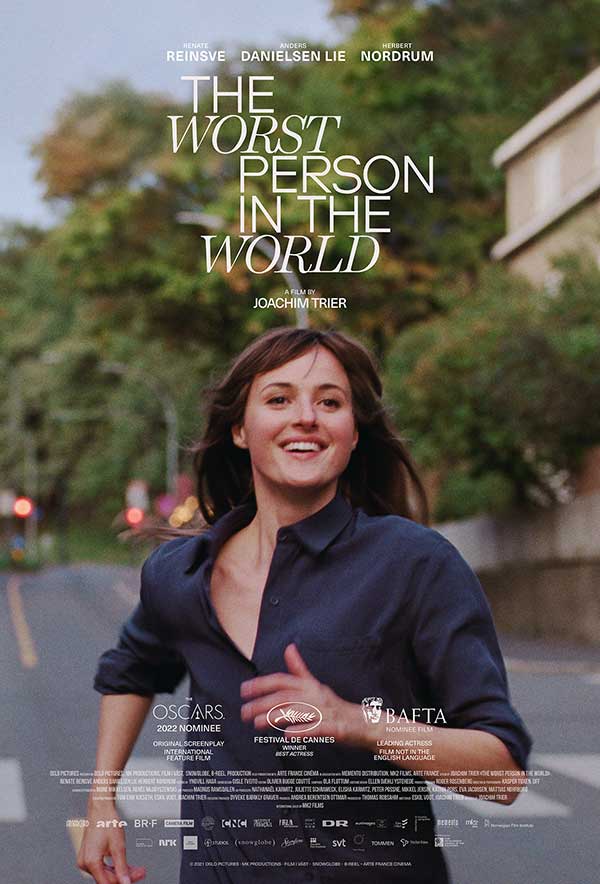 By Joseph B.A. Marzan
Cinematheque Centre Iloilo welcomes moviegoers back to physical viewing and celebrates the International Women's Month with the screening of a critically acclaimed Academy Award-nominated film this March.
As part of their Cine Filipina's "Women In World Cinema" showcase this year, the Cinematheque Center will be having a limited on-site screening of Joachim Trier's "The Worst Person In The World" on March 19, 26 and 27 at 6 p.m.
The Norwegian dark comedy chronicles of four years in the life of Julie, a young woman who navigates the troubled waters of her love life and struggles to find her career path, leading her to take a realistic look at who she really is.
It premiered at the 2021 Cannes Film Festival, with its female lead actor Renate Reinsve bagging home the festival's Best Actress award.
It was also recently nominated for Best International Feature Film and Best Original Screenplay at the upcoming 94th Academy Awards.
This is the third film in Trier's 'Oslo' trilogy, following 2006's 'Reprise' and 2011's 'Oslo, 31 August'.
In a statement, Cinematheque Center Iloilo expressed their happiness and excitement for the opportunity to finally reopen to the public during Women's Month.
"When the cinemas were prohibited to function, we took the opportunity to undergo renovations in order to elevate the cinematic experience for the Ilonggos whenever the restrictions on cinema going is lifted. Fast forward to March 2022, Cinematheque Centre Iloilo finally open its doors with a new look with the cinema experience our local audience loved, just in time for the celebration of Women's Month. We've been influenced by women growing up they may be from film or in real life. May this celebration make us remember the women who helped us get through the trials we faced, especially this pandemic," the center said in its press release.
Tickets sell for P200, with the details of selling to be provided soon by the FDCP Cinematheque Iloilo social media pages.
Screenings of regional films under the Cinema Rehiyon 14 Film Festival will also be shown at the center from March 19 to 31.
Despite Iloilo City's Alert Level 1 status, the Cinematheque Center Iloilo will retain its 50 percent capacity allowance. Audiences will be required to present their valid ID and vaccination card or vaccination certificate.
This year's "Cine Filipina: Juana Tungo Sa Kaunlaran" aims to continue recognizing women's significant accomplishments. The film festival puts a spotlight on women to further understand and support their journeys as they carry on to make beneficial contributions to society. The festival is being held virtually on the FDCP Channel (fdcpchannel.ph) with limited onsite screenings at the Cinematheque Centres.
Cinematheque Center Iloilo is located at the Ground Floor of B&C Building, corner Solis and Iznart Streets, City Proper, just across Land Bank-Iloilo Branch.