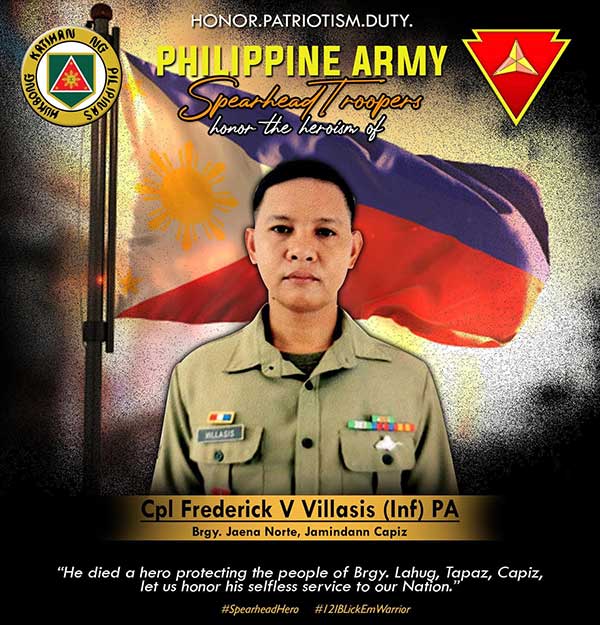 By Jennifer P. Rendon
Killing, brutally done at that, is undoubtedly a form of violence. And no amount of justification could rationalize such an act.
On Saturday, August 14, the Commission on Human Rights, through its spokesperson Atty. Jacqueline Ann de Guia, released a statement on the killing of Army Corporal Frederick Villasis.
A member of the 12th Infantry Battalion, Villasis was killed by members of the New People's Army (NPA) on August 12 in the hinterland village of Lahug, Tapaz, Capiz.
"According to reports, Villasis was riding with a civilian on a motorcycle on their way to the town hall when around 40 armed men blocked their way. The civilian was left unharmed, but Villasis was reportedly taken, tortured, then shot from behind while his hands were tied. His motorcycle was also said to have been set on fire," the CHR statement read.
The CHR stressed that, "such senseless violence is an affront to human rights, particularly to the sanctity of human life. We urge the government to apply the force of law in ensuring that the perpetrators are held accountable for these transgressions. "
The agency said it would probe the incident in aid of serving justice. It also extended its condolences to the family and friends of Corporal Villasis.
A day after Villasis' murder, the Coronacion "Waling-Waling" Chiva Command issued a statement owning up to the killing of Villasis.
Julio Montana, the group's spokesperson, said that the NPA's Mt. Baloy Command carried out the execution.
Montana claimed that Villasis is a target of an offensive against the military, being a member of the AFP.
He claimed that it was a retaliation for the December 30 raids in Tapaz that killed nine persons.
However, it could be noted that the Tapaz operation was carried out by Philippine National Police (PNP), particularly the Criminal Investigation and Detection Group (CIDG).
Earlier, the Philippine Army's 3rd Infantry Division and the 301st Infantry Brigade, as well as the Police Regional Office 6 (PRO-6) and the Regional Task Force to End Local Communist Armed Conflict (RTF-ELCAC 6), have condemned the incident.
The RTF-ELCAC-6 said that what happened "is clearly an act of terror designed to undermine the peace efforts of the government in the hinterland barangays of Tapaz, Capiz."
It added that the "barbaric and inhumane act will not go unpunished. Those responsible will be held accountable and shall be brought to the bars of justice."
Meanwhile, Brigadier General Marion Sison, 301st IB commander, has vowed that justice will be served for Villasis' death.
Sison also called on the public to denounce communist terrorism and condemn the senseless violence.