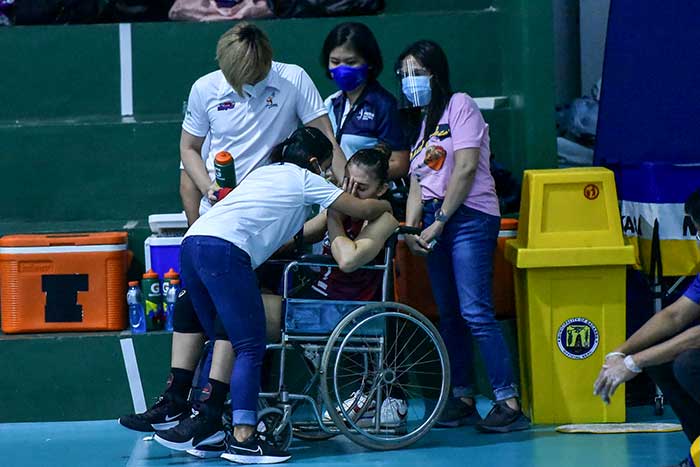 By Leobert Julian A. de la Peña
Chocho Mucho Flying Titans' star middle blocker Maddie Madayag was diagnosed with a torn ACL on her left knee after her bad fall in a battle for third game against the Petro Gazz Angels.
With the severity of Madayag's left knee injury, the Flying Titans might go to battle without her for 10 to 12 months.
Madayag was carried out of the playing venue riding a wheelchair. Madayag suffered the injury as she landed on one leg after spiking the ball off a Deanna Wong set.
After seeing one of their key players go down, co-stars Bea De Leon, Kat Tolentino, and Wong could not hide their emotions but were consoled by head coach Oliver Almadro to keep their heads up and finish the game.
Choco Mucho would end up losing the game including the battle for third series against Petro Gazz who were outlasted by the Creamline Cool Smashers during the semifinals.
Despite falling short of a championship in the Premier Volleyball League (PVL), the Flying Titans will have an optimistic off season after making it into the semifinals against Cherry Tiggo.
The Flying Titans managed to take the first game against Jaja Santiago and Tiggo but the more experienced team handed them two straight losses to punch a ticket to the grand finals.