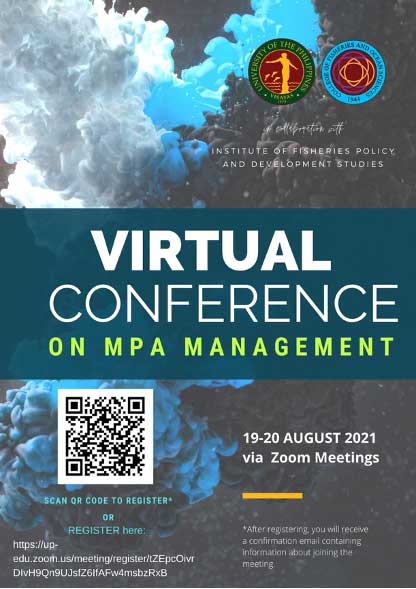 Successful stories in managing marine protected areas (MPA) were showcased in a virtual conference organized by the Institute of Fisheries Policy and Development Studies, College of Fisheries and Ocean Sciences (CFOS-IFPDS) on August 19-20, 2021.
Five speakers graced the two-day conference to share their knowledge, experiences including the challenges, issues, and key management practices and strategies in running a well-managed MPA to inspire other communities and local government units (LGUs).
The panelists on the first day were Mr. Felix T. Badon, municipal environment and natural resources officer of Ipil, Zamboanga, and Dr. Joy C. Lizada, faculty member of the College of Management, UP Visayas.
Badon talked about their MPA initiatives in Ipil, Zamboanga, Sibugay Province, particularly their journey in managing the Buluan Island Marine Sanctuary (BIMS). The sanctuary is home to 133 species of fish, 63 genera of corals, three giant clams, and five marine turtles. The MPA was awarded as Best Managed MPA in 2015.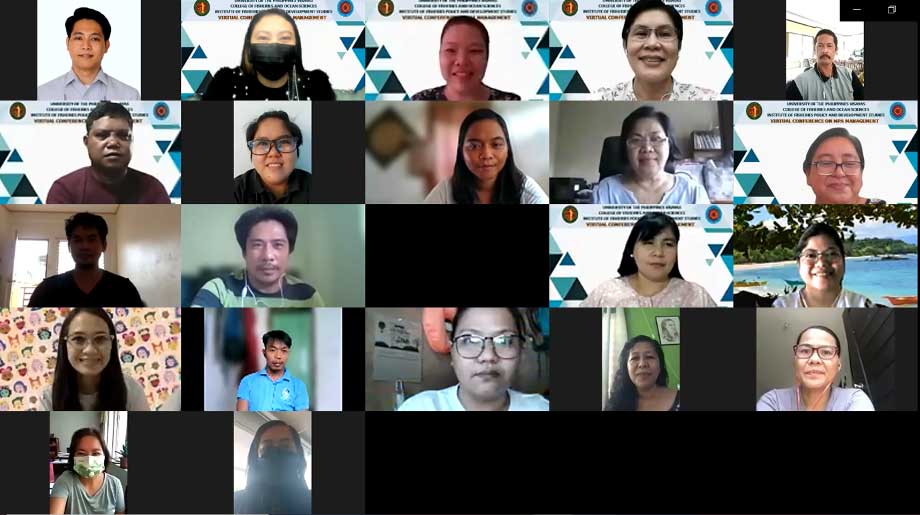 Dr. Lizada shared the results of their dissertation on the environmental governance of Apo Island, including the institutional interventions done in the island from 1979 to 2002, which led to its present status as a protected area under the NIPAS Act, otherwise known as "National Integrated Protected Areas System Act of 1992".
Meanwhile, the second day highlighted best practices in MPA management and CRM initiatives in the Province of Negros Occidental.  The presenters were Ms. Maria Elena B. San Jose, supervising environmental management specialist and head of the Technical Support Services Division of the provincial environment office of the Province of Negros Occidental; and Mr. Melvin S. Maglayon and Mr. Oscar A. Molas of the City Environmental Management Office of San Carlos City, Negros Occidental.
San Jose discussed their works in the Negros Occidental Coastal Wetlands Area Management Alliance (NOCWAMA), including the positive results, outcomes, and impacts of the different program components. These program components are the establishment of Coastal Wetlands Conservation Areas, enforcement of biodiversity regulations, promotion of biodiversity-friendly practices, and intensified information and education campaign (IEC).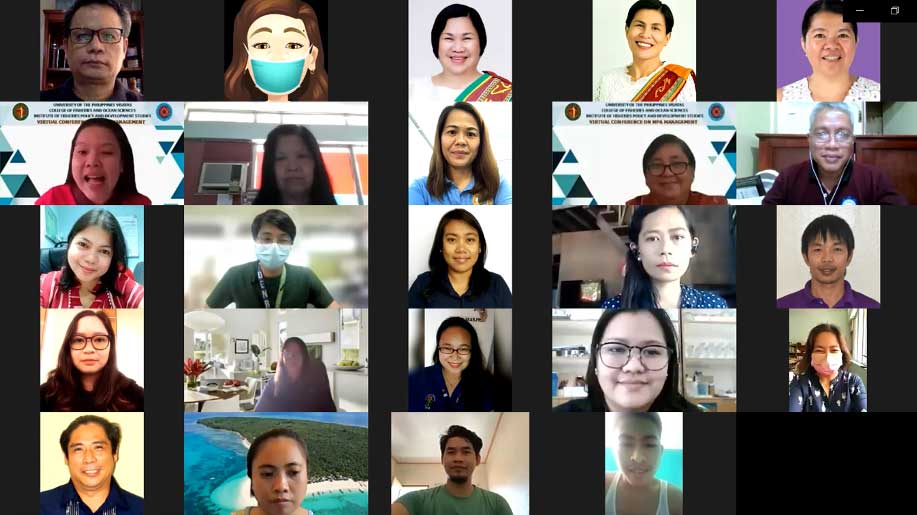 NOCWAMA is a network of alliances led by the Governor of the Province of Negros Occidental was created in 2014 with 10 member LGUs to enhance the management of coastal wetlands in the province.
Maglayon and Molas, on the other hand, presented the CRM/MPA initiatives of San Carlos, City Negros Occidental, which brought significant impacts to the lives of the stakeholders, particularly to the fisherfolks.
San Carlos City has 18 barangays, 10 of which are coastal barangays, and registers a total of 1,667 fisherfolks. It has established two MPAs in Sipaway Island to protect and rehabilitate the coastal resources of the City.  (Lenilyn Gallos, CFOS)