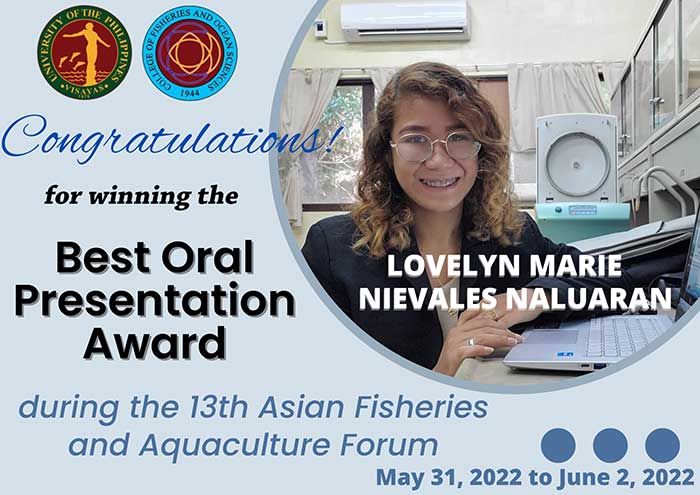 Ms. Lovelyn Marie N. Naluaran bagged the Best Oral Presentation award at the 13th Asian Fisheries and Aquaculture Forum (AFAF), held virtually from May 31 to June 2, 2022.
A graduating student in MS in Fisheries major in Aquaculture of the College of Fisheries and Ocean Sciences, UP Visayas (UPV-CFOS), Naluaran's paper entitled "Inhibitory Effects Against Luminous Vibrio, Vibrio harveyi of Predatory Bacteria, Bacteriovorax sp. In the Early Stages of Pacific Whiteleg Shrimp (Penaeus vannamei)" bested 35 other papers from around the globe in the Student Competition category.
Her paper aims to isolate and utilize Bacteriovorax sp. as a biocontrol agent to inhibit Vibrio harveyi and total Vibrio in the larval stages of Pacific Whiteleg Shrimp, Penaeus vannamei.
Mentored by Prof. Rex Ferdinand M. Traifalgar, Naularan said, "Bacteriovorax sp. are predatory bacteria under the Bdellovibrio and the like organisms (BALOs) group. These are predators of gram-negative bacteria whose mode of action was the direct killing of the pathogen by attaching and forming bdelloplasts."
The result of her study revealed that an optimum dose of Bacteriovorax sp. application could be an efficient and practical strategy to prevent and mitigate the losses associated with Vibrio spp. most especially the luminous vibrio, V. harveyi outbreaks in P. vannamei culture.
Naluaran was elated by her win in the prestigious international conference.
"I was extremely shocked when my name was called during the awarding ceremony. I never imagined winning 1st prize in the Oral Presentation during the 13th AFAF because there were so many outstanding international presenters and their studies were more advanced," she said.
She believed that the uniqueness of her study, coupled with her confidence during the presentation and questions and answers portion, were big factors for coveting the 1st prize in the competition.
"I am very thankful to my thesis adviser Dr. Rex Ferdinand Traifalgar, for introducing AFAF to me and for encouraging me to join the oral presentation competition. It was indeed an awesome experience, and it is an honor to represent the Institute of Aquaculture, the College of Fisheries and Ocean Sciences, and the University of the Philippines Visayas," Naluaran said.
Organized by the Asian Fisheries Society once every three years, the AFAF is a scientific platform to better understand global trends and address concerns facing the fisheries and aquaculture industries.
According to its official website, the three-day virtual forum was primarily aimed to provide a global platform for scientists and researchers to discuss their research experiences and innovative ideas to address key issues in the development of sustainable fisheries and aquaculture. (Ms. Lenilyn B. Gallos, with sources from Lovelyn Marie N. Naluaran)