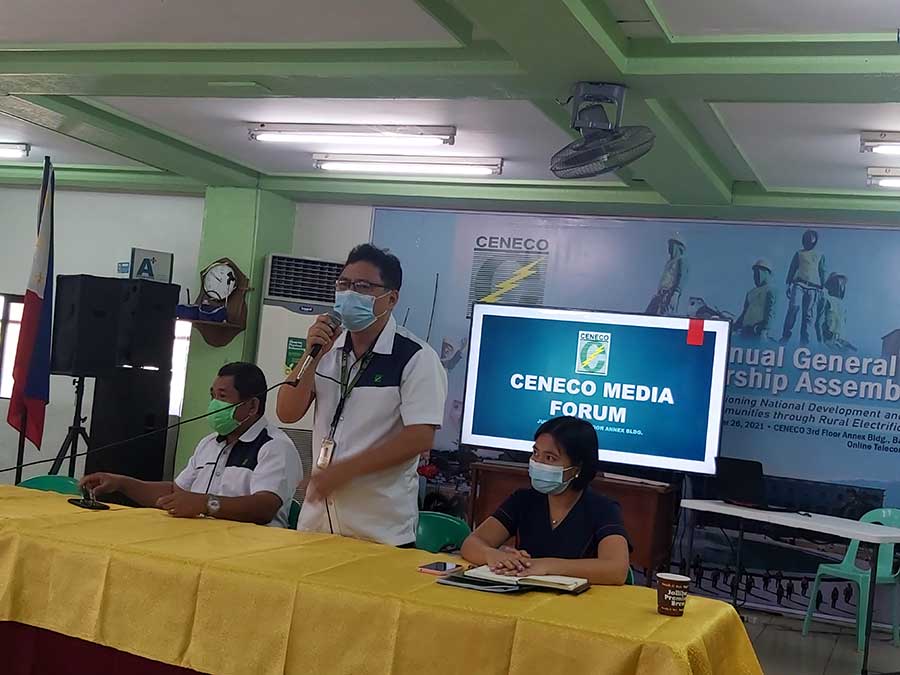 By Dolly Yasa
BACOLOD City – The Central Negros Electric Cooperative (Ceneco) said Thursday that it will abide with the order of the Energy Regulatory Commission to refund consumers of net recoveries amounting to P237.95 million but will file a motion for reconsideration (MR) with the agency.
Ceneco Corporate Planning Manager Engr. Norman Pollentes made the assurance in a press conference Thursday.
ERC has ordered Ceneco to refund net over-recoveries amounting to around P237.95 million, which was collected from February 2004 to December 2017.
Pollentes said Ceneco will refund P11 million per month for 24 months. The refund will be reflected in the monthly billing of consumers starting June 2022.
He said, though, that they cannot give the estimated reduction on the bill of each consumer as of now.
The refund will be based on the monthly consumption of the consumers, but they cannot determine how much it will be per kilowatt hour notwithstanding other factors.
Pollentes said that their filing of an MR is being considered as a remedy by the management, but this will not stop them from implementing the refund.
He also explained that Ceneco complied for the regulatory requirement of application for over/under (OU) recovery in 2018-2020 and 2011-2017.
He said the purpose is to reconcile the accuracy of pass-through charges for generation and transmission charges.
Pollentes said that Ceneco has applied for OU for 2004 to 2011 then 2012-2014, 2015-17, 2018-2020.
In all four applications, Ceneco used the excel template that ERC provided.
But in the case of 2004- 2014 and 2015-2017 periods, the output of the ERC OU that Ceneco used to reconcile the OU using the ERC template was far different from ERC's final count.
Pollentes also said that aside from the P11-million refund, Ceneco is currently dispensing P12-million refund for the P147 million net recoveries based on an earlier order of ERC.
The P12-million refund started last January until December this year.
He said with this, Ceneco will have to dispense P23 million monthly to refund the consumers until December.
Pollentes said this will have an adverse impact on the financial situation of the utility firm adding that "we have to comply with the order."
It was also announced that Ceneco will strictly implement the one bill policy as mandated in the Magna Carta. Consumers who will have more than one bill due will face disconnection.
CENECO has a total of 213,950 consumers.