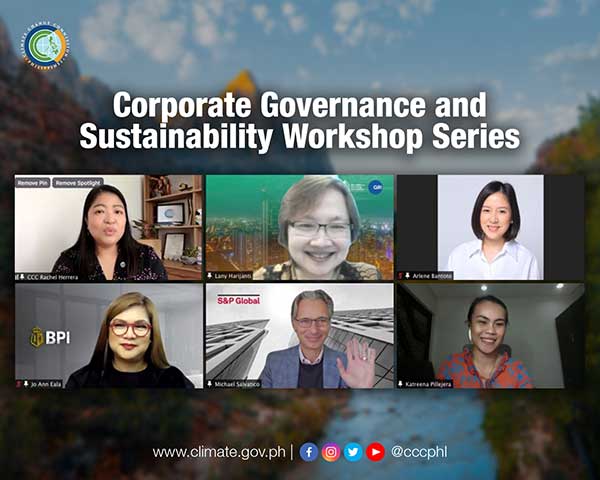 The Climate Change Commission highlighted the important role of the private sector in reducing greenhouse gas emissions and achieving the country's Nationally Determined Contribution (NDC) to the Paris Agreement during a workshop on corporate governance and environmental impact and risk management held on August 27.
Citing the latest report of the Intergovernmental Panel on Climate Change, CCC Commissioner Rachel Anne Herrera noted that "there's a need to reduce GHG emissions in order to limit further global warming and also to mitigate impacts of climate change that are expected to become more severe and more frequent, and in some cases, irreversible."
"We may actually breach the 1.5˚Celsius limit—which we consider as our climate threshold for survival—within 20 years, unless we reduce our GHG emissions at a rapid, immediate, and widespread scale," she noted in her discussion on expectations from the private sector in connection with the country's GHG emissions reduction targets.
The workshop is the fourth session of the Corporate Governance and Sustainability Workshop Series organized by the Securities and Exchange Commission (SEC) with the Global Reporting Initiative (GRI).
Other resource speakers included Michael Salvatico, S&P Global Head of Environmental, Social, and Governance Business Development for Asia-Pacific, who discussed what investors track in companies regarding GHG emissions; GRI Country Manager Katreena Pillejera, who discussed GRI standards and provided an overview of GHG emissions calculation; Jo Ann Eala, BPI Vice President for Sustainable Development Finance; and Arlene Tan-Bantoto and Maria Christine Garcia of Nestle Philippines, who shared company "Net Zero" initiatives. The workshop was moderated by Lany Harijanti, ASEAN Regional Program Manager of GRI.
As part of its work towards achieving the Paris Agreement's goal to limit global warming to 1.5˚C, the Philippines submitted its NDC this year, which, Herrera explained, communicates "a 75% GHG emission reduction and avoidance for the period 2020 to 2030 for the sectors of agriculture, waste, industry, transport, and energy."
Herrera emphasized the crucial role of the private sector in achieving this NDC, especially through mobilizing investments and conducting GHG emissions inventories, which can help government develop better climate actions and business models.
"The NDC promotes the full engagement of the private sector in the achievement of our emissions reduction target, recognizing your role as the country's main engine of economic growth and transformation. We see major areas of partnership, primarily in mobilizing climate investments and the conduct of GHG inventories," Herrera said.
Herrera also highlighted the key role of the private sector in building momentum especially in the shift towards renewable energy.
"Publicly-listed companies have a critical role in sustaining this momentum and further enabling the transformation, for the energy sector, and across all sectors," she noted. "Through this workshop, we hope that companies would further see the value of sustainability reporting, not just from a business perspective, but also in terms of their potential to contribute to our country's goals on sustainability and resilience, as embodied in our NDC and other national plans," Herrera concluded.