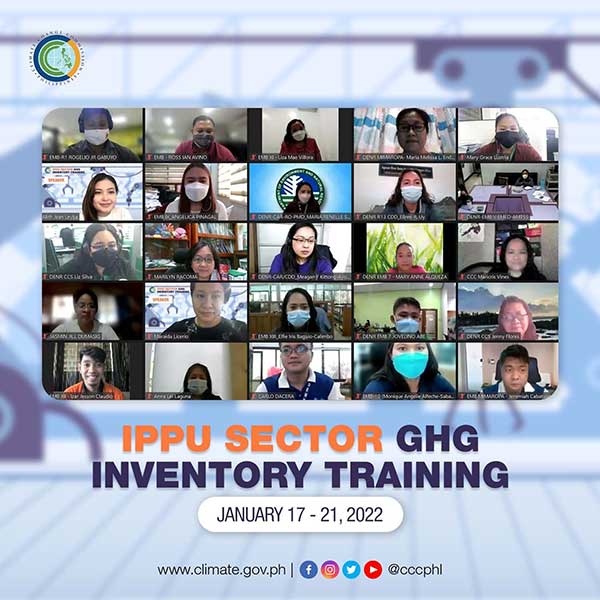 As part of institutionalizing the Philippine Greenhouse Gas Inventory Management and Reporting System (PGHGIMRS), the Climate Change Commission (CCC) conducted a five-day Greenhouse Gas (GHG) Inventory Training for Industrial Processes And Product Use (IPPU) and Waste sectors last January 17-21, 2022 via Zoom.
More than 100 representatives from various offices of the Department of Agriculture (DA), private sector, and Board of Investments participated in the said training organized in partnership with the GIZ Philippines.
The training featured lectures from Ms. Alith Jean Leyba, Greenhouse Gas Accounting Consultant; Mr. Rolando Abad Jr., Science Research Specialist II of the Climate Change Service of the Department of Environment and Natural Resources; and Ms. Maraida Licerio, Senior Advisor of the Climate Change Mitigation for the German Technical Cooperation Agency of GIZ Philippines, on the introduction to the national GHG Inventory and PGHGIMRS, methodologies for estimating GHG emissions from various industries within the IPPU sector, and the 2006 IPCC Software.
"We recognize the role of our industry partners, in their independent work or in collaboration with the government, to support our country's priorities of sustainable industrial development, poverty eradication and inclusive growth, energy security, and social and climate justice. They contribute by investing in climate action which may include implementation of adaptation and mitigation measures within their operations, adoption of climate-friendly technologies and practices, provision of information and data necessary for the development of sectoral and national GHG inventories, among others," said CCC Deputy Executive Director Romell Antonio O. Cuenca.
"Transparency always creates a space for dialogue, it helps to create a base for understanding like where could we cooperate in the future with the government, with the different agencies, with the industry sector and private sector, and how do we achieve the ambitious NDCs targets together? It's always a good insight to see that there's a room for cooperation," said Mr. Julian Tost, Chief Advisor for Climate Policy of GIZ Philippines.
The capacity-building activity is part of the technical backstopping on GHG inventories and Quality Assurance and/or Quality Control for the Agriculture, Waste, Industry, Transportation, Forestry and Energy (AWITFE) sectors, in line with the next cycle of accounting for the National GHG Inventory by the PGHGIMRS for years 2015 and 2020.
With the GHGI data collection gathered from this program, the Philippine government, through the PGHGIMRS, shall prepare its communication requirements to the UN Climate Change Secretariat, particularly the technical articulation of policies and measures under the Nationally Determined Contribution (NDC) and the first Biennial Update Report (BUR), and with a view of transitioning to the requirements under the Enhanced Transparency Framework of the Paris Agreement.
This series of online trainings is part of the CCC's continued efforts to strengthen the capacity of stakeholders to elevate the country's climate agenda. Watch out for more activities by the CCC through its Facebook page at www.facebook.com/CCCPhl.