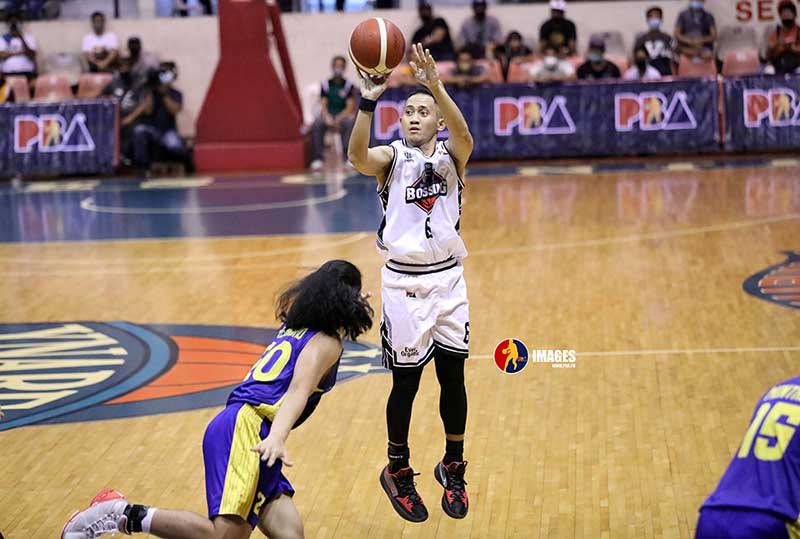 By Leobert Julian A. de la Peña
Former national team point guard Jvee Casio displayed a masterful vintage performance and led the Blackwater Bossing to a stunning win against the TNT Tropang Giga, 85-78, for their first win of the 2022 PBA Philippine Cup.
It was nostalgia all over the Ynares Center in Antipolo as the sweet-shooting veteran guard poured in 22 points and converted five of his 11 total attempts from the three-point area.
Facing a star-studded TNT team that earlier bested the Magnolia Chicken Timplados in their opening game, the Blackwater squad played outstanding basketball for four straight quarters to grab the hard-earned victory.
Aside from Casio's terrific outing, Blackwater's veteran big men duo of James Sena and Yousef Taha also came to play and contested every Tropang Giga shot in the paint, creating more offensive possessions for them.
It was a blitzing start for the Bossing in the first half as their efficient shooting from the field helped them grab a two-point lead, 39-37, heading into the half.
However, head coach Chot Reyes and the rest of the Tropang Giga flipped the switch and fought toe-to-toe against Blackwater and deadlocked the ball game at 78.
In the last two minutes of the dogfight, RR Pogoy led TNT with his offensive streak but Blackwater thanked Casio a few moments after when he uncorked a personal 5-0 run that sucked the life out of TNT in the last 50 seconds.
Casio cashed in the dagger shot when he buried a looping three-pointer off a hand-off play with 41 seconds left to extend their lead and became the game's final basket converted.
Barkley Ebona's spark during their fourth quarter was also one of the key reasons for their victory and outplayed Troy Rosario in the post.
Despite Pogoy's 32-point explosion, the Tropang Giga still badly missed reigning Rookie of the Year Mikey Williams' scoring prowess who was an integral piece to their stellar championship bubble run last two seasons.