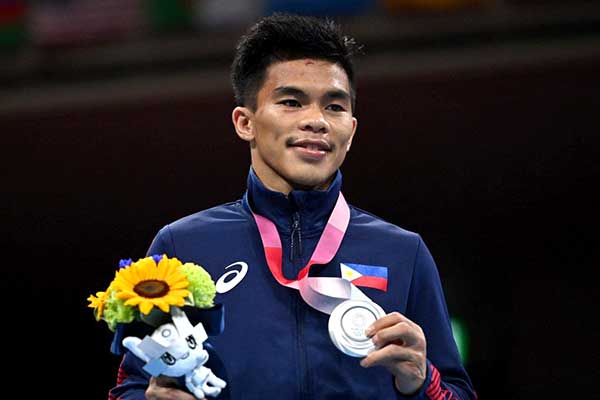 By Leobert Julian A. de la Peña
Filipino boxer Carlo Paalam was gracious in defeat as he fell short of a gold medal finish in the men's flyweight championship round of the Tokyo Olympics.
Paalam finally bade his sweet goodbye in the Olympics after receiving a 4-1 split decision loss to Galal Yafai of Great Britain to proudly raise the silver medal in front of his fans in Tokyo.
Despite the loss, Paalam still showed a good performance in the ring as he was in his usual game plan opener of keeping the pressure to score tons of points in the match.
However, after feinting to the right, Yafai timed his three-punch combination that connected all to Paalam's face to score the first knockdown of the fight.
Paalam was able to recover and stormed back with his offense but was not enough to get the nod of all the five judges.
The second round was more of a slugfest as both fighters traded 1-2 combinations and just poured their offense on.
Paalam became more relaxed and stood strong despite getting hit and just kept on the same pressure he put in the first round.
During the last round, Paalam tried to step on the gas pedal to catch up in the points but Yafai was wise enough to ditch the battle and played his third round wisely by dodging Paalam's advances.