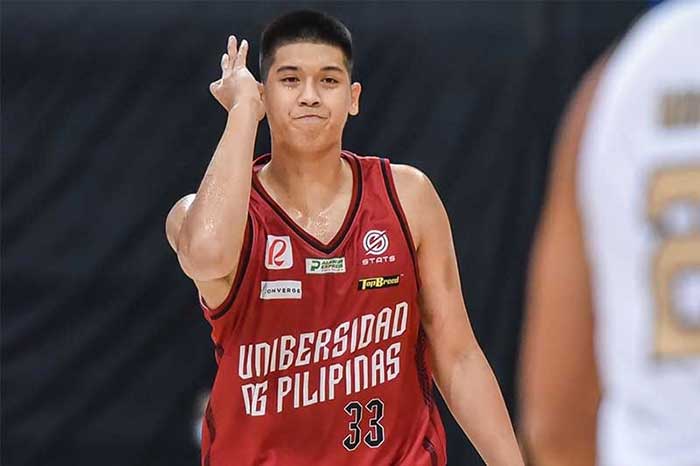 By Leobert Julian A. de la Peña
Carl Tamayo continued his impressive performance in the ongoing 2022 Filoil Ecooil Preseason Cup after leading the University of the Philippines (UP) Fighting Maroons against the University of Perpetual Help System DALTA, 75-64.
Despite a busy schedule with the Gilas Pilipinas men's national basketball team, the superstar power forward chose to reinforce his brothers at UP and refused to take a much-needed vacation.
Tamayo showed no signs of fatigue since his first game back with the Fighting Maroons and added another performance to remember against Perpetual Help with a game-high 21 points, nine rebounds, and two assists.
Although playing under minutes restriction decided by the UP coaching staff, Tamayo was able to make the most of his time when activated and shot an efficient 9/10 from the field.
Tamayo only played a total of 30 minutes and spearheaded a much-needed Fighting Maroons scoring rally that put them in a comfortable position in the final canto.
Perpetual Help clawed their way back in the first two minutes of the final canto, trimming UP's lead to just five points, 59-54.
However, Tamayo and the rest of the UP guards countered with an overwhelming 19-4 avalanche that sucked the life out of Perpetual Help.
Perpetual Help managed to get close within 10 points after Shawn Orgo's conversion, 73-63, but was not enough to lift his team's chances of an upset.
The pesky backcourt duo of JD Cagulangan and Terrence Fortea backstopped Tamayo with eight points each while emerging big man Bismarck Lina had seven points, eight rebounds, and one assist.
"Just pretty much keep doing kung anong pinapractice namin. Actually this stretch for us, we played five straight games. Actually, it's six games in five days," said UP assistant coach Mo Gingerich.