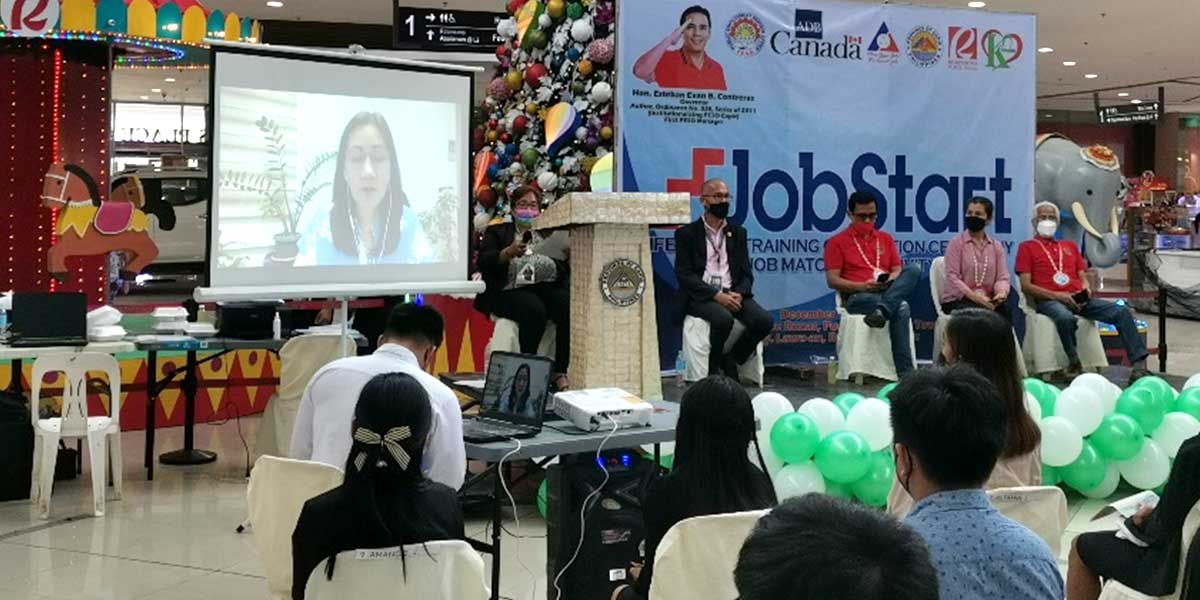 Poor but deserving graduates were hired on the spot from among 99 trainees during the JobStart Philippines 10-day life skills training (LST) graduation ceremony and job-matching activity at Brgy. Lawaan, Roxas City recently.
Pamela Badoles and Rutchelle Olarte, both hired on the spot as Administrative Staff in a driving school, thanked the JobStart program for their employment.
"Super thankful ako sa programa sang DOLE. The job will provide financial support to my family," said Pamela.  She is planning to buy grocery to support the sari-sari store of her mother.  "My father is a fisherman and his income can hardly support a family of six." She is the 2nd among the four siblings.
For Ruchelle D. Olarte, the job is a blessing.
"I badly need the job to help for the medication of my father who have a stage 4 liver cancer." She revealed that the income of her mother as a day care worker and her siblings is insufficient for their father's medical needs.
Badoles and Olarte were looking for employment for more than a year before they joined the JobStart program.
Anthony Dumaniel, was also hired on the spot as an Accounting Clerk.
"I am thankful to DOLE for the JobStart program. I can help finance the schooling of my younger sister."
He said that since his father suffered from stroke, her mother attends to their farm but their produce could hardly cope with the debt they incurred for the land preparation.
The three were among the first graduates since the program was implemented in the Province of Capiz early this year.
DOLE RO No. 6 Regional Director Atty. Sixto T. Rodriguez, Jr. said that the program provides opportunity for those who are really in need. He also advised the graduates to continue with the trainings for the full attainment of the JobStart skills that most of the employers are looking for.
"We are true to our commitment to facilitate employment and uplift the living condition of the poor. We hope and pray that you will continue your journey until you reach your goal and find a job. The JobStart program is an opportunity that you should not take for granted, you are lucky to be qualified to the program which has already produced a lot of successful workers," said Rodriguez.
Forty-nine of the graduates were qualified for the technical training for three months or can skip or be exempted from the training and transition directly to internship stage.
The graduates completed the first of the three-phase full-cycle employment facilitation services to 'at risk youth', or young workers who have the least access to productive work, and who take around two to four years to find their first regular job.