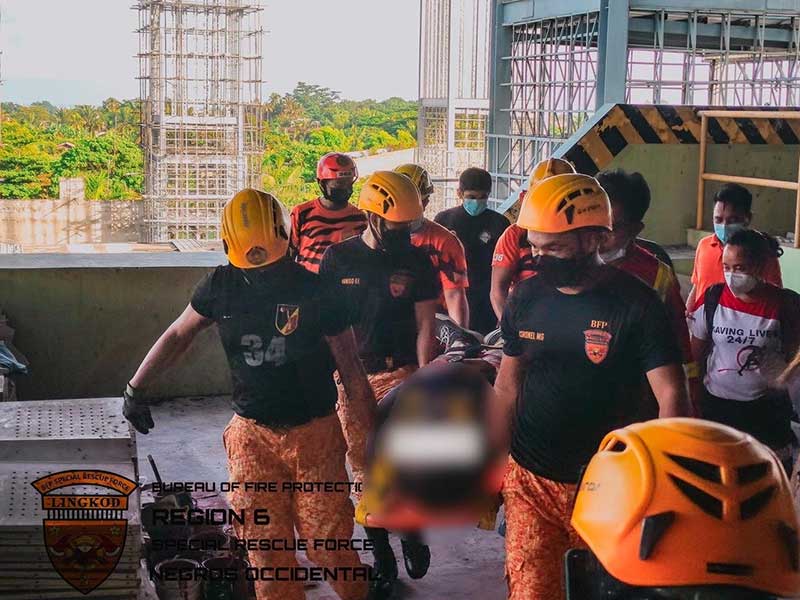 By Glazyl Y. Masculino
BACOLOD City – TRIGGER WARNING: Suicide.
Depression ma have triggered a male call center agent to attempt suicide here.
Fortunately, the Bureau of Fire Protection Special Rescue Force (BFP SRF)-Negros Occidental saved him from jumping from the fifth floor of a Business Process Outsourcing (BPO) building in Barangay Mandalagan here yesterday.
According to Captain Armilyn Vargas, head of Police Station 3, the victim's co-workers were alarmed after they saw him standing on the edge of the building's fifth floor.
This prompted them to call his family and the authorities for assistance.
The BFP-SRF led the negotiation with the 22-year-old victim, until they were able to pacify and subdue him.
A video was posted by the BFP-SRF on Facebook, showing how they were able to pacify the victim, who was crying and shouting when rescued.
The negotiation lasted for about 30 minutes, according to Vargas.
Vargas said the victim, whose name was withheld entered the BPO industry after he lost his primary job due to the pandemic.
Aside from losing his job, Vargas refused to put on record the other reason for the incident as respect to the victim's personal life and his family.
Vargas said that it was the first attempt of the victim.
"Basi bala nag supot na iya depression," she added.
Vargas said the victim was safe and was already with his family.