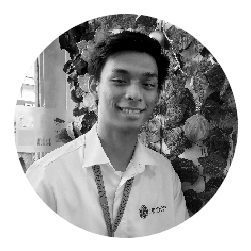 By Joshua Corcuera 
In case you do not know, the month of August is celebrated—at least in Philippine educational institutions—as the month of the national language or buwan ng wika.
Before the pandemic, it is custom and innate for schools within the country to hold events in celebration of the said event. Students wear barong, baro't saya, or camisa de chino. Instead of studying inside the four corners of the classroom, native games or laro ng lahi are being held. There are song-writing competitions, dance performances, and similar activities during the culmination of buwan ng wika.
For obvious reasons, students who read this article cannot relate too much because of our present circumstances since last year. Despite the fact that the month of the national language cannot be celebrated face-to-face, we can still appreciate the beauty and meaning of the Filipino language. In this article, I will enumerate Filipino words which, to me, appear relevant amid our current struggles as a Filipino nation.
Pananagutan. The first word translates to accountability in the English lexicon. For me, pananagutan is something our society must demand given that the-powers-that-be struggled to alleviate our agony amid a public health crisis described by many as one of the worst in the region. In my previous column, I also wrote about the alleged misuse of billions of pesos by certain government agencies according to audit reports by the Commission on Audit (COA). We must remember that the allegedly misused funds emanate from our tax pesos which we earned diligently. Thus, it logically follows that we must hold into account our public servants who are proven to be negligent, or worse corrupt, in their ways and deeds. Altogether, it is fitting to use pananagutan in a sentence in the form of managot: "Dapat managot ang mga napatunayang nagkasala, mga nasa poder na pinabayaan ang kapakanan ng masa para sa sariling interes."
Mulat. The said term can be construed in English as woke. By this, I mean that a certain person is 'woke' by being fully aware of the pertinent social issues occurring at present. From allegations of negligence and misuse of funds to human rights violations and poor economic recovery, it is imperative and essential for people to be aware so that they can hold into account those who are supposed to be accounted for in the eyes of the law. In a sentence: "Kapag mulat ang tao sa nagaganap sa kanyang paligid, tiyak na may pag-asang matatamo ang susunod na henerasyon."
Padayon. The last term I enumerated is Cebuano for onward. The word best describes the spirit of resilience and eagerness to continue moving forward despite the enormous challenges we currently face. Beyond reasonable doubt, our nation—and virtually the whole world—is struggling due to a pandemic that cut short the lives of millions. Nevertheless, for those who made it, those who saw the light to live another day, life goes on and so shall the desire to live in a meaningful way. To use it in a sentence: "panibagong mga pagsubok, panibagong mga tagumpay, padayon!"
As we celebrate buwan ng wika, let us reflect on our values as a people, as a nation. We do not merely celebrate buwan ng wika because Filipino is our national language as a Filipino people, but we also acknowledge that it is a language that can help us navigate through the challenges we face.