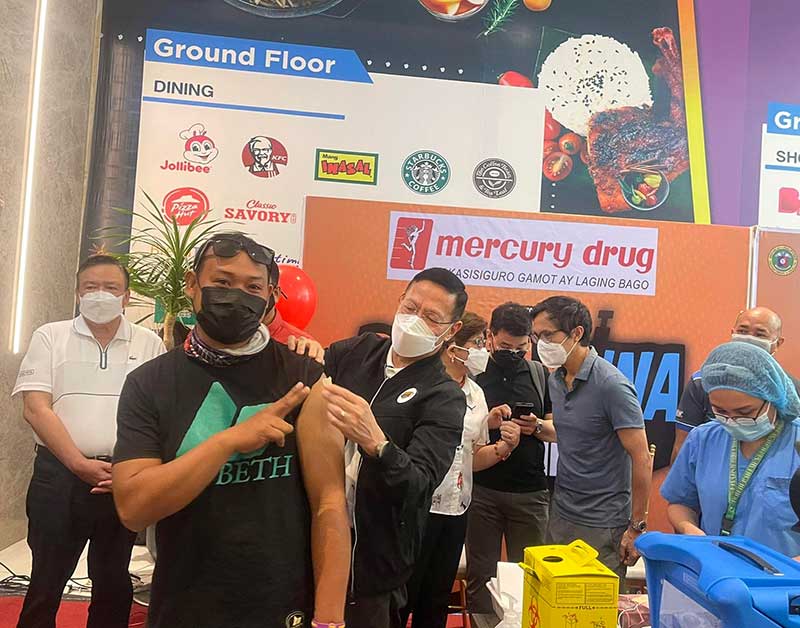 By Jennifer P. Rendon 
What do Secretary Francisco Duque III, Secretary Carlito Galvez, Jr., Secretary Vicencio Hizon, and Undersecretary Anthony Gerard Gonzales have in common?
The three officials of the national Inter-Agency Task Force for the Management of Emerging Infectious Diseases (IATF-MEID) and Gonzales were once at odds with Iloilo City Mayor Jerry Treñas at the height of the COVID-19 pandemic.
But Department of Health chief Duque; Galvez, Chief Implementer and Vaccine Czar of the National Task Force Against COVID-19; Hizon, deputy chief implementer and testing czar of the National Task Force Against COVID-19; and Gonzales of Office of the Presidential Assistant for the Visayas (OPAV) believed that the "misunderstanding" was a result of Treñas wanting to deliver for his constituents.
The four officials and Treñas led Thursday's launching of the Resbakuna sa Botika, a joint government and private sector initiative that aims to expand the country's immunization program at pharmacies, at a Mercury Drug Store branch at Festive Walk Mall at the Iloilo Business Park in Mandurriao, Iloilo City.
But whatever misunderstandings they have, all were apparently a thing of the past now.
Gonzales avowed that he loves Iloilo City "that we have to work very closely to fight COVID."
"Ang galing ng ginawa ni Mayor Treñas and I'm so thankful that the vaccination rate in Iloilo City has surpassed 100 percent and that shows the leadership of this mayor who really loves Iloilo very much," he said.
Based on data from the Department of Health-Center for Health Development 6, Iloilo City has a vaccination rate of 137.71 percent.
Meanwhile, Dizon cited that "among all the LGUs throughout the country, it was Mayor Jerry who has performed so well."
"We have had our differences. It's understandable. It's crisis. That's natural. But what's important is how do we move forward. How do we deliver for our people. Alam niyo po, among all the LGUs throughout the country, Iloilo City is among the handful, mabibilang ko po siguro sa mga daliri sa aking mga kamay, who has vaccinated more than 100 percent," he said.
Dizon further praised "Iloilo for doing a fantastic job in getting our people vaccinated."
Galvez also had his share of some misunderstandings with Treñas.
"'Di lang po si Usec, Galvez, pati kami inaway din po," a smiling Galvez told the audience of yesterday's vaccination action rollout.
But he claimed that he understood that emotions were high at that time.
"We really thank for paving the way for taking care of the lives of our people. Thank you for having that leadership to our people. Nagawa nila yung imposible. Kahit ang probinsya ng Iloilo," he said.
On the other hand, Duque, whom Treñas previously urged to resign twice, also cited the mayor for his performance.
"I congratulate the people of Iloilo City for being fortunate to have Jerry Treñas as its mayor. Indeed, he is an outstanding local chief executive who is an epitome of persistence. Hindi lang niya inaway si Usec. Jonji (Gonzales), lahat ng kanyang nakausap lalo na ng kasagsagan noong nakaraang taon ay sigawan kami sa telepono but again this is a trademark of an effective local chief executive worthy of emulation by all other local chief executives but not only in the province of Iloilo but in the entire country," he said.
Duque also thanked Treñas for being such an effective local chief executive and "leading the entire city of Iloilo to an unprecedented height of progress."
Despite what they went through, he said he is happy to rub elbows with Treñas who showed sterling performance in the fight against Covid-19.