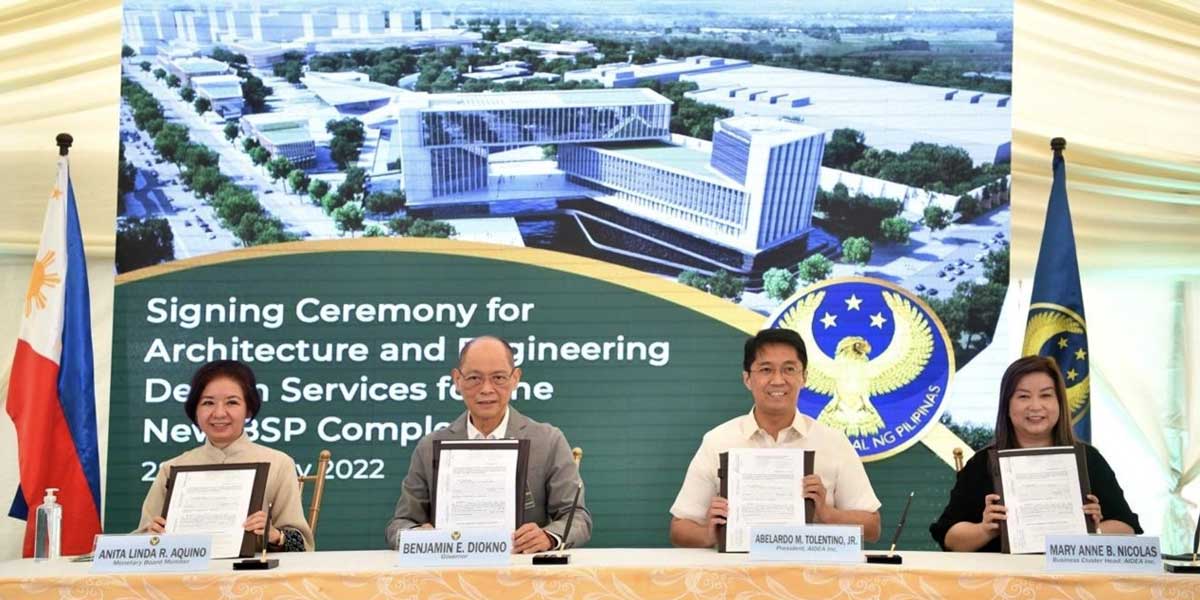 Bangko Sentral ng Pilipinas (BSP) Governor Benjamin E. Diokno (second from left) signed the contract for Architectural and Engineering Design Services for the New BSP Complex in New Clark City during an onsite ceremony held on Feb 28, 2022.
Global integrated design and technology architectural firm Aidea, Inc. won the bid for the contract and was represented by its President and Chief Executive Officer, Architect Abelardo M. Tolentino, Jr. (third from left) during the signing ceremony. Monetary Board Member Anita Linda R. Aquino (leftmost) and Aidea Business Cluster Head Mary Anne B. Nicolas (rightmost) served as witnesses.
"The new BSP Complex, which will rise in New Clark City, will embody our vision and aspirations for the country. It will be a global benchmark for a smart, green, and modern facility, promoting environmental sustainability and efficiency," Governor Diokno said.
Aidea's design services cover the development of 21.32-hectares of the publicly accessible and semi-restricted areas, which include an office building, a data and command center, a museum, academic buildings, a sports complex, and commercial stalls.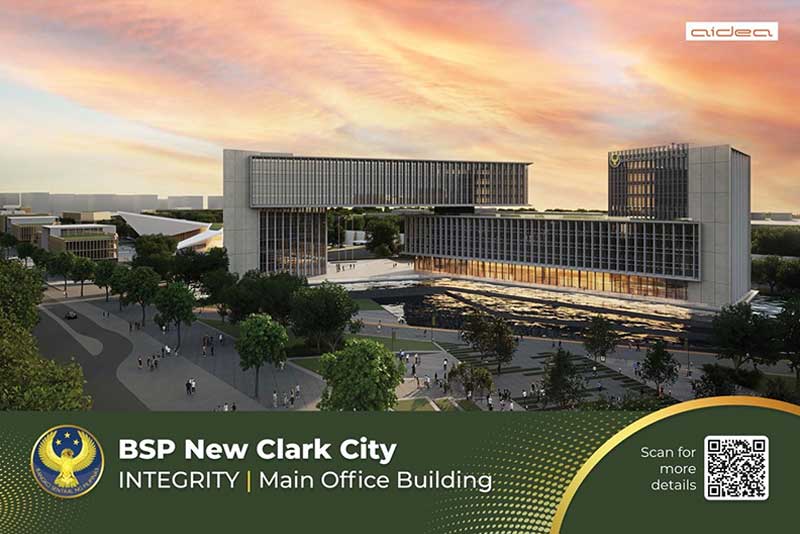 Aidea has over 800 completed projects in 60 countries and ranked 44th among the top 100 in the world by the Building Design 2022 World Architecture 100.[1] Aidea is also recognized as one of the Top 10 Architectural Firms in the Philippines by the Building and Construction Interchange (BCI) Asia Awards for year 2020[2]-2021[3].
The new BSP complex will welcome people with open spaces, which will also have extensive and robust security features to safeguard the BSP's currency production facilities, data center, and IT systems.
Images below show the exterior artists' perspectives, courtesy of Aidea, of some of the buildings that will rise in the new BSP Complex in New Clark City.
[1] Based on the World Architecture 100 2021: The Big List – https://www.bdonline.co.uk/wa100-2021-the-big-list/5109915.article
[2] Based on BSI Asia Awards' Top 10 Architectural Practices in the Philippines for 2020 – http://www.bciasiaawards.com/index.cfm/top-10-architects/2020/phillippines/
[3] Based on BSI Asia Awards' Top 10 Architectural Practices in the Philippines for 2021 – http://www.bciasiaawards.com/index.cfm/top-10-architects/2021/phillippines/