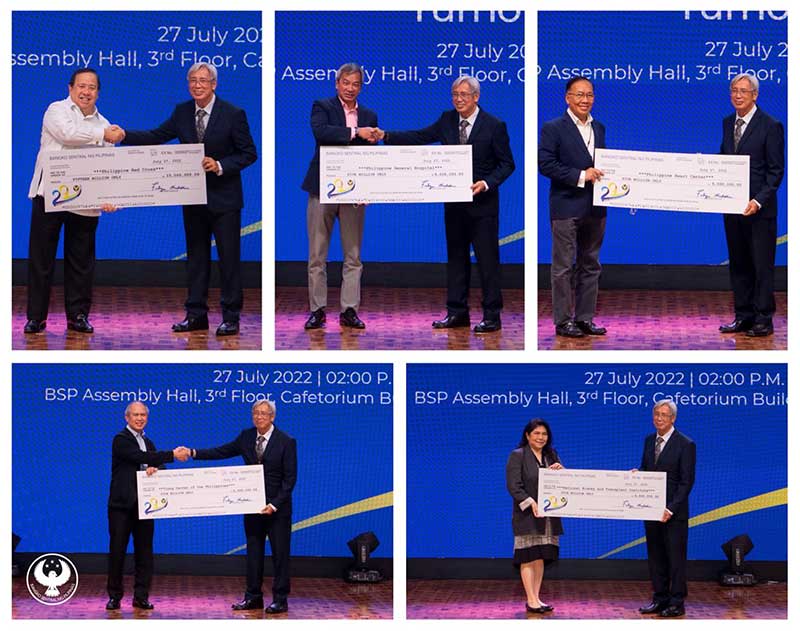 The Bangko Sentral ng Pilipinas (BSP) recently made donations to five health institutions as part of the month-long celebration of its 29th anniversary and corporate social responsibility. For over a decade, the BSP has been supporting institutions whose primary mission is to provide healthcare services, especially to poor Filipino families.
BSP Governor Felipe M. Medalla (in photos) led the turnover of checks to: Philippine Red Cross (PRC), Philippine General Hospital (PGH), Philippine Heart Center (PHC), Lung Center of the Philippines (LCP), and National Kidney and Transplant Institute (NKTI).
"Public health is at the core of a resilient society. Indeed, it teaches us that public health is important to the health of the economy. Today, we again extend our hand—with an aim to help the Filipino people," Governor Medalla said.
With the Governor in the photos are (first row, from left) PRC Chairman Richard Gordon, PGH Director Dr. Gerardo Legaspi, PHC Executive Director Dr. Joel Abanilla, (second row, from left) LCP Executive Director Dr. Vincent Balanag Jr., and NKTI OIC Executive Director Dr. Romina Danguilan.