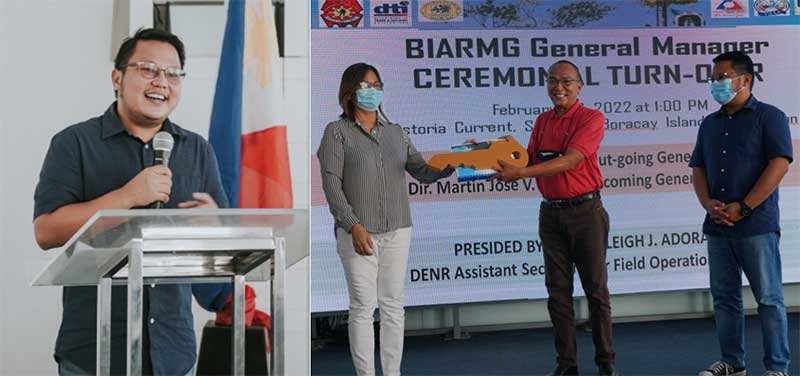 The Boracay Inter-Agency Rehabilitation and Management Group (BIARMG) has a new General Manager in the person of Director II Martin Jose Valentino Despi.
Despi is not new to the rehabilitation works implemented by the government in Boracay Island. He was there from the beginning of the rehabilitation as former Head Coordinator of the Beach Tourism Monitoring Team (BTMT) of the Department of Interior and Local Government (DILG) under the Office of DILG Undersecretary for Operations, Epimaco V. Densing, III.
From DILG, Despi transferred to the Department of Environment and Natural Resources (DENR) and was appointed Director II of the Environmental Management Bureau (EMB).
Prior to his assignment as BIARMG General Manager, he was the Assistant Regional Director (ARD) for Special Concerns at the National Capital Region by virtue of Special Order No. 2021-362 on July 8, 2021.
During the simple turn-over ceremony on February 2, 2022, Despi admitted that he "didn't even think this would be possible in the future."
He said he never thought of being given the assignment as GM and would again return to the beautiful island of Boracay to continue with the rehabilitation works.
Despi also thanked outgoing GM Natividad Y. Bernardino "for her dedication despite the risks and threats she has gone through just to deliver what the Secretary wanted – to provide a better Boracay not only for Boracaynons but for the entire country."
DENR Region 6 Regional Executive Director Livino B. Duran encouraged Despi to work on the remaining targets before the Boracay Inter-Agency Task Force's term ends by June 2022.
"She (referring to outgoing GM) turned over the responsibility to continue the gains we have had and to perform the remaining activities. Mas malaki ang challenge sa ngayon because patapos na tayo and we wanted later on to have this turned-over to various government agencies that will assume specific mandates in Boracay Island. We do hope we could already have the Boracay Island Development Authority (BIDA)," Duran said.
Despi is the fifth BIARMG GM.
The management started with Engr. Paquito T. Moreno, Jr., now Regional Executive Director (RED) in Region 3. Moreno turned-over the responsibility to RED Francisco E. Milla, Jr. who was assigned as RED for DENR 6 in 2019 and was reassigned in Region 5 in June 2021.
Milla turned it over to Duran, formerly DENR 6's ARD for Technical Services, who later turned it over to Natividad Y. Bernardino who is now assigned as the Bureau Director for the Biodiversity Management Bureau (BMB). (DENR–6)