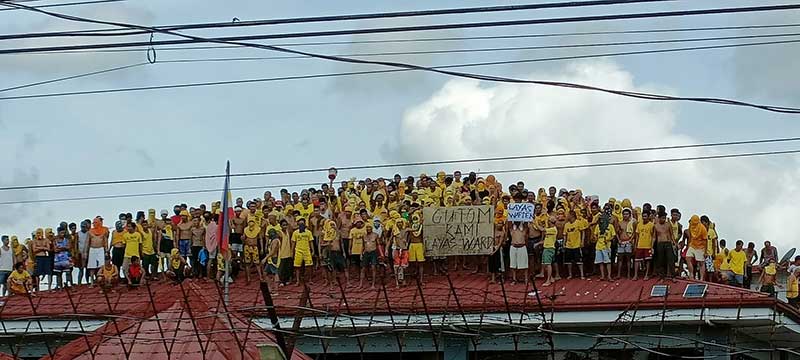 By Jennifer P. Rendon
The investigation surrounding the noise barrage incident staged by Iloilo District Jail – Male Dormitory (IDJ) inmates will wrap up soon.
Jail Superintendent Jairus Anthony Dogelio, Bureau of Jail Management and Penology-Region 6 (BJMP-6) spokesperson and legal officer, said the Regional Investigation and Prosecution Division (RIPD) is finalizing its report.
RIPD, which was tasked to investigate the circumstances of the inmates' protest action, is led by Senior Jail Officer 4 (SJO4) Elmar Philip Elardo.
"They might be able to come up with the result this coming week," Dogelio said.
The investigation tackled the causes that drove the inmates to hold a noise barrage.
"The probe encompasses all incidents and circumstances leading to the noise barrage," he said.
It can be noted that 100 persons deprived of liberty (PDLs) mounted the protest on the rooftop of the IDJ in Barangay Nanga, Pototan, Iloilo.
The noise barrage started at 8:45 a.m. on Aug 24 and ended mid-afternoon of the same day.
"We're glad that it was resolved peacefully. They were cooperative with us," Dogelio said.
The inmates raised at least two demands: better food ration and the relief of their warden, Jail Chief Inspector Norberto Miciano, Jr.
The inmates displayed an improvised tarpaulin bearing the words "Gutom kami. Layas warden."
Dogelio said that they have addressed their concerns already.
Miciano was immediately relieved and was succeeded by Jail Chief Inspector Denver Beltran.
As per the inmates' request, the posted menu shall be strictly followed.
The time of turning on and turning off of electricity will also be followed, as scheduled.
Dogelio explained that electricity at the inmates' facility is usually turned off from 9-11 a.m. during their "sunning period."
"It's an austerity measure. Since they are out for their sunning, we might as well turn off the electricity for that two-hour period," he said.
Dogelio noted that some inmates have not turned off their radios, television, or electric fans.
"Iwas-sunog pa. Given the chance, some of them failed to turn off their appliances 24/7," he said.
Another concern brought was a longer period of isolation.
Due to Covid-19, PDLs who attend court hearings are required to be in isolation at the adjacent building for five days.
After that, they would be transferred to the main facility and will undergo isolation for another five days before they could join their fellow inmates.
"But we have agreed to trim it down to five days. After their isolation at the adjacent building, they could already mingle with the other inmates," Dogelio said.
There was also an adjustment on the food that would be allowed to be brought by the inmates' family members.
"We have taken into account inmates whose relatives live far from the facility," Dogelio said.
Most of these food items are groceries while others brought uncooked food.
He explained that there are inmates whose family members brought a considerable volume of groceries that it took time for personnel to check on them.
"Usually, naga-kaubos ang time lang sa pag-check isa-isa sa Ila dala. If we do that, the number of visitors are affected. But it's not true that we have limited the food to be brought for them to be forced to buy from the commissary," he said.
Dogelio said the jail personnel might have not clearly explained the policy to the inmates.
But following the discussion, families of inmates who live far could bring in more supplies for their detained loved ones.
Dogelio said he could not second-guess what might come out of the investigation.
"The scope of the probe is wide. I won't pre-empt the result of RIPD's investigation," he said.