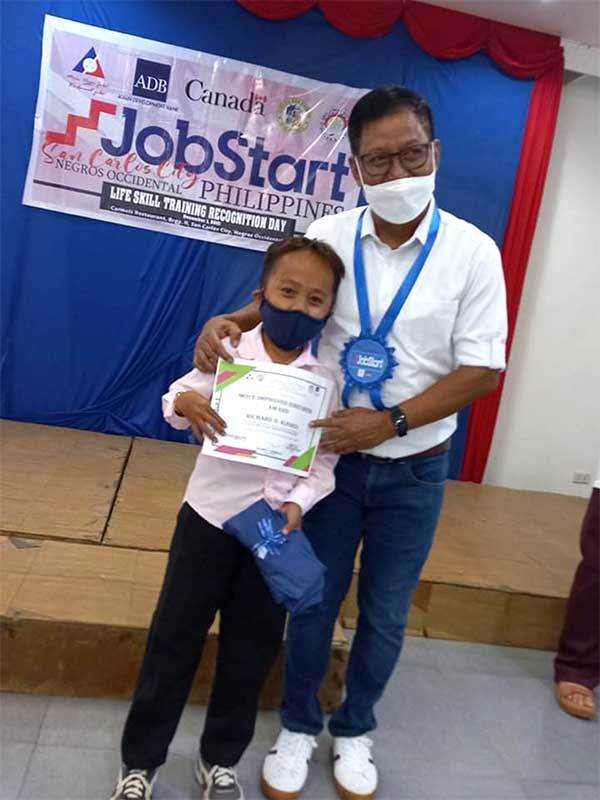 He may be of diminutive size, but his heart is bigger.
Upholding equal employment opportunity, Department of Labor and Employment (DOLE)-6 Regional Director Sixto T. Rodriguez Jr. hired a 3-foot-2-inch-tall graduate of the JobStart Life Skills Training (LST) in San Carlos City, Negros Occidental recently.
Small but with a big dream, the 24-year-old Richard D. Alpanta was among the 71 graduates of the DOLE JobStart program and was one of the Most Improved JobStarter Awardees.
"Our mandate is to protect the workers against discrimination," Rodriguez said in a press statement. "Except for his size, he has potentials of a good worker. If we will not hire him, who will?"
Alpanta impressed representatives of different companies during a panel interview.
"Be positive and have self-confidence. Laban lang," was his short answer to Rodriguez's question on his chances of being hired.
Alpanta said his dream of helping his family drove him to look for work amid the challenges he faced.
"Maraming pagsubok na dumaan," he continued. "Sumali ako sa programa dahil gusto ko pong makakita ng trabaho upang makatulong sa aking pamilya dahil mahirap lang kami."
Alpanta said his physical condition did not stop his determination to help his family.
"Äko ang magtataguyod sa kanila at tutulong sa aking mga magulang pag may trabaho na ako."
His parents are farmers and he is the eldest of eight siblings.
Alpanta's potentials and the economic condition of his family landed him a job at DOLE-6's Negros Occidental Field Office (NOFO). He was hired on the spot as a Government Internship Program (GIP) intern.
"DOLE takes the lead in the protection of workers against discrimination and in providing employment and livelihood services especially to the poor and marginalized workers," according to Rodriguez.
On his first day of work, Alpanta was welcomed not as an employee but as a member of the DOLE family with the staff attending to some of his personal needs like his shoes.
"The TUPAD coordinators chipped in for his shoes because naka-rubber band lang pala yung ginagamit nya. Ang Social Amelioration Program officers naman, bought his slippers and personal belongings," NOFO head Mary Agnes N. Capigon said.
The warm reception established a personal bond with his co-workers.
"Ang tawag niya kay Devie, mommy; kay Milson, daddy; kay Yulee, manong. I'm afraid baka itawag niya sa akin Lola," a smiling Capigon added.
"Nakakataba ng puso yung nakadeliver tayo ng services lalo na sa mga mas nangangailangan," Rodriguez said.
"The employment we provided is not just a job but a gift for him and his family this Christmas Season."
Rodriguez also hired on the spot Eula Mae Oga, who will soon join Alpanta at NOFO.
Oga also came from a poor family but is equipped with skills as a GIP intern.
Aside from Alpanta and Oga, four other job starters have already found employment right after completing the LST.
To provide opportunity, a mini online Job Fair will be facilitated by the Public Service Employment Office (PESO) for graduates on Dec 14, 2021.
The JobStart Program was granted to best performing PESO in the provincial and national level and San Carlos is the only PESO granted to hold LST in the Province of Negros Occidental.