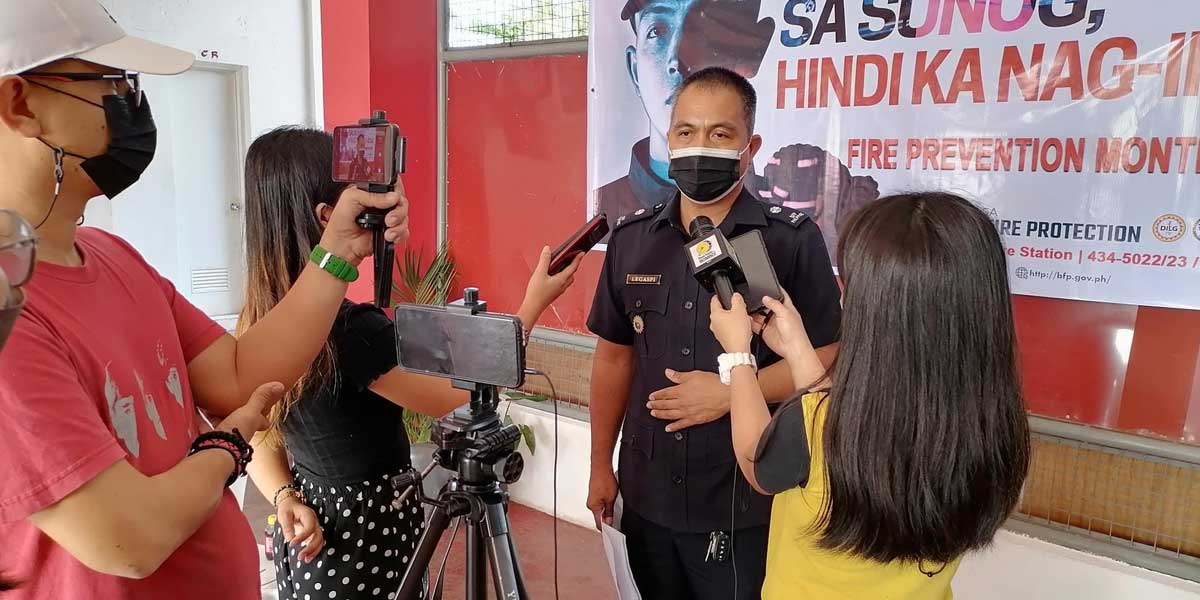 By Glazyl Y. Masculino
BACOLOD City – The Bureau of Fire Protection (BFP) here will train barangay residents as force multipliers to aid them in firefighting operations.
This was revealed by Fire Chief Inspector Rodel Legaspi, city fire marshal, during the launching of the Fire Prevention Month in the city on Tuesday.
Legaspi said that barangay residents will undergo a 40-hour training after which they will be given certification as force multipliers by the national bureau.
Legaspi said they will look for a place to conduct the community fire brigade training, considering the restrictions brought about by the pandemic.
"We're hoping na indi na ma escalate ang coronavirus disease 2019 (COVID-19) cases para matapos ang training," he added.
Legaspi said these force multipliers will assist BFP personnel and will guide the firefighters in the area to immediately control the fire since they are more knowledgeable of the area.
Aside from that, force multipliers can also augment in other neighboring barangays, he added.
Legaspi said that force multipliers can be a big help to the BFP, considering the limited number of personnel here.
He said the BFP here has only a total of 139 personnel. Of this figure, 126 were assigned to operations, while 15 others, including two officers were designated to Special Rescue Force.
"We train them (force multipliers) in a way they could help us during firefighting operations," he added.
Legaspi said they are also planning to meet the barangay captains to discuss the fire hazard mapping and hose mapping.
He said he already instructed substation supervisors to reach out to the village chiefs under their area of jurisdiction.
This will help the BFP identify entry and exit points in order not to delay the response of firefighters in case of a fire call, he added.
"Matun-an bala namon ang fire prone areas especially ang may mga alagyan na budlay and mga balay na dikit-dikit," he said.
The BFP has earlier identified 30 fire prone areas here considering that the houses mostly made of light materials are situated close to each other.
These areas are Barangays 1, 2, 10, 12, 16, 34, 35, 19, 20, 28, 40, 30, 31, Banago, Bata, Singcang-Airport, Villamonte, Taculing, Granada, Alangilan, Vista Alegre, Estefania, Pahanocoy, Tangub, Mansilingan, Handumanan, Felisa, Sum-ag, Cabug, and Punta Taytay.
The BFP is also continuously conducting awareness campaign in barangays to educate the public on fire prevention.