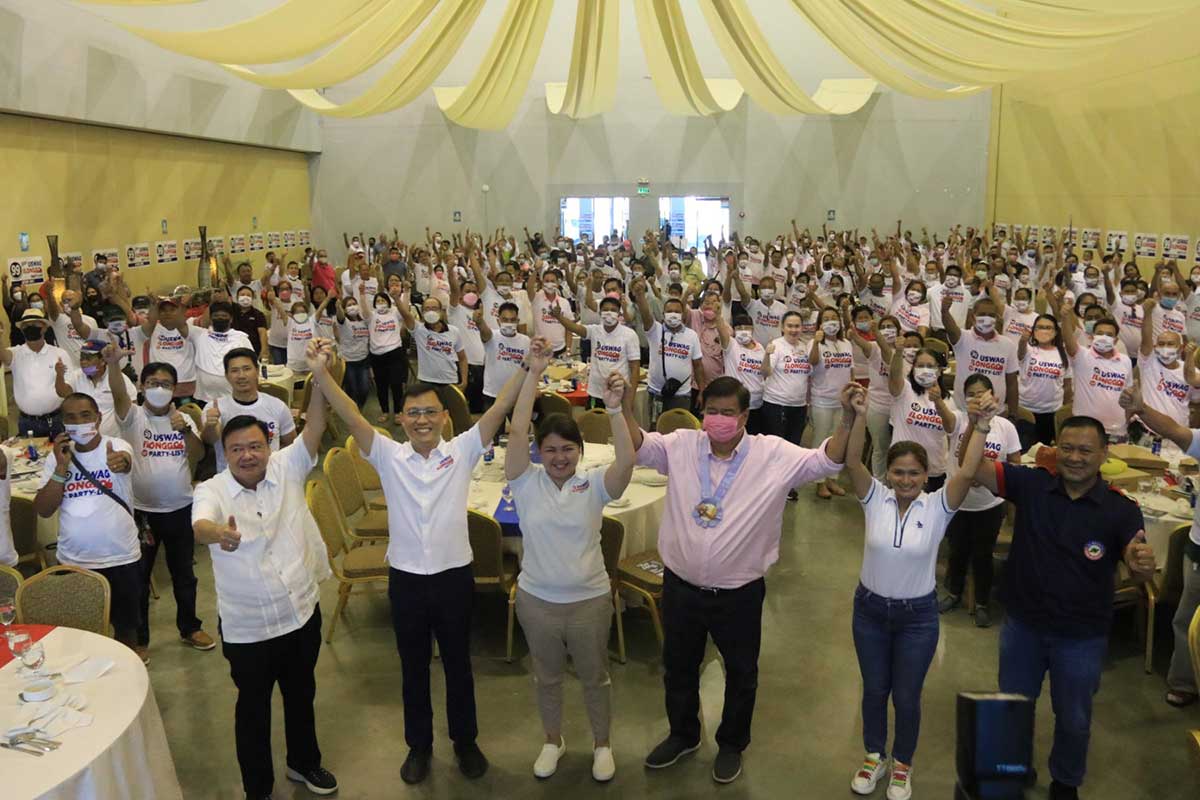 Fresh from getting endorsed by Iglesia ni Cristo after garnering 64.7% (213,814) votes) of the Ilonggo voters according to the most recent Random Access Consultants, Inc. (RACI) survey, Iloilo City Lone District Rep. Julienne "Jam-Jam" Baronda laid down her plans to help reinvigorate the local economy which was brought down to its knees by the COVID-19 pandemic.
"Ask any Ilonggo and he or she will tell you that the biggest challenge we face now is how to revive our economy, how to provide jobs for the people. That is precisely what I will attend to. In fact, I have laid the groundwork for this already. It will be all systems go for our economic reinvigoration as soon as we are blessed with another term in office," Baronda told Daily Guardian in an exclusive interview.
The assistant majority leader said she will roll out three concrete and realistic actions:
-first, to push for all the infrastructure projects included in the General Appropriations Act to be implemented;
-second, to work with the Iloilo City Government in aggressively promoting the regional center to investors in Metro Manila and to foreign investors; and,
-push for the passage of the Metro Iloilo Special Economic Zone bill in the Senate to be signed by Pres. Duterte before he steps down from office, which is projected to attract billions of pesos in investments and create thousands of jobs.
"We have about more than P5 billion in allocation for infrastructure projects in Iloilo City from 2020 to 2022 under the General Appropriations Act. With that, we will infuse money into our local economy. Apart from that, we will request the Department of Public Works and Highways (DPWH) to kindly request the contractors to prioritize and employ Ilonggos instead of those from other regions so that we are able to help our fellow Ilonggo people have jobs for them to feed their families," Baronda said.
She further shared that she will collaborate with the Iloilo City government led by Mayor Jerry Treñas to launch an aggressive marketing campaign to woo investors into the city.
"I already had meetings with the Iloilo City Local Economic and Investment Promotion Office of the City Hall, and with Ms. Raisa Treñas of Uswag Ilonggo partylist, where we planned to roll out an investment promotions campaign in Metro Manila by the third or fourth quarter of the year. I hope the situation is more stable by then," Baronda added.
Baronda also vowed to push for the Senate's approval of her bill that was already passed on third and final reading by the House of Representatives creating the Metro Iloilo Special Economic Zone.
"The Senate Committee on Economic Affairs chaired by Sen. Imee Marcos held a hearing last February where Sen. Franklin Drilon strongly supported our ecozone bill. He appreciates the wisdom behind it. He even asked the resource persons from the economic cluster to assure him that they will not block the passage," she further narrated.
Baronda added that one needs no economics degree nor has to package himself as an "economist" to craft measures to revitalize the otherwise booming economy battered by the global health crisis.
"Others try to entice voters with sugar coated unrealistic promises. Cong. Jam-Jam Baronda had the vision to file House Bill 05794, more than two years ago, exactly on December 17, 2019, and pushed for the creation of our own ecozone. I had this in mind even before the pandemic," she underscored.
All indications point to Baronda getting a fresh term as the first congresswoman of Iloilo City. In its April 23, 2022 survey, RACI said 64.7% of the Ilonggo voters chose Baronda, or about 214,000 voters, while the second place is at the far end with only 34%. This means Baronda enjoys a 30.7% lead or 101,454 votes.
On Tuesday, the influential Iglesia ni Cristo endorsed the reelection of Baronda along with Mayor Jerry Treñas, Vice Mayor Jeffrey Ganzon and Team Gugma, Uswag, Arriva councilors.
Sen. Drilon earlier endorsed her and asked barangay leaders to ensure her electoral victory. An overwhelming majority of punong barangays, kagawads, treasurers, secretaries, SK officials, and 25,000 barangay leaders assured her of their all-out support. This is expected to further increase her lead given the power of endorsements.
Baronda cites her track record and performance especially her COVID-response initiatives despite having no calamity fund; her accomplishments such as filing 163 bills where 75 were passed on final reading and 32 becoming laws; her qualifications such as her master's degree in public administration, and her responsive and realistic platform of government of doubling "H.O.P.E." to include housing, OFW welfare, projects for preparedness, and environmental protection on top of the existing health, obra or jobs, peace and order, and education advocacies, as the reasons that convinced them to throw their full support behind her.
"We have the engines started. All we need is speed away. Their choice of Jam-Jam Baronda as their congresswoman is their choice for a responsive governance that never leaves but does everything during their darkest hour. Their vote for me is a vote for more projects, responsive and realistic programs, and impactful pieces of legislation. Their vote for me is a vote in favor of Good Urban Governance and Meaningful Advocacies. Their vote for Baronda, Treñas, Ganzon, Team Gugma-Uswag-Arriva and Uswag Ilonggo partylist is a vote for a faster economic recovery of Iloilo City," Baronda added.