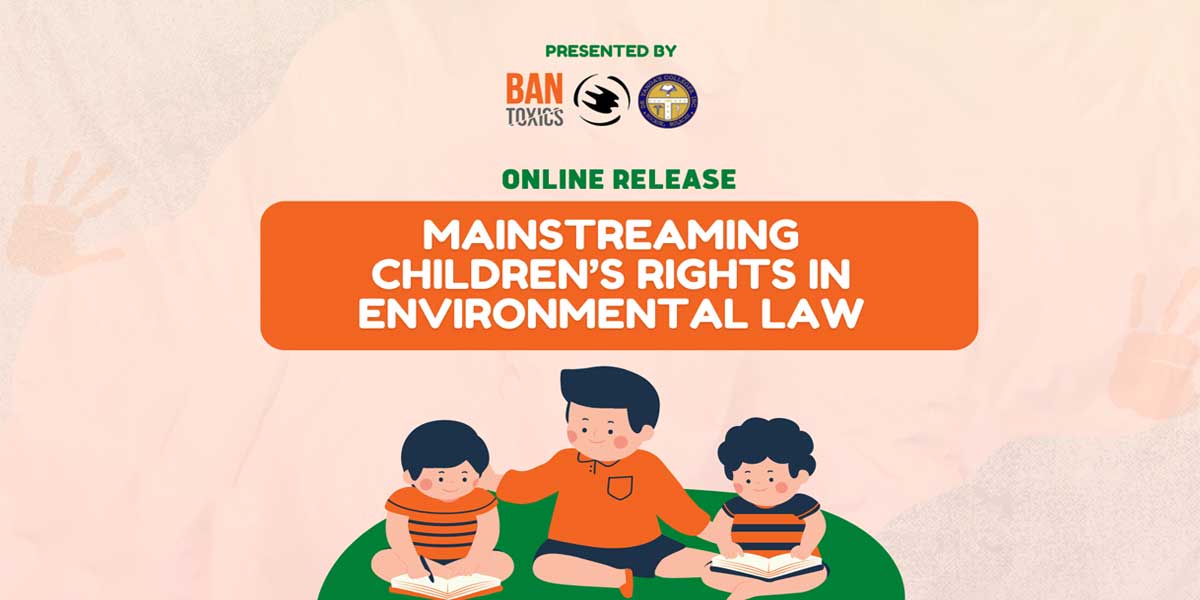 By Jhian Christian Aranas
In line with the celebration of this year's National Children's Month (NCM) with the theme, "New Normal Na Walang Iwanan: Karapatan ng Bawat Bata Ating Tutukan!," environmental watchdog group BAN Toxics announced the launch of their new children's rights toolkit during their two-day online event which was held on November 25 and 26, 2021.
With the title "Mainstreaming Children's Rights in Environmental Law," the toolkit outlines specific tools and guidelines in developing policies and programs that are responsive to children's needs in the context of environmental law.
BAN Toxics developed this toolkit as part of their continuous advocacy on the promotion of environmental justice which includes the critical role of children and their rights in environmental law.
"We have to ensure that children's rights are reflected in environmental law. That's how we can protect children from the adverse effects of toxics, wastes, and pollution," said Reynaldo San Juan Jr., Executive Director of BAN Toxics.
BAN Toxics is a non-government environmental organization established in 2006, that is committed to the advancement of environmental justice to protect vulnerable populations, especially women and children. The organization's activities include awareness-raising campaigns on harmful chemicals and sound chemical management for communities and youth groups through the Toxics-Free Schools Program (TFSP), and projects to address child labor in the artisanal and small-scale gold mining (ASGM) sector in the Philippines.
The document and event was done with the support of the Swedish Society for Nature Conservation (SSNC), a non-profit, non-partisan environmental organization based in Sweden.
Advocating child's rights through a two-day webinar
BAN Toxics hosted a two-day webinar that discussed children's rights and related laws, as well as the importance of developmental considerations when planning an interview with children.
According to San Juan, BAN Toxics follows and recommends specific guidelines or ethical behaviour especially in reporting issues involving children. The organization values the importance of accuracy and sensitivity when reporting on child-related problems.
"In conducting interviews with children, basic communication rules should always be followed and a safe and pleasant environment must be established in order for the children to feel safe and secure," San Juan added.
Among the panelists on the first day was Rosario Sequitin, Dean of the University of Southern Philippines Foundation's College of Social Work. Sequitin discussed child protection laws, emphasizing cases of online sexual exploitation of children (OSEC).
A special topic on child labor was also presented during the first day of the webinar by Department of Labor and Employment (DOLE) Senior Labor and Employment Officer Dianne Lyneth Alavado.
The second day of the webinar was devoted to the discussion of the ethics and proper media handling of child interviews, the rights of every child to a healthy environment and the importance of organizing children and youth..
Among the speakers was Municipality of Labo's SHIELD Focal Person and Social Welfare Officer Lovely Galicia who talked about the code of ethics when conducting a child-friendly interview.
During the afternoon part of the second day, BAN Toxics' Policy and Research Associate Jashaf Shamir talked about Children's rights to a clean and healthy environment and followed by the organization's Policy and Advocacy Manager Arlene Galvez who shared BAN Toxics' experiences in organizing children and youth.
"Our tagline, a toxics-free world for children, is embedded in our community mobilization approach. We provide substantial support and investment in children and youth—to fully participate in the society, learn fundamental life skills, and help steer a future free from toxics. We believe that children and youth are the key players in community development and instrumental in caring and nurturing mother earth," said Arlene Galvez.
Jhian Christian Aranas is a communication intern at BAN Toxics, and currently in his senior year as journalism student at the University of the Philippines, Diliman. Aside from his passion at work, he also strongly advocates the importance of protecting and preserving the environment.