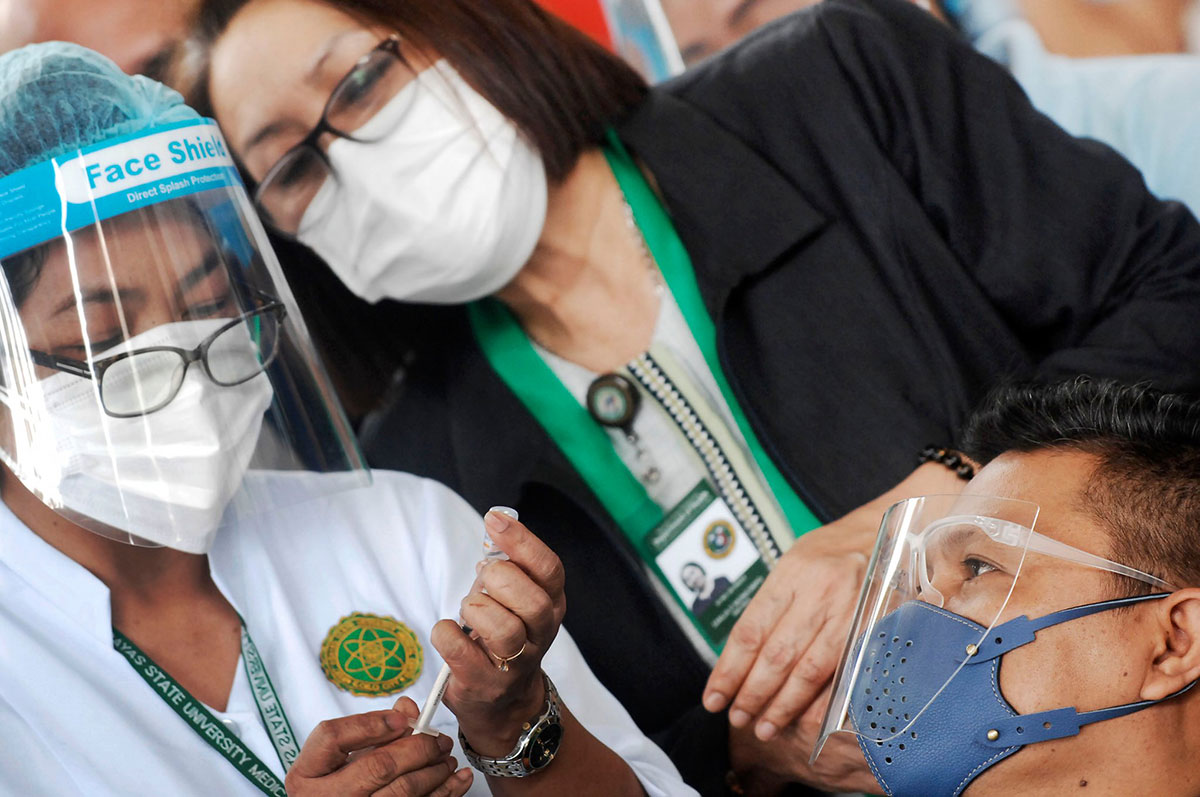 By Joseph B.A. Marzan
An organization of concerned citizens and medical practitioners was launched Monday in Iloilo City in a bid to encourage the public to be vaccinated against the coronavirus disease 2019 (COVID-19).
Bakuna Iloilo, which was unveiled at the University of the Philippines Visayas (UPV) Iloilo City campus, featured prominent Ilonggo and Manila-based doctors among others.
Present during the event were convenors Dr. Marovi Celis, Dr. Louie Tirador, Dr. Cynthia Cabangal-Ng, Dr. Ronnie Samoro and Dr. Rodney Dofitas (via Zoom) and accountant Irma Lim.
In his welcome message, UPV Chancellor Clement Camposano said Bakuna Iloilo is a "chance" to address misinformation and disinformation affecting COVID-19 vaccination.
"It is clear that there are not enough people who understand the way vaccines work. This is made more complicated by the fact that there are also people with very unscientific opinions who have access to digital media, and who are contributing to all kinds of misinformation, sometimes disinformation, about vaccines. This effort that you have put together seeks to that kind of concern," Camposano said.
Camposano also saw the opportunity to hit back at UP's detractors, addressing pervasive criticism against the university as a "safe haven for enemies of the State", saying words of pride in having UP host the press conference.
"Once again, we've proven our detractors wrong. Our detractors keep saying that UP is a safe haven for the enemies of the State. Obviously, it's not true. What you're seeing today is that UP is a home of top-rate professionals, individuals who are viewed as the highest standards of citizenship, and of course, exemplary student leaders," the chancellor said.
Samoro explained that the group was formed because of serious concerns about vaccine hesitancy.
Samoro cited previous surveys indicating that Filipinos are unsure of getting vaccinated.
He said that they wish to be "proactive" in pushing to get people vaccinated to combat the COVID menace.
"Bakuna Iloilo happened because we realized that there is a low acceptance by the people on COVID vaccination. These statistics are very worrying. We have been battling COVID for a year, but we are still in the same situation. In the news, cases have been rising in Manila. What we have been doing is all reactive against the virus. We want to be proactive," Samoro said.
He added that while "vaccination as a personal decision" had been said many times, it would be a "personal decision made to help families and communities".
He mentioned Pope Francis' statement in January calling COVID vaccination a "moral obligation".
"Vaccination is a personal decision, that has been said a lot. But this is a personal decision to help other people. We have to think outside our own bodies, of what would be the effect to our children, our friends, and our community, because we can help if we get vaccinated. Even the Pope is saying that vaccination is a moral responsibility by everyone," he said.
Dr. Cabangal-Ng, chief of Iloilo province's Hospital Management Office, also called vaccination a "personal sacrifice".
"We can consider vaccination as an ultimate act of self-preservation, but ultimately when you look at it, this is our sacrifice not only for ourselves, but also for our family and for our country. If we don't achieve herd immunity, we can never get back to some semblance of normalcy," Cabangal-Ng said.
Dofitas, who is a member of the COVID Vaccination Team at the Philippine General Hospital (PGH) in Manila, encouraged eligible medical staff to get vaccinated early.
He mentioned that out of the 128 vaccinated personnel at PGH, only three complained of pain in their left shoulder. There were no other adverse events following the immunization.
"There are around 1.7 million health workers around the country. We hope that the health care workers will not hesitate to be vaccinated, so we can go to our elderly, and those with comorbidities, and we can go to the normal population. If fear is the most important problem, what will you be afraid of, the vaccine or COVID?" Dofitas said.
STORIES
Several of the panelists also shared some of their COVID-related stories.
Lim, President of the Association of Certified Public Accountants in Iloilo, shared her family's COVID-related anxieties, having had several of her relatives infected with the disease.
Lim said she was not vaccinated as a child as her mother did not believe in the effectivity of vaccines.
She and her other family members had been warned early by her brother, an infectious disease specialist in the United States, of the dangers of COVID-19.
Still, it did not push her to seek possible vaccination, until her nephew in Dubai, United Arab Emirates got infected.
A sister-in-law and brother-in-law also got infected with COVID-19, with the latter succumbing to the disease due to old age.
Lim also shared having her own comorbidities such as status asthmaticus, which she had since she was six months old, and atrial fibrillation.
Her decision to get vaccinated once the COVID-19 vaccines are available was also because of her desire to help the community and the world.
Lim even joked about wanting to have everyone vaccinated, so she can "get out of her wearing a mask and being able to put on lipstick".
"My decision to get a vaccine is not only because of what happened in our family, but because I want to do something in my life, to help my community, to help the world. We need herd immunity. But in order to achieve herd immunity, 65 to 70 percent of the population of the Philippines and of the world need to be infected. Do we have to wait for one of our family members to die and become a statistic?" said Mrs. Lim.
Dr. Eileen Aniceto of the Lung Center of the Philippines in Quezon City shared her vaccination story via a pre-recorded interview.
She revealed her fear of "not getting infected by COVID, but by dying of COVID" following her experience at the Lung Center's COVID Response Team.
There had been no reported cases of intense side effects at the Lung Center according to Aniceto, except for one personnel who had hypertension, which eased up 30 minutes after vaccination.
Aniceto said that she chose to have herself vaccinated "to emphasize the message to get vaccinated".
"As healthcare workers or as physicians, we look at all the science behind the vaccines. We look at all available vaccines, we look at the possibility of a side effect, and then we decide. Like in any other intervention, we decide what's good for the patient. I always say it's a personal choice, but I also said that if it's good enough for me, then it should be good enough for my patients," Aniceto said.