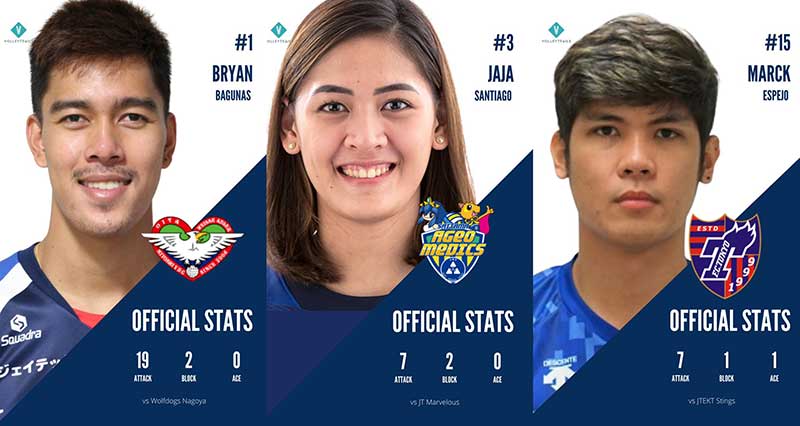 By Leobert Julian A. de la Peña
Filipino volleyball imports Bryan Bagunas, Marck Espejo, and Jaja Santiago earned huge wins in their respective matches in the Japanese professional league.
The high-flying Bagunas stole the limelight after leading Oita Miyoshi in a classic head-to-head victory against powerhouse Panasonic squad, 35-33, 21-25, 26-24, 18-25, 16-14.
Bagunas was unstoppable and punished Panasonic's middle blockers as he poured in 28 huge points, one of his best performances as an Asian import in his V. League Division 1 men's stint.
Aside from his game-high points tally, Bagunas also displayed an efficient offensive performance of 62.5 % attack rate, successfully spiking 25 out of his 40 attempts.
Meanwhile, Santiago and the Saitama volleyball club dispatched Kurobe in just four sets, 25-20, 22-25, 25-23, 25-19 in the V. League Division 1 women's tournament.
Santiago had an all-around performance in the win after blocking the ball five times while recording 16 kills.
The Filipina's consistent defensive wizardry earned her the no. 2 spot in the season's block leaders behind Natsumi Watabiki.
Meanwhile, Espejo and FC Tokyo defeated VC Nagano, 26-24, 25-14, 22-25, 25-14.
Despite Espejo's limited minutes, his team was able to pull off the much-needed victory in an attempt to break their three-game losing streak.