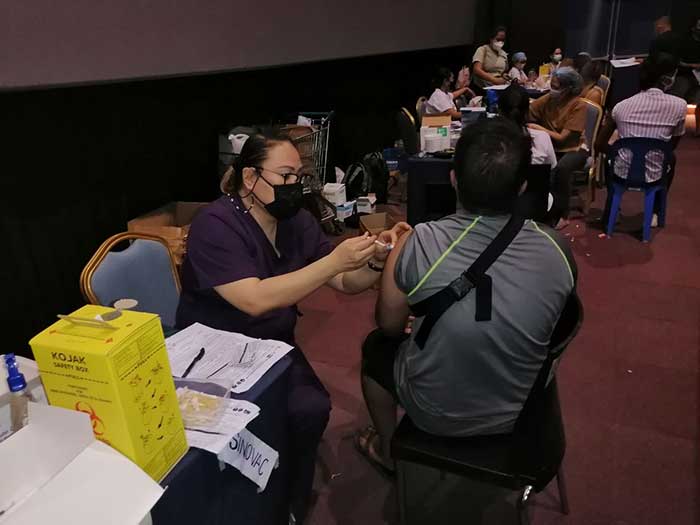 BACOLOD City – The city government here surpassed the original target set by the Department of Health for the Nov. 29 to Dec. 1 "Bayanihan Bakunahan" campaign to hasten government efforts to achieve herd immunity.
After three days, the more than 200 vaccinators and volunteers, including doctors, nurses, barangay health workers and village officials, led vaccination efforts in 42 sites, where 70,752 doses were inoculated to Bacolodnons, including 12- to 17-year-old teeners and seniors with co-morbidities.
The Department of Health's goal for Bacolod was to jab 22,057 per day in the next three days or a total of 66,171 vaccinees.
The DOH-6 cited Bacolod for accomplishing a 106.92 percent record beyond the target that the agency had set for the LGU.
Mayor Evelio Leonardia thanked Bacolodnons for their all-out support to the national government drive to fast-track efforts to accomplish herd immunity.
Leonardia, who made surprise visits to some vaccination sites, said the sight of thousands lining up to get vaccinated was very encouraging.
"Today, more residents are now assured of protection from COVID-19. Thanks to the Bayanihan Bakunahan event and the hundreds of our volunteers. The people of Bacolod are very thankful for your dedication and commitment to keep our communities safe," the mayor said.
On Day One of the National Vaccination Days, official DOH data showed Bacolod had inoculated a total of 29,047 or, a 131.69 percent record above the target.
Some 18,897 residents were vaccinated on Nov. 30 or on Day Two of the "Bakunahan" on top of the 22,808 vaccinees on Day Three, Dec. 1.
Executive Director Em Legaspi-Ang, of the Emergency Operations Center-Task Force, also thanked the EOC Data Management Cluster for working tirelessly in keeping track and encoding vaccination records to ensure that all the information are accurate.
Even with the "Bayanihan Bakunahan" already over, Ang said, her team remains on duty in various vaccination centers, including those at the mall-based sites.
"This simply shows their commitment to achieve herd immunity for Bacolod City within the year," Ang said. (PIO)