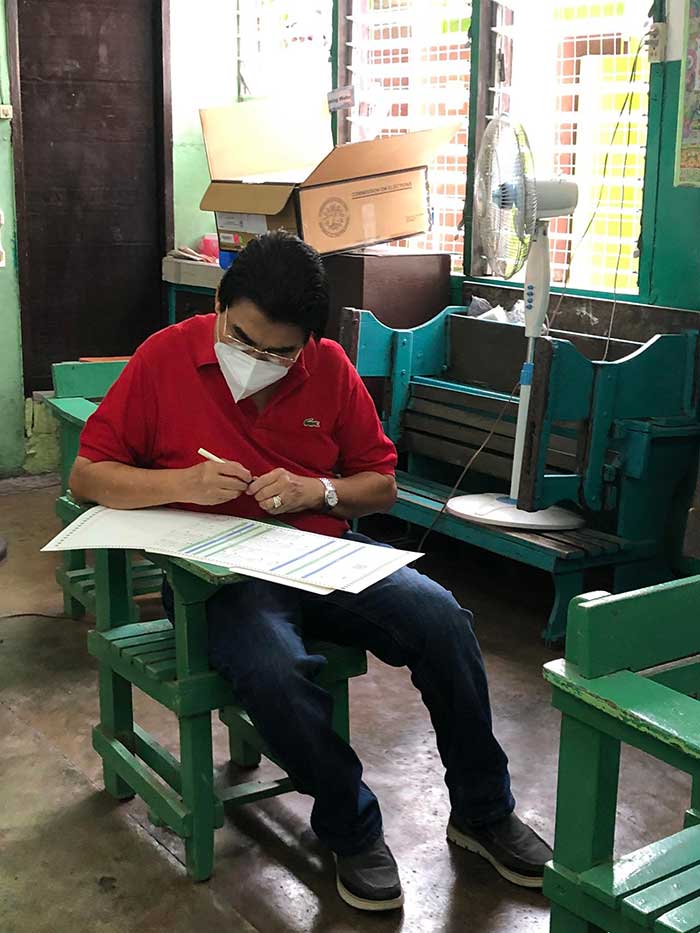 By Glazyl Y. Masculino
BACOLOD City – The Bacolod City Police Office (BCPO) received numerous complaints on alleged vote buying here on Sunday, a day before the local and national elections.
However, Police Lieutenant Colonel Sherlock Gabana, BCPO public information officer, said that upon verification of the said reports, nobody showed up to testify to the allegations.
Gabana said they do not disregard the reports. In fact, police responded, but when they arrived in the area, nobody stood as a complainant and the reports were not officially put into record.
"Wala man abi ebidensya, kabudlay mag file kaso kay wala man complainant," Gabana said.
Some netizens even posted on social media the alleged vote buying here, showing sample ballots, with P1,500 to P2,000 cash. However, police said it may be considered invalid because there's no complainant.
Meanwhile, Atty. Revo Sorbito, head of the Commission on Elections (Comelec)-Bacolod, said even if there's report on the alleged vote buying, the police or even the Comelec could not do anything about it, because they need a complainant and evidence to prove it.
On the other hand, some voters here flocked to the Comelec office to check their status, as some of their names were not found in the precincts where they intend to vote.
However, upon verifying their status with the Comelec, some had deactivated status, as they failed to vote in one or two previous elections, while others have no record in the system.
Those with deactivated status will be reactivated by July 2022 and will only be allowed to vote in the next election.
In the case of a 21-year-old first time voter who is residing in Barangay 31 here, he was confused after he failed to vote in the city because of a "double entry."
Upon verification with the Comelec, it was found out that he is a registered voter in Talisay City, thus his voter's registration in Bacolod City was invalid.
The Comelec said that he was supposed to transfer his voter's registration in Bacolod, instead of registering as a new voter here.
The Comelec said they can delete in the system his registration in Bacolod via fingerprint verification, so that he can still exercise his right to vote in Talisay City.
Meanwhile, reelectionist Mayor Evelio Leonardia renewed his call on Bacolodnons to remain vigilant amid unconfirmed information relayed to him by a "distinguished personality" that fake vote counting machines (VCMs) will be allegedly used during the counting at the close of the polling precincts by 7p.m. yesterday.
In a press release, Leonardia, however, did not identify the said personality when pressed by reporters after casting his votes at Precinct No. 0227A at the Education and Training Center School III past 3 p.m. together with his wife, Elsa and daughter, Kara.
"We have no strong evidence as of yet, but we should not take things lightly," Leonardia said, adding that the election is everybody's business and the integrity, dignity and soul of the people of Bacolod are at stake.
The mayor repeatedly appealed to residents to be on full alert as he was cautioned late Sunday night that there were individuals who were allegedly bringing in unofficial VCMs. In fact, he said the entire Grupo Progreso was alarmed as talks about the fake VCMs surfaced including the specific place where they will be operated.
"We have to take care and be careful of what we do during elections, especially during the counting,"Leonardia said, adding that they are taking it with some seriousness but, at the same time, they are not concluding things.
He also reminded the source to coordinate with the police, should new leads surface regarding the fake VCMs.
When asked about the election situation here, Leonardia said that this year's polls was generally peaceful. "I believe that people voted according to their conscience and chose who they think are the right people for the right positions. The kind of leaders that we will elect will determine the kind of life and future that we will have here in Bacolod," Leonardia said.