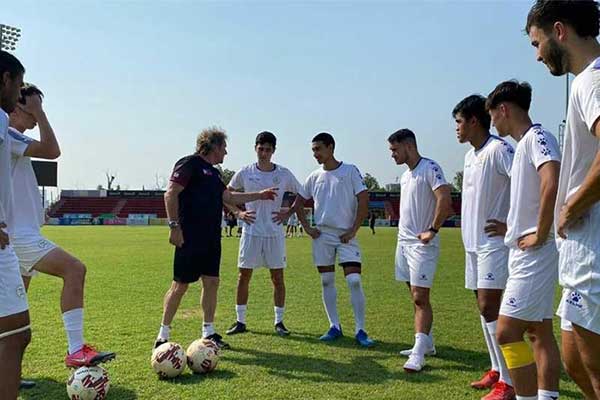 By Leobert Julian A. de la Peña
The Philippine Azkals Under-23 squad will be making their highly-anticipated return on the pitch in the prestigious 2022 AFF Under-23 Youth Championship to be held in Cambodia next week.
After a disappointing finish during the AFC U-23 Asian Cup qualifications last year, the young Azkals booters will be seeking to redeem themselves and have a decent finish in their first international stint of 2022.
Before flying to Cambodia, the Azkals U-23 team spent their training camp at the PFF National Training Center in Carmona, Cavite bubble.
The team will be handled by head coach Stewart Hall backed by Ernie Nierras, JP Merida, Noel Marcaida, and Norman Fegidero as his coaching staff.
Superstar midfielder Oliver Bias will spearhead their campaign in Cambodia alongside Oskari Kekkonen, Sandro Reyes, and Dennis Chung.
One of the notable names included in the Azkals lineup is Quincy Kammeraad, a part of the senior Azkals roster during the joint 2022 FIFA World Cup/2023 AFC Asian Cup qualifiers.
However, coach Hall and the rest of his staff will be facing the tough task of forming the final lineup out of their initial 27 members who joined their camp in Carmona.
Azkals Development team's Lance Ocampo, Ivan Ouano, and Pete Andrei Forrosuelo were on the list the same as United City FC's Kieran Hayes.
The Philippine team will be kicking off their AFF Youth Championship campaign against Timor Leste on Monday, February 14, at 4 PM.