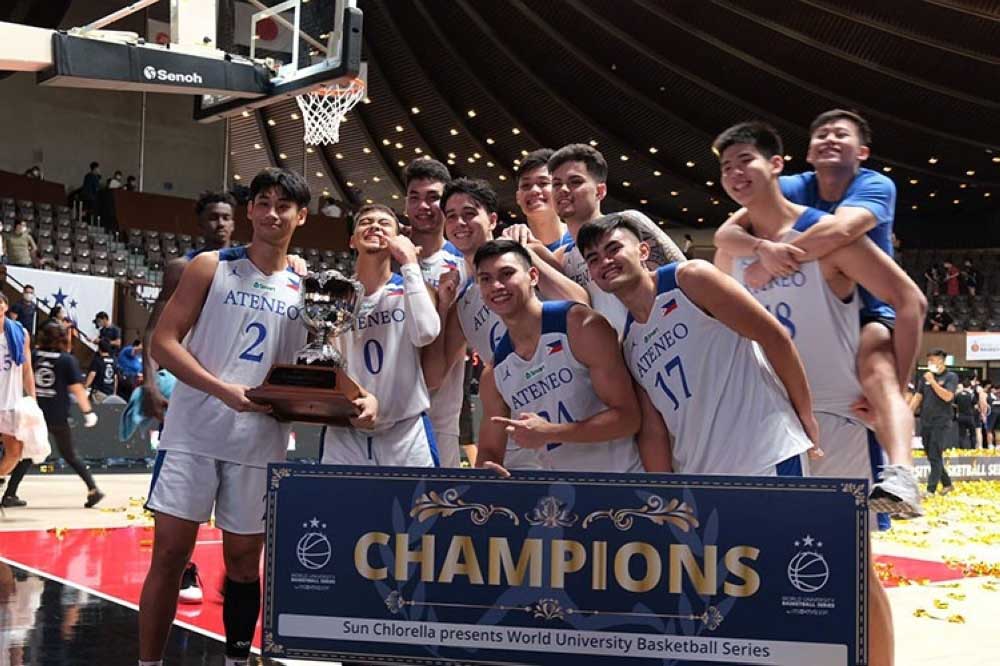 By Leobert Julian A. de la Peña
The Ateneo de Manila University Blue Eagles capped off its undefeated run in the inaugural World University Basketball Series with a championship title after taking down Tokai University, 68-59, held at the Yoyogi National Stadium in Tokyo, Japan.
After demolishing the Indonesian school Universitas Pelita Harapan, 125-39, and outdueling Chinese Taipei's National Chengchi University, 88-78, the Blue Eagles extended its winning streak to three to capture the prestigious WUB title.
It wasn't an easy task going up against the young hoopers of Tokai University as their fundamentally sound approach helped them go toe-to-toe with Ateneo de Manila.
The school from Japan even forced head coach Tab Baldwin to dig deep into his rotation after taking an early lead in the first quarter due to their crisp ball movement that led to open shots from downtown.
However, soon as Kai Ballungay and Dave Ildefonso got it going, the Blue Eagles took over the lead and established a five-point cushion in the last one minute of the second frame.
Tokai continued to fight and executed their offensive sets in the third quarter but Ateneo always responded with big-time baskets from their guards.
The Blue Eagles maintained a four-point lead in the first four minutes of the final canto but began to wax hot offensively in the sixth-minute mark after Paul Garcia knocked down a three-pointer that pushed their lead to nine, 52-43.
Ateneo had their biggest lead at 15 points after Josh Lazaro successfully tipped in a missed shot from the shaded lane with 1:50 remaining in the game.
Tokai refused to back down and scored nine quick points but time wasn't on their side as Sean Quitevis and Ballungay delivered the clutch free throws to seal the deal for the Blue Eagles.
Ildefonso led the way for the Blue Eagles after the Gilas Pilipinas cadet scored 14 points while Forthsky Padrigao added eight points in the win.